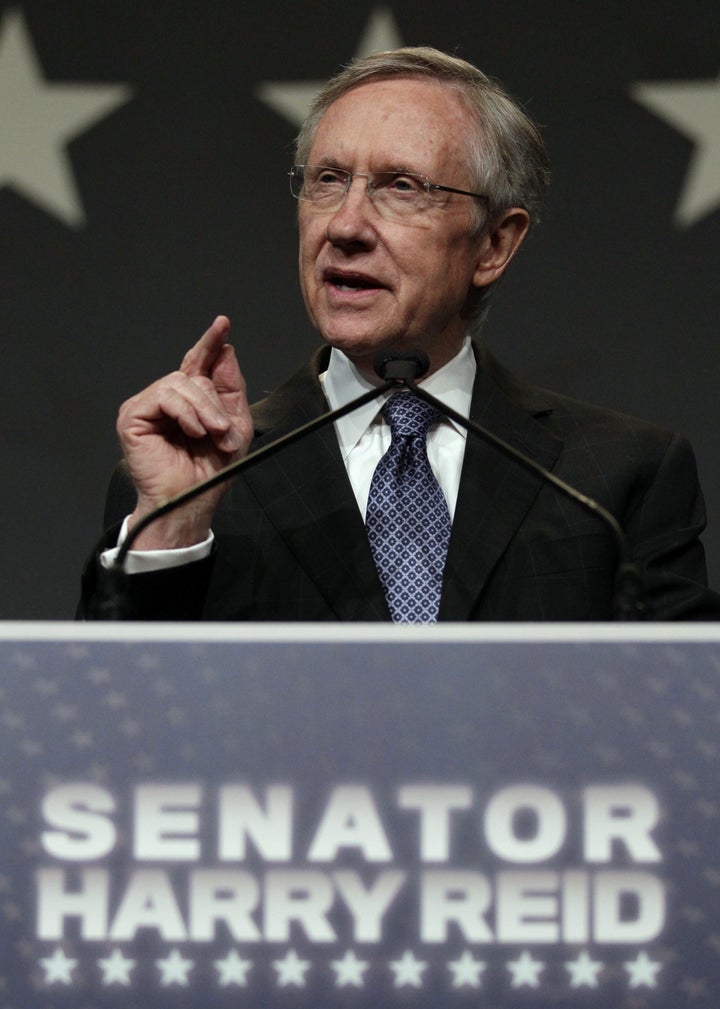 Senate Majority Leader Harry Reid (D-Nev.), whose victory last night marked the single greatest win for Democrats this election cycle, said Wednesday that the biggest takeaway from this election is that the American people want compromise across party lines.
"We are not ostriches with our heads in the sand," said Reid of his Democratic colleagues. "We are willing to pull our heads out and look around if they have some better ideas."
Also on hand were Sens. Dick Durbin (D-Ill.) and Bob Menendez (D-N.J.), as well as Chuck Schumer (D-N.Y.), who had been well positioned to become majority leader had Reid lost and Democrats kept control of the Senate.
"They want us to roll up our sleeves and find common ground even if it means giving in, as we must," said Durbin on a conference call with reporters. "They must give in. It's what the American process has been about. It's what the Senate has been about."
That's a statement likely to anger voters on the left, who feel Obama has already been too timid. What's more, the Republican Party has given Democrats little reason to hope for much compromise, having run successfully on a ticket of obstructionism this November.
At a press conference on Wednesday morning at the Capitol, Boehner said Republicans would begin laying the groundwork for repealing Obama's health care law, among other things.
"The American people have concerns about government takeover of health care," Boehner said. "I think it's important for us to lay the groundwork before we begin to repeal this monstrosity.
Though that sentiment doesn't sound like compromise, the message expressed by Senate Democrats today was underscored by a chastened President Barack Obama during a news conference on Wednesday.
"No one party will be able to dictate where we go from here. We must find common ground in order to make progress on some uncommonly difficult challenges," Obama told reporters. "I do believe there is hope for civility. I do believe there is hope for progress and that's because I believe in the resiliency of a nation that has bounced back from much worse than what it is going through right now."
To observers of Congress, HuffPost's Sam Stein reports, Obama's statement seemed more a rhetorical flourish than anything.
Calling all HuffPost superfans!
Sign up for membership to become a founding member and help shape HuffPost's next chapter