"As long as women are bound by poverty and as long as they are looked
down upon, human rights will lack substance. As long as outmoded ways of thinking prevent women from making a meaningful contribution to society, progress will be slow. As long as the nation refuses to acknowledge the equal role of more than half of itself, it is doomed to failure." President Nelson Mandela
Nelson Mandela's longevity enabled him to have the experiences of three lifetimes. He was first a local lawyer and freedom fighter, then an incarcerated leader of the anti-apartheid movement and finally the first black president of South Africa. As the world reexamines the words and actions of the beloved Mandela, it is clear that he recognized the struggle for women's rights and gender inequality as a human rights issue. On Dec. 5th the world lost a vocal male feminist who understood the interconnectedness of all forms of oppression.
The 9th Annual World Vision, Strong Women, Strong World Luncheon celebrated the successes of World Vision's programs and highlighted the ongoing global fight against gender inequality. This year I was honored to give the opening prayer at the stakeholder summit that preceded the luncheon. As I prepared my remarks, the night before the event, Mandela's death was announced. The world will miss Mandela's physical presence, but through programs like Strong Women, Strong World we can all work to continue his legacy.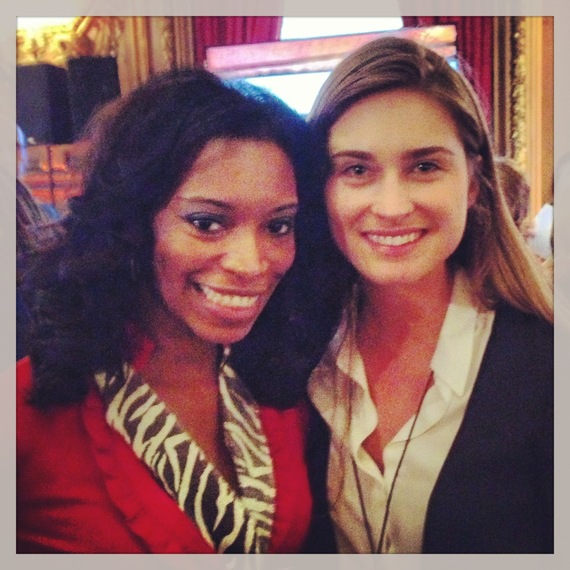 Chelsea-Lyn Rudder and Keynote Speaker Lauren Bush Lauren
Conceived nearly a decade ago in recognition of World AIDS Day, the Strong Women, Strong World Luncheon is more than just another event on the social calendar. It is an annual opportunity for women (and a few men) to come together and affirm their commitment to addressing key underlying issues in the global fight against HIV/AIDS. Held at New York City's Metropolitan Club, this year's luncheon focused on Strong Women, Strong World's key projects and the ways in which those projects are effecting change.
One of the most poignant parts of the program came when the audience was introduced to two of the beneficiaries of the Child Protection and Education project. Humaiya Akhter and Teresa Rutto, from Bangladesh and Kenya respectively, spoke eloquently about the tangible difference that World Vision's programs made in their lives. Teresa credits her World Vision sponsorship with sparing her from female genital mutilation, also known as female circumcision.
A standard rite of passage amongst her female relatives including her sisters. Without the support of her World Vision sponsor, Teresa would have been forced to leave school and marry. Cultural norms of the community dictate that a woman must be circumcised in order to marry.
"When I received cash I would buy things [for my family] like cattle and sheep. They would imagine that if I got married they would miss the gifts that I received," said Teresa. "I thank God for my sponsor a lot, I would love to meet him."
The afternoon's keynote speaker was Lauren Bush Lauren, CEO and founder of FEED Projects. FEED Projects is a social business, which combats hunger and malnutrition through the sale of bags, accessories and clothing. Lauren's original FEED 1 Bag provides one child with school meals for an entire year through the United Nation's World Food Program. Since the company got its start in her college dorm room in 2005, FEED has raised enough money through the sale of products to provide over 60 million school meals. "My hope is that FEED is a conduit for consumers to get involved and give back," said Lauren. "My passion was design, it was fashion, and to be able to find a way to combine that with this desire to give back to something I saw was effective at bettering people's lives has been amazing."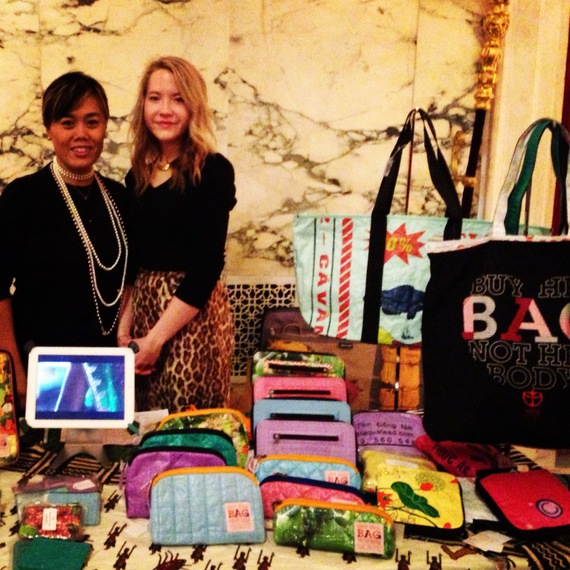 Guests were invited to shop at the Marketplace following the luncheon. All of the products supported women in developing countries. Nomi Network is a social business which equips trafficking victims and women who are at risk for human trafficking with the skills to create goods for the global marketplace. Learn more at buyherbagnotherbody.com
Calling all HuffPost superfans!
Sign up for membership to become a founding member and help shape HuffPost's next chapter