Traveling across the crystal blue waters of Maunalua Bay on the Hawaiian Island of Oahu, I was initially surprised to see kayakers and stand-up paddle-boarders zip past us with ease.
But then I decided vintage amphibious vehicles were likely never designed for speed and settled back to enjoy our trip. With an ocean breeze drifting through the open sides of the bright yellow "DUKW" we were riding in, I didn't think our Hawaii Duck Tours excursion could be any more laid back, but when our main guide picked up a ukulele and began serenading us with some island-style tunes, the only thing missing was a Mai-Tai.
The 2.5-ton, six-wheel trucks were originally used during amphibious operations during the Second World War by the U.S. Army and Marine Corps to ferry ammunition, supplies and equipment from supply ships offshore to fighting units on the beach. But the retired DUKWs have since found new life in many tourist destinations as small, open-air tour vehicles. With bill-shaped fronts and a coat of bright yellow paint, the transition from DUKW to DUCK was an easy one for tour companies to embrace.
When deciding on one of several excursions offered by Duck Tours of Hawaii, we waffled between the new Pearl Harbor Duck Tour 2.0 and Maunalua Bay. But having previously visited Pearl Harbor on our own, we opted for Maunalua Bay, which is about three hours long. After being picked up in the heart of Waikiki, we headed for the southeastern shore of Oahu passing by and stopping at some major landmarks along the way, including Hanauma Bay and Sandy Beach where a couple of sun-bronzed, bikini-clad young women flashed us as we cruised by.
Our tour guides for the day were not only locals with lots of insider stories -- one is also a regular extra and sometimes actor on the TV series Hawaii 5-0, so as we rolled along he was able to point out places where the show has filmed.
It was on our way back to Waikiki that we played the "duck game," much to my partner's chagrin. Everyone who boards a Duck is presented with a bill-shaped noisemaker that quacks when you blow into it. We were then instructed to blow on our quackers each time we saw anything yellow, a game I embraced wholeheartedly. By the time we cruised back into Waikiki not only were we obvious by way of our bright yellow vehicle, but also from the obnoxious din resounding from our noisemakers.
On this trip to Waikiki we stayed three nights at Outrigger Waikiki on the Beach. And while we had never previously stayed at this beachfront property, like most visitors to the area we are no strangers to Duke's Waikiki, a popular watering hole and restaurant that draws crowds from around the world to check out the tropical drinks at the Barefoot Bar. Sundays are always popular at Dukes, with live bands drawing (barefoot) people in off the beach for an ice-cold beverage.
On this visit though we checked out Hula Grill, located just above Dukes and from where you can watch the action below in a slightly more relaxed atmosphere. Besides incredibly fresh seafood, Hula's also offers a spectacular view of the famous Waikiki sunset.
The hotel is only one of eight directly on the beach and, as we found out during our stay, has many repeat customers who love the combination of value and luxury. As I wrote this story, the second week of February, rooms started at $209 a night with no resort fees, which are becoming increasingly common at Waikiki resorts.
The hotel also offers free phone calls, not only within Oahu, but also to neighboring islands and mainland U.S. and Canada. Value aside, we were sold on the rooms. I had been privy to a tour of the Outrigger during a massive $20-million renovation project, which began in March 2012, so I was happy to be invited back to the 525-room property to check out the results.
The "roof-to-sand" project included improvements to the beach-level lobby, a new pool and whirlpool spa, an expanded pool deck and upgraded landscaping.
That expanded pool deck, which extends right out to the sand at beach level, quickly became our favourite place to lounge during our visit. The rooms were also updated with carpet completed in subtle pineapple patterns, tropical bedding and local artwork by underwater photographer Glenn Poulain. New glass lanai railings give expansive views of the ocean.
The Outrigger also offers a full program of cultural activities, many at no cost, including ukulele, hula and lei-making classes. Hawaiian wedding vow renewals are also offered in the sand fronting the hotel.
And now that the State of Hawaii has finally legalized same-sex marriage, the hotel is extending its spirit of aloha to all couples who wish to tie the knot or renew their vows.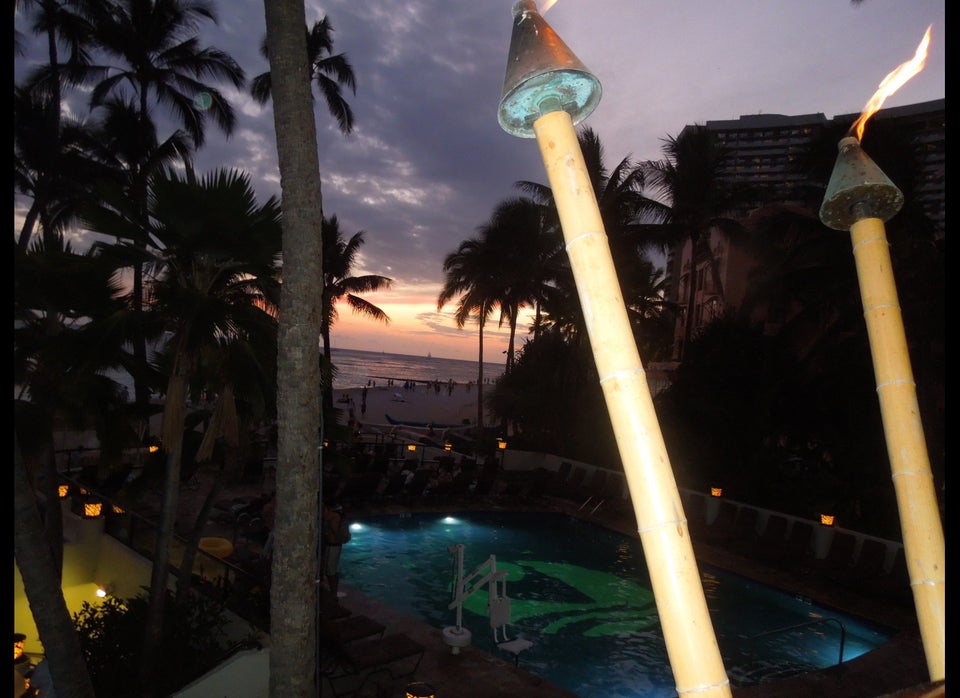 Hawaii Duck Tour of Maunalua Bay