Hello Huffington Post Makeup Readers,
After 3 decades in the beauty business I have finally taken my knowledge to the lab, where I've revealed - and developed - the secret that keeps both myself and my clients looking so young: Vitamin C. From an early age, I had always been drawn to Vitamin C products that major cosmetics brands requested me to sample - but was never 100% satisfied. I wanted a Vitamin C product that was natural with even stronger anti-aging benefits. Instead of being watered down and weakened by harsh chemicals, perfumes, and "fluff" ingredients, I wanted something pure and powerful.
So I began researching the superior anti-aging effects of Vitamin C and experimenting in my kitchen with my own mixtures. After months of creating and testing different formulas, I came up with the one I felt was perfect enough for my own skin: NICOLE BRYL VITAMIN C FACE LIFTING WATER. Within only days of using this formula in the morning and evening, I immediately saw the dramatic anti-aging effects of my LIFTING WATER: my skin appeared years younger, tighter, smoother - and felt more lifted! When my clients kept asking me what I had been doing to my own skin to look so youthful and smooth, I told them all about the LIFTING WATER. I began applying it to their faces before doing their makeup - both myself and my clients became more excited than ever with the visible effects of this incredible, artisanal formula. They began purchasing, and even reordering several bottles at a time and that was how my skincare line soft-launched, almost overnight and even without labels, for the December 2014 holiday season at New York's Plaza Hotel.
Each 4oz. Artisanal VITAMIN C FACE LIFTING WATER bottle requires 46 hours to create and is personally formulated and handmade through an exclusive 12-whip purification technique. Because of this intensive process, I can only produce a limited number of batches at a time and there's typically a 3-week waiting list in NYC and LA to receive any of these four products (the other three are my twice-a-week Red Carpet concentrated Vitamin C Tightening MASK, Smoothing SCRUB and BODY POLISH). The Vitamin C Tightening MASK takes 32 hours to create and literally blasts skin with concentrated Vitamin C making you appear 6 years younger in 2 minutes flat. The mortar and pestle, hand-crushed Vitamin C Smoothing SCRUB not only tightens, exfoliates and smooths skin like you've never felt before, it can also be effective at drying up light break outs. And the BODY POLISH, the ultimate luxury skincare item requiring 50 hours to create through a one-of-a-kind layering technique, exfoliates your entire body leaving you with a tightened, smoothed and polished-to-perfection feeling day after day.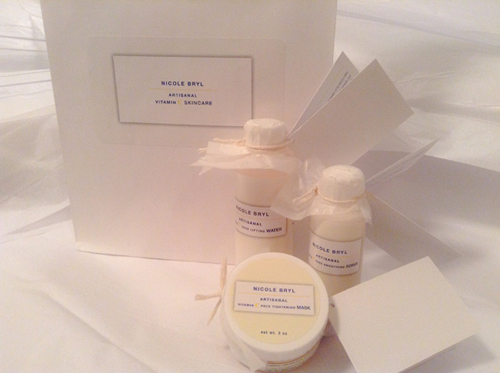 3 Piece Skincare Set for the Face. (Formulated to be used in tandem. The Lifting Water, Tightening Mask & Smoothing Scrub are sold as a set for the face.)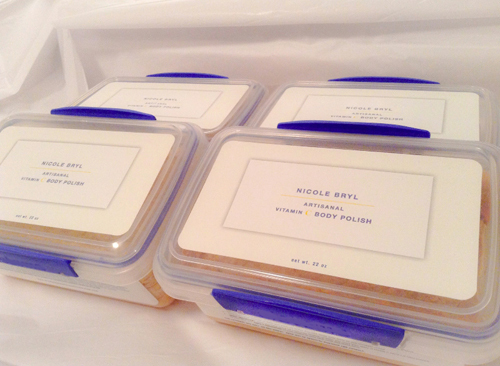 Body Polish Sold Seperately
Used in tandem, these four Artisanal Vitamin C products create a skin-rejuvenating effect that improves collagen for firmer skin, while reducing wrinkles and restoring radiance. With proper usage, its natural properties are calming and non-irritating, even to the most delicate of skin types. I chose not to use scents or perfumes in my skincare, as these common additives typically interfere with the products' efficacy. With these pure formulas you get quick results without the fluff - you won't believe what your skin will look like after just one week.
These unique formulas most certainly will change the way women and men feel about the appearance of their skin. I'm a born and bred New Yorker, we like to get straight to the point - and fast. Not even in our wildest daydreams do we have time to luxuriate all day long; we all lead very fast-paced, productive lives. But we all want the effects of what a day of pampering can bring us - to look young and rejuvenated. I wanted something for my own skin that was straight-to-the-point, no-nonsense effective, yet still embodied the purest feeling a day of relaxation could bring me ... in about 4 minutes sharp! I'm in love with my four products because they flat out WORK. After 30 years in the beauty business I am extraordinarily pleased to be using these products on myself and my stunning clients."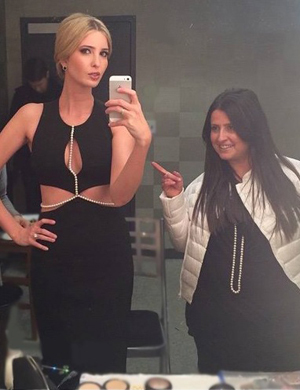 "Nicole is an exceptionally talented makeup artist and her skin care line is a reflection of her passion and precision." -Ivanka Trump
FACT: Topical antioxidants such as Vitamin C produce much higher concentrations in the skin than nutritional supplements. Applying Vitamin C onto the skin is 20 times more effective than oral ingestion. When applied, Vitamin C provides a skin-rejuvenating effect by improving collagen, which helps to maintain youthful skin, firmness and elasticity, visibly tightening saggy areas and diminishing the appearance of fine lines and wrinkles. Its potent antioxidant power also protects skin from age-causing free radicals. Applying Vitamin C to the skin DAILY can do wonders for keeping one's youthful appearance for life.