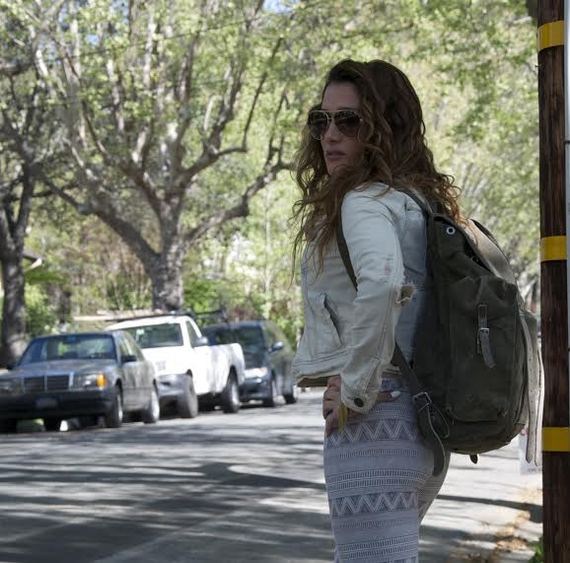 Many of you laugh at me when I declare that a certain item's en vogue. But I promise you, backpacks are the latest trend being spotted all over the fashionable streets of major cities. Even the epitome of high fashion, the House of Chanel, has designed a graffitti inspired, urban artsy backpack priced over $3,000, which has made its rounds in most fashion magazine editorial pages this season.
This trend is apparent in urban areas; as I scan stylish parents for hautedropoff, I'm seeing luxury labels like Gucci and Prada as well as army-inspired backpacks, acid wash denim styles and bright color nylon looks. My personal favorite bag of all time is an army green backpack purchased at a real Army/Navy supply, in New York City, a style that is also making its way onto the backs of 2014's chicest.
Backpacks had their first heyday in the 1990's. As grunge began to fade, designer label backpacks became the hottest accessory of the most fashionable. I of course wanted a piece of the action and was determined to own a black nylon beauty.
So I did what comes naturally: I begged my mom for a designer label backpack. To me nothing said "cool" like a little nylon Prada bag. Trouble was, it was ridiculously expensive and thus highly inappropriate for a young girl. Still, after a year of utilizing my natural skill of persistent begging, my mom seemed to finally weaken her stance. She came home one day and handed me a white dust cover, just like the ones given to you when you purchase a luxury hand bag. My eyes lit up: was this my mom, or a fashion-forward fairy in disguise? I untied the bag and inside was a little nylon backpack with an oversized no-name logo glued (more like super glued) onto its back pocket.
I knew it was a horrible knockoff of what I really wanted, but no matter -- this was the closest to high fashion I would get in those years. Many years later, after the Prada backpack turned less high fashion and more main stream, I was able to purchase it at a heavily discounted price, but by then, for me, it had lost its allure.
But not forever. The backpack is re-experiencing a major fashion moment... and now, after all this time, I can dust off my again very current Prada backpack and finally be part of the fashion elite (please note the large dose of sarcasm). So, my stylish friends, give your arms a rest and funk up your back side with a cool backpack in 2014.