One of the most rewarding assignments of my military career was that of "Senior Refugee Liaison Officer" at the Eglin Air Force Base Vietnamese Refugee Center during "Operation New Arrivals" in 1975.
Along with other military and civilian professionals and volunteers, I was privileged to assist with the reception, housing, health and welfare and with the resettlement of South Vietnamese refugees -- part of the more than 125,000 Vietnamese who were greeted over an eight-month-period after the "fall of Saigon" at several "Operation New Arrivals" camps such as the one at Eglin. Hundreds of thousands additional Vietnamese would be given refuge in our country during the next 10 years.
When I reported for duty at Eglin, others had already built a "tent city" on the vast expanse of the Florida base. We were now just awaiting the arrival of the first refugees.
Finally, on a muggy, misty May morning, buses carrying our first precious charge of 320 South Vietnamese refugees who had just landed at Eglin arrived at the camp.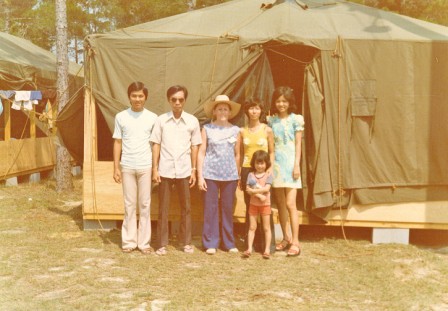 It would be difficult to accurately describe our emotions so many years later.
Fortunately, shortly thereafter I wrote down my recollections about that first day of duty at the Eglin camp in a military publication.
Here are some excerpts describing the emotions of the volunteers as we welcomed our first refugees:
The character of a nation is reflected in the faces of those volunteers. Some have flowers in their hands, some have tears in their eyes, and all have compassion in their hearts.

Finally, the first bus arrives and the door opens. A small, fragile old woman steps off the bus and breaks down in tears. An exhausted young mother holds on to a tiny baby as she is followed by six more small children--the father is conspicuously absent.

Another large family gets off the bus; all their belongings are contained in a tattered pillow case and in a small plastic bag. A young helicopter pilot steps off with just the clothes on his back, but smiling, happy to be alive, happy to be free.

And so it goes on: the farmer, the soldier, those who were wealthy and those who were humble; they all share the same hope for a good new life.

These scenes will keep repeating all day long as more refugees arrive. As darkness falls, the airplanes keep arriving. Soon it is past midnight and the rains come down, but the volunteers keep working, hardly noticing the time or the weather.

As the last busload of refugees has been bedded down, the rising Florida sun signals the start of a new day and suddenly we realize that we have been working for 24 hours, but, strangely, we are not tired; on the contrary, we feel that we have just begun to help these people.
In November 2007, at the height of yet another war, at the height of yet another refugee crisis, I recalled my Eglin experiences in articles in a couple of newspapers and said:
What does Vietnam have to do with the ongoing Iraqi refugee crisis? A great deal, I believe.

More than 2 million Iraqis have fled the carnage in Iraq while, as recently reported in Stars and Stripes, another 2.3 million Iraqis -- most women and children -- have been displaced internally by the sectarian fighting. They live in squalid conditions and in virtual imprisonment in their own country. The plight of the Iraqis who have fled abroad, mostly to Syria and Jordan, is not much better. Thousands flee their country every month, making this the largest diaspora in the Middle East since 1948.
I criticized the Bush administration for being singularly blasé and slow in responding to the refugee crisis. At the time, the U.S. had admitted fewer than 3,000 Iraqi refugees. Subsequently, under pressure from the United Nations and others, the State Department promised to allow 7,000 Iraqi refugees to enter the U.S. in 2007.
Refugees International President L. Craig Johnstone, comparing what we now face in Iraq to what we faced in Vietnam, is calling on the U.S. to once again step up to its responsibilities and urges Congress and the administration to expand the Iraq refugee resettlement program and to respond more generously to United Nations humanitarian appeals for Iraq.
As our combat troops finally pull out of Iraq, we are leaving behind one and a half million Iraqis displaced in their own country -- "internally displaced persons" -- uprooted from their homes, many living in total destitution as squatters in slums and shanty towns in Iraq. An additional 500,000 Iraqi refugees* find themselves languishing and forgotten abroad -- mainly in Syria and Jordan.
Sadly, because our nation is so absorbed with and so bitterly divided by our own "immigration problem," I have no illusions that Congress will rush to significantly expand the Iraq refugee resettlement program.
However, as a nation that bears a special responsibility for the Iraq war and for the resulting humanitarian crisis, we can still reflect the "character of our nation" by, as we leave Iraq behind, not leaving behind the helpless Iraqi refugees.
We must exercise our moral responsibility and provide meaningful financial support for the millions of innocent Iraqi men, women and children who are the wretched legacy of a war they had no hand in.
Calling all HuffPost superfans!
Sign up for membership to become a founding member and help shape HuffPost's next chapter