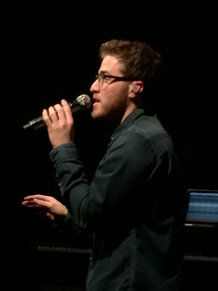 You know Mike Posner from hits like "Cooler Than Me" and "Please Don't Go." You've heard the songs he's written for other artists like Justin Bieber's "Boyfriend," but beyond his hits and fame is a true artist with a true message. I recently attended Mike's Unplugged Tour and got to witness his artistry first hand. Before one particular song, "Save Your Goodbye," Mike told the crowd that though the song may seem like it's about a relationship, it's actually about his struggle with depression. He then began singing the song accompanied as it had been written -- with only an acoustic guitar.
I was in tears. Here is a popular millennial with the world ahead of him that so bravely put it all out on the table. Depression (and in my case, anxiety) aren't a joke. We can longer continue to push these issues into the corner. We must talk about them over and over and over again until the stigma is gone completely. Suffering from depression and anxiety can be debilitating (and possibly worse) if gone untreated. Treatment is simply a phone call away. It can be managed effectively and often times, go away completely.
Codi, my friend that had attended the show with me, had know Mike for his party songs. As we were on our way home, he asked me what other "deep" songs Mike had that I could play for him. That is why we must not stop talking about it. That is why we need to continue to create and speak out. It is only through speaking out about our own issues that the stigma lessens. With each time we speak about it to another person a chip comes off the rock that is the stigma of mental health. I'm ready to have that rock be non-existent, are you? Let's talk about it in the comments.
Watch Mike Posner's performance of Save Your Goodbye live from the Unplugged Tour 3/31/14 and be sure to pick up his new album Pages, due out this summer.
Watch K.Mac's music video for "A Letter 2 My Younger Self."
If you or someone you know feels like you may be dealing with anxiety or depression and don't know where to get help, call the National Suicide Prevention Lifeline at 1-800-273-TALK (8255) to speak with a trained counselor.
Kyle McMahon, the recording artist known as K.Mac, is a millennial who has recently appeared on a series of Oprah's Lifeclass specials, writes about self improvement for millennials and gives speeches on fatherless sons. His first book, MAN UP! An Action Plan For Fathers will be released in May. Check out the Kyle McMahon website for more information. You can follow him on Twitter, Google+ or Facebook.