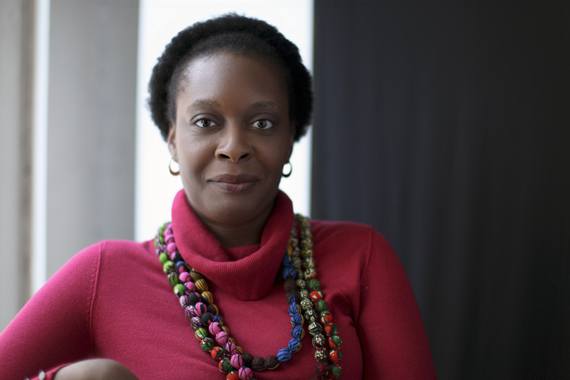 Celena Green, photo courtesy of Julie Hassett-Sutton/Frantic Studio via Global Kids
I went to a very intensive academic high school in Queens, N.Y. in the early 1990s, one where you focused on an enormous amount of work, but not necessarily work that was enriching, at least not for me, so I was looking for something more.
I was excited when I learned about Global Kids because it was youth-run and it was people actually doing something to make a difference, not just sitting in their classroom reading articles. I had done so much book work and I was asking myself, "What does all of this mean in the world? How does this become a career?"
In a Global Kids workshop you learn, but you don't know that you're learning. You'd start off with something that feels like a game, and then that game evolves into a discussion. One workshop occurred around the time Nelson Mandela made a visit to New York, and so there was a lot of conversation around South Africa, but also about how we experience segregation or discrimination in the United States.
When Global Kids was starting out in 1989 there was a lot of racial tension in New York City and also a very negative perception of teenagers, particularly black teenagers. There was a high incidence of school dropout, gang violence, high rates of teen pregnancy.
You realized that there are many places in the world where you're judged or characterized unfairly. We talked about when people don't understand you, how do you engage them anyway, so that by your engagement, you teach them to think differently?
I was part of the Citywide Leadership Program. We met weekly in Manhattan with students from all over New York City. I was on a sort of academic fast track, always around a particular type of student, the fast learner or the goody-goody. Being in Citywide was one of my first times meeting students from different cultural backgrounds and also from different academic backgrounds. At Global Kids everyone has an equal chance to make a contribution. You don't have to have a minimum GPA to get in or take on a leadership role. And even though at Global Kids we dealt with different international issues, the first thing that you learn about is how to deal with another human being, to really listen and understand.
It's one thing when you feel victimized but sometimes you are the one who has prejudices and you explore some of the ways that you're doing the very thing that you're condemning. One of the very first leadership skills you learn at Global Kids is being a better person yourself.
One thing about Global Kids that is different from school learning is the exposure to people in world affairs. You're meeting diplomats or world leaders or writers, authors, people who lived through different traumatic world experiences. You might be talking to someone who is a refugee and can tell you firsthand about a particular conflict. You can talk about different foreign policy issues with people in U.S. government. As a teen, you think once you get into power, you're going to just take over and change things. Then you hear of the challenges you face even when you get into a position of authority. It makes you a better citizen to understand how things really work and why things are the way they are.
I was a Global Kids student board member from 1993 to 1996. When Carole (Artigiani, Founder and President Emerita of Global Kids) asked me to join the board I felt very privileged and honored, but I didn't fully understand what a board was. It turned out I really enjoyed the board meetings and seeing another aspect of the organization.
I had other experiences working with Global Kids as well. I was a program assistant beginning in 1996 and became the Director of Development from 1998-2001. I took all of that experience with me so that when I had different jobs at other nonprofits, it helped me understand the nonprofit world more holistically.
Currently I run leadership and empowerment programs serving women in Africa for Vital Voices, an international NGO. Global Kids really made a difference in the way I approach the work. Global Kids believes that people have the power to change their own situations and I believe that the women themselves have the power and the best solutions to change the challenges that they face.
If I had not gone to Global Kids, I think it would have taken me a long time to find what I wanted to do and to gain the confidence and the skills to get to where I am now. I think Global Kids, even as an alumna, was more valuable to my career search than the career offices at my school because Global Kids knew the different human rights organizations and had the connections to refer me in the right direction.
Global Kids also helped me to see there are different paths and if you have critical thinking, if you have a way of working with people, if you have the right values, then opportunities will open up and you'll always find a way to make a difference.
Popular in the Community