The funeral is over. Mourners have come and gone. It is an April spring and flowers are struggling to push through winter's cold soil and bloom in testimony to life. But the survivors of great and unspeakable loss carry an agonizing burden. Sometimes the darkest days are those following the funeral, when loneliness and remembrance slow the mind and fill the heart with pain. The bereaved are left alone with cruel sorrow. Hope is unable to bloom.
Life moves on, with or without us.
April 7 was the touchstone for 20 years of remembrance of the Tutsi genocide in Rwanda when up to one million were brutally murdered. This was not impersonal annihilation by bombs or missiles or drones. This atrocity was accomplished by hand, using machetes and other low-tech weaponry wielded by the human hand turned demonic by hate speech. For the last two weeks, world media has dutifully commemorated what happened for 100 days in Rwanda in 1994, but now the news cycle has turned to other events.
The survivors remain with memory and prayer as the mourners march on.
My "adopted" Rwandan daughter is one of the survivors. I met her over ten years ago in Rwanda when she was waiting on my table, and I asked her the name of a bird that was begging for crumbs under my chair. She said she did not know the English name of the bird, but that its name in Kinyarwanda meant "God." Soon after, she mentioned to me that she and her brothers needed a mother. I cannot say that I ever filled that place in her heart, but my family has tried to be available for help and guidance to her family when we are able.
I am very proud of her. She is married now, and lives in Canada. The brothers have all done well for themselves, and are establishing careers and lives long removed from the days when they watched their parents and relatives murdered.
My daughter emailed a speech she gave at a genocide memorial a few weeks ago. In it, she recounts hiding in trees with her brothers and watching while family members were killed.
On April 7th 1994 our parents, Mom, Dad and all my siblings were at home as it was Easter break. We were in bed when our Mom came to our room and told my sister and I that we had to eat our breakfast and then go and hide because they said on the radio that they are going to kill all the Tutsis. On our way to our Aunt's house we met the killers (Interahamwe) who were going to kill our parents, and they were singing our parents' names and saying they were going to murder them. They stabbed my dad to death on that day, April 7. We took shelter at our Aunt's house. After two nights, the killers found us and killed my aunt and her four boys.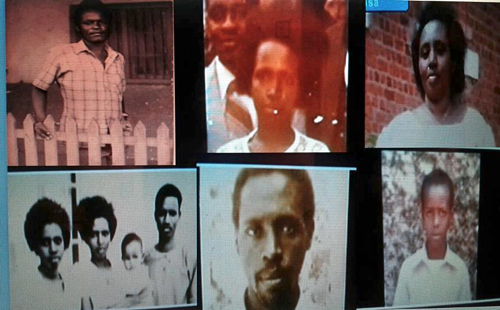 The murdered family of Clotilde Uwiragiye, used with permission.
This is the traumatic memory that my daughter carries with her each and every day. Still, she had the courage to relive this memory in a public ceremony, and for this act, I am extremely proud of her.
So, as the one hundred days of commemoration continues, I ask myself what is my responsibility as someone who was not a direct witness, but who has deep ties to Rwanda?
The Nyamata Church comes to mind, even though it is a place that memory shuns.
The church is sanitized now. The bones of some of the 10,000 victims from the surrounding countryside are interred in underground crypts. The clothing of the 2,500 who took shelter in the sanctuary remained when I visited five years ago. Nyamata was the local Catholic Church and thought to be safe haven from the marauding bands of Interahamwe killers. This was not to be the case, and on my last visit pieces of bone were still evident in the surrounding fields and burlap sacks filled with humerus, tibia, femurs, vertebrae and bits of skulls were stacked inside of a storeroom, waiting for interment.
Still I prefer to give testimony to the miraculous as I write this on Easter Sunday.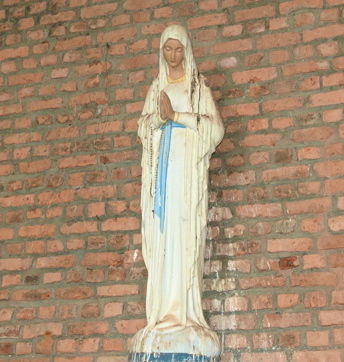 Madonna at Nyamata 2009 Photo: G. Nienaber
There is a statue of the Madonna on the back left wall facing the altar. The bricks behind her are riddled with bullet holes and bloodstains; dried blood spatters her clothing and face; but she is otherwise untouched.
Nearby in an underground crypt is a glass pyramid with skulls, and also resting there is a white coffin covered in white satin.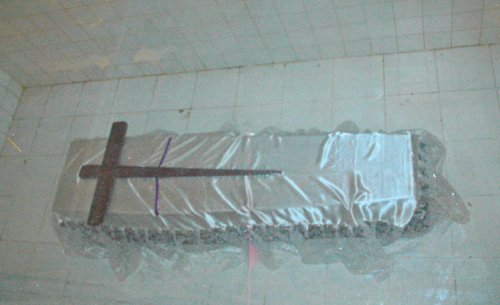 This is the tomb of Anonciata Mukandoli, daughter of Innocent Gashugi. Her legendary beauty made her a special target of the Interahamwe. Truth or legend, the story is spoken that a Hutu wanted a forced marriage to her a few years before the genocide and she refused. In retaliation, the Interahamwe made an example of her, gang raping her and driving a spear into her private parts, finally ending her agony by shooting her in the head.
It is said that when her body was found, weeks after her murder, that that she had not decomposed. A miracle? A legend?
On this Easter Sunday when Christians are reminded that the Christ rose from the tomb untouched, perhaps the story of Anonciata Mukandoli can offer some comfort.
A visit to her resting place with the bloodied Madonna standing watch is beyond words, but stays in the mind with tentacles attached to the heart and bound to the soul.
It is a reminder that forgiveness and purity outlast the most unspeakable actions of fallen humanity.
Visit Nyamata, a simple red brick church in the Bugesera region of Rwanda.
Don't allow the bones to break your spirit and smash your hopes.
Instead, wrap your mind in the pure white satin shroud that graces the tomb of Anonciata Mukandoli.
Beauty, love and remembrance are the ultimate legacy of 1994.
And so, too, is my beautiful adopted Rwandan daughter who has found the path to reconciliation.
Calling all HuffPost superfans!
Sign up for membership to become a founding member and help shape HuffPost's next chapter