Take a walk down memory lane with me. On April 15, 2012 at 11 p.m. in New York City, Massiel Arias took a photo and published it on a little app called Instagram. She wrote, "Hey it's me, Massey," as most people call her. "This account will be for discussion and motivation." Months later, she joined Twitter and had one goal in mind with her first tweet.
But the real story starts even earlier. Years before the thousands of double-taps, retweets, and likes, she faced challenges that seemed insurmountable for a 17-year-old Dominican Republic native, living in New York City. She looked after her brother in the hospital as he battled cancer. Longing for her own support system, her boyfriend at the time was diminishing what little sense of strength she had left. "I was in a very destructive relationship where the person I was with made me feel inferior," she revealed to the ladies at an interactive brunch concept called CROWNED.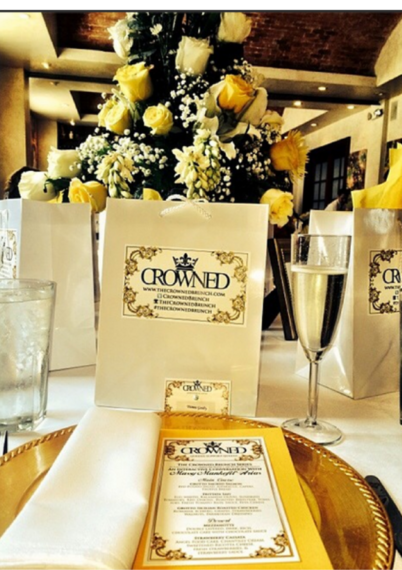 Massey's brother beat the illness, and she ended the debilitating relationship with her former boyfriend. Just when she thought her situation would get better, the break up was one more occurrence that spurred her emotional spiral towards depression. "I felt like I was going to die ... I had no hope," she said while holding back tears. The captivated group showed their support with applause and encouraging her to continue. She quickly gathered herself and said, "So I made a list."
This list consisted of all the factors keeping her happiness hostage, including drinking, smoking cigarettes, excessive partying, and associating with who she called "toxic people." She vowed to use all the negativity that plagued her late teens for something positive, even down to her social media user name, Mankofit. A Japanese college classmate repeatedly called her "manko," which is understood to translate into a derogatory term towards women.
She found purpose in a combination of exercise and building a community of supporters through social networks. She talked about the runner's high she felt that came with working out. It became her lifestyle, and suddenly a social media phenomenon was hatched. Now she collectively has 1.5 million people across her Instagram, Twitter, Facebook, and Youtube account, following her #misbehave movement.
She shared with the audience how she feels these days and her goals to encourage others. "I am bulletproof," she said emphatically. "I want to have a platform that allows me to empower women in the same way I feel. Because I feel unstoppable."
A quick scroll down any of her social feeds, and you'll see what she means. She has been shaking up the bikini competition circuit, was featured in R&B Star Trey Songz's latest music video, and is a fitness trainer to celebrity clients. She offered the brunch crowd many of the same tips she gives her trainees, which is to prepare healthy meals for the week and learn to love the process of physical fitness. "Don't cheat on your diet, I watching you!" she said to an aspiring fitness competitor during the Q&A session.
She changed into workout gear for a co-ed training session, and it was easy to see that her passion for fitness is contagious. I heard a few people saying they were going to the gym right after they left the event.
After Massey took a picture with each attendee, her and I discussed her larger aspirations. "I don't want to be Instagram famous. I want to be inspirational on another level." The 25-year-old is optimistic yet pragmatic about the impending journey as she said, "I know that's going to take years. I need to prove myself. It doesn't matter how long it takes, it'll come."
Afterwards, I spoke with one of the sponsors who also had a heart-wrenching story before reaching a positive turning point. Iriel Franklin is the CEO and founder of Get Fit or Get Fat, an online fitness community launched in the wake of losing her father to heart failure and her own struggle with being overweight. At nearly 300 pounds, a pivotal meeting with her doctor changed the course of her life. Now 18 months later, she has lost more than 100 pounds and still feels like she has more work to do. "I am on this journey with whoever else is looking for inspiration," she said. "Eventually I want to branch off and start a nonprofit for childhood obesity because that's where it started for me."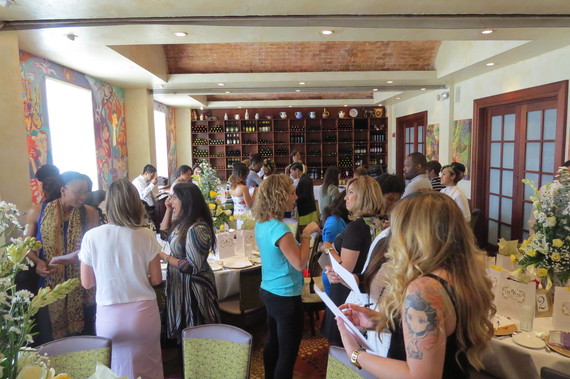 Massey was one of the first people Iriel followed on Instagram for motivation when they were both new to photo sharing. And while most people share a manufactured perception of their lifestyle, Iriel posted selfies at the gym in order to hold herself accountable for losing the weight. The tables were turned when Massey said that she was inspired by Iriel's story. She said, "For her to tell me that she admired my story, my strength, and where I came from meant a lot. It lit a fire in me to keep going." Last year, she decided to name the company Get Fit or Get Fat because it provokes people to make an important choice. "You can either take control of your life or you continue doing what you're doing and it will catch up to you. It's a reality check."
Massey's 2012 reality check is starting to pay off, now that it's becoming a fun and flirty fitness platform for a global audience to follow. From her initial post to the present, we've seen Massey be vulnerable, provocative, inspiring, and often playful. With her work ethic and dynamic personality, she is poised to garner mainstream success for the same reason her Instagram page is more authentic than the rest of ours. She lives with no filter.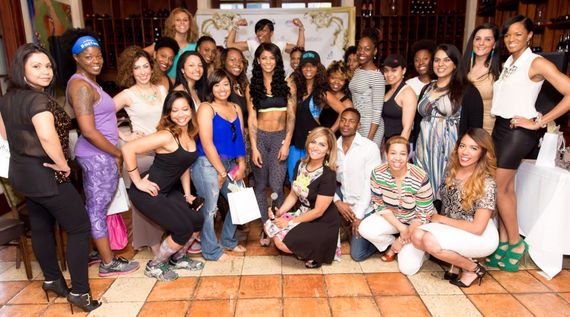 Photo credits: Adetola Adegbite, Jalisa Danielle
Popular in the Community