YouthBuild is an innovative chain of leadership development, education and job training schools for young people aged 16-24 who have left high school without diplomas. Michelle Miranda, founder of R.U.T.H. (Resilience Unity Transformation Hope), the Canoga Park site, is fiercely committed to her students' success. Miranda's students are those often considered the most challenging to serve and least likely to graduate: approximately 90 percent Latino, 20 percent undocumented, 30 percent teen parents. More than half of them have been involved with the law, and Miranda works regularly with her students' parole officers.
Miranda runs a tight ship. On my first visit, the only thing out of place in the impeccably kept storefront facility is a fruit roll-up wrapper on the hall floor. Ms. Miranda whisks it up saying, "We'll have to find out who's responsible!" As we walk past an open classroom door, she brandishes the wrapper demanding politely, "Who was eating pink fruit roll-ups?" "Don't trip, Ms. Miranda," says a young man seriously, taking it from her. "We'll figure it out."
Miranda talks about her her vision for young people:
Why were you drawn to YouthBuild?
I love the holistic approach to young people. Before YouthBuild I worked for an organization doing after-school tutoring. We went into homes, and I noticed so many young people over 18 who hadn't finished school, couldn't get jobs, and were living off their parents. The parents would ask us over and over, "Can you help us? Can you help our kids?" I researched options and liked the YouthBuild approach.
Why does YouthBuild succeed?
Our students are used to throwing in the towel. We get a lot of students coming in, making great progress, until a situation may come up in their lives. We try to look at our students the same way I look at my son. I care about his education, but I'm also asking about a roof over his head, noticing if his cough lasts longer than two weeks, the look on his face when walks in the door. When I'm looking to hire a math teacher, teaching math is only half the skill set. I need to know he believes young people are capable of wonderful things; that he can look past negative behavior while still addressing it.
Can you give us an example?
One student had dropped out of traditional high school. When we sat down and talked, he mentioned that when he was in elementary school his dad left, and his uncle started molesting him. This young man said, "Miss, I remember my teacher saying, 'Why don't you care about math, you didn't do your math homework,' and as a kid I was just worried about surviving." Many people believe that dropouts are bad kids or lazy, but some of these young people have gone through difficult things in life they didn't bring on themselves. The public school system is cutting back on counseling, and these young people show up, but don't always have the support they need. What was more important in that young man's life? Every young person has a story. I am constantly blown away. I've been through so much, but I still had it good. Sometimes young people don't realize how resilient they are, they just see what they're not. They begin to believe what they hear from people in the community -- that they're never going to amount to anything. These students are smart; they'll even mention that they know when adults have given up on them. The adults quit scolding, and just let them do whatever they want. The students know what that means.
Can you describe a moment with a student that sticks with you?
One of our students came in at 23-years-old and undocumented. He had two children already, and he struggled with having to balance work, school, full custody of his children, keeping them housed. YouthBuild was the only program that could support him. He shared his life with us and allowed us to be that support. On graduation day he called and said, "I can't make it, my aunt won't babysit because I didn't give her money." Staff held up the graduation, held the music, and said, "Just get here, don't worry, we'll sit with your kids." When he graduated he had no family in the audience except his two kids, one in diapers and one maybe four years old. When he walked the stage everybody knew his story. He got the loudest applause, and the look on his face... I will never forget.
Tell us about the Ruth, the inspiration for the name of your site.
My grandmother, Ruth Rodriguez, came to the United States in the 1917 with my great grandparents to avoid religious persecution in Mexico. While my grandmother was a teen working the fields of Santa Paula, she met and married my grandfather. Life as a migrant farm laborer was difficult, as they moved to follow the crops. My grandmother fed the farm laborers out of my grandfather's truck. She got an oil drum and bent the top to make a burner for cooking tortillas. She used the drums that were dented even more for cooking beans, and frying up carnitas. We would tell her that she probably had the first taco truck. Through hard work and perseverance, they raised four children, looking at every obstacle as a steppingstone. From working the fields they went on to own a grocery store, a hot dog stand, a shoe store and a flower shop. With only a third grade education, my grandmother worked hard in order to provide a beautiful life and a better future for her family.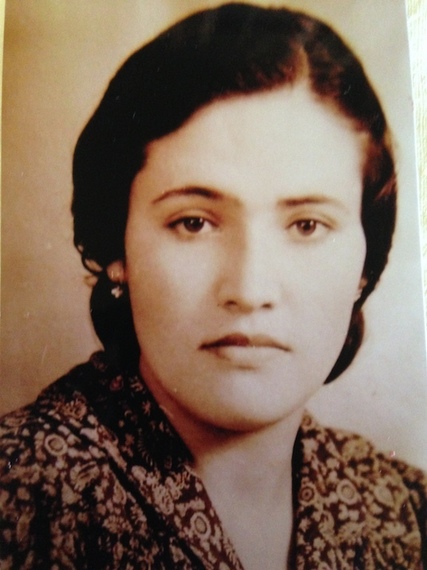 Ruth Rodriguez, whose unstoppable determination to make a better life for her family inspired Miranda.
I remember the lessons my grandmother taught my cousins and me about God, morals and values, manners, compassion, and giving. One year when I was about five, my grandmother picked me up days before Christmas and told me to choose one of my presents from under the Christmas tree and bring it with us. She took me to a garage where a family lived. That's right, a garage. I remember one of the windows was broken and they had covered it with foil. It was very cold. There must have been seven people living in that garage. My grandmother leaned down and whispered into my ear, "Go give your gift to the little girl." I was so upset, because I thought I was going to open MY present, that's why I picked the biggest box. I walked across the room and gave it to the girl. As I watched her open the only gift she was going to get for Christmas, I received a love for giving and doing for others. When my grandmother passed in 2002, they had to close the streets in Bakersfield because so many came to honor her life.
Do you see young people today with that kind of determination?
Irvin came into our program deeply involved with a local gang in a high-up position. He was always more part of a problem in the community. He showed up for class with one piece of paper and a pencil behind his ear. Staff wondered if he would stay. He was checking us out, not sure if this was what he wanted. But he kept showing up. Students were a little fearful, they said, "Don't mess with him because after school, away from YouthBuild, something could go down."
But he started taking classes, building his credits, opening up to staff - this hard young man became the young boy that he was. He ran for our Youth Policy Council and was elected. In April we have Government Education Days, and students go to Sacramento and meet other YouthBuild students. They visit Senator Padilla's office and share about their experience, and let the senator know how his office can help support young people who are stepping into leadership and flipping the script. One student had prepared the initial presentation and first introduction, and Ervin said, "Let me, let me." No one messes with him, so the others said, "Go ahead." He walked in and said, "My name is Ervin, I'm from YouthBuild, and I'm not here for myself, I'm here representing my community." At that moment I sat out of spotlight to the side, and I thought about a young man who at one point had thought it was all about him. This was such a beautiful growth. That's what YouthBuild is about, that's leadership, rebuilding our life in our community. I will never forget that moment. I'm tearing up now. Students come back and say, "Miss, YouthBuild saved me."
When did you know you were at the right place doing the right work?
Before finding our building and opening our program, I ran into every obstacle. I drained my savings account, I poured in every penny. When we opened on the first day of mental toughness class, students came in with their eyes wide open. We weren't quite a school; I didn't know what leadership was, but I felt the staff's excitement. We managed. Then students left, the staff left and the last set of fluorescent lights were on in my office. I put my hands down and breathed and realized, "I did it. I got the doors open, and the students who came in had hope. These students have been hanging out in the community not doing anything, and now they have direction and virtue and they're part of something. They're part of a program where people care." It was a great moment. The sounds, the fresh carpet smell, everything in that moment I hope I never forget.
What is your favorite part of the day at YouthBuild?
Lunchtime, because I enjoy catching up with the young people. Now our students get the federal lunch program, but before that started, our staff made food. We took money out of our own pockets to make a big old pot of spaghetti, or we brought a grill and barbecued hot dogs so our students could eat.
What do you hope you offer your students?
Some of our students come in with their academic skills so deficient. I hope they walk away empowered, that they see their own worth and know that whatever happens in life, they have what it takes to overcome. YouthBuild and the relationships they've formed will always be here for them.
What keeps you up at night?
You didn't ask me about my least favorite part of the day.
The worst time of day for me is at 3:40, when we dismiss. I know there are a few young people still struggling with their leadership, and I know the temptations out on the streets. In just one moment they can lose track of the ground they've gained.
What you hope your students believe about you?
That I care. The students told me, "You're behind the scenes, but we see you, Miss, pulling so many different projects for us." They have my back 100 percent. They come in my office to hang out, and the next thing you know, they are handling business. Those young people have taken a load off me. On my wipe-off board I list the agendas for staff and Youth Policy Council meetings. The staff agenda listed attendance, and one student said, "Look Miss, we see you wrote attendance." I said, "Yeah, it's dropping," so he added it to the Youth Policy Council agenda, saying, "It's not just your problem, it's our problem."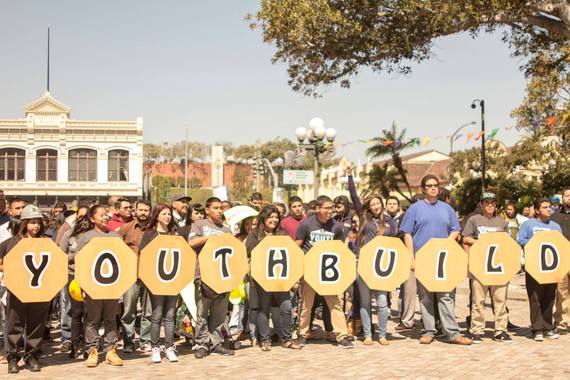 YouthBuild pride! Young people rebuilding their lives and communities. Photo: Melissa O'Connell
What are the rewards for you?
I feel fulfilled. Now my goal is for the future -- I would love that on the day I retire, I can pass the torch to one of our students, and have an alumnus lead this beautiful work.
YouthBuild has saved me, too. I've had a couple of failed marriages. Life's going to throw things at us. One guarantee is, you'll hit obstacles! Watching students come in and beat the odds, when we see them cross the stage at graduation, those are little miracles. When I go through challenges in my life, I look back at our students and tell myself, "Quit crying, you can do this." They give me virtue. They are my heroes.
Popular in the Community