Thousands of Southern Californians have fled the wildfires caused by a record drought, Santa Ana winds, and extremely high temperatures. While I feel sympathy for the evacuated residents, who are surely stricken with worry about their homes, I think more about the wildland firefighters battling the blazes in an attempt to protect those homes.
Wildland firefighters have traditionally done much of their exhilarating work in remote and unpopulated areas. But over the last few decades, as residential areas have increasingly been constructed in what experts call wildland-urban-interface areas (WUI) where structures are at risk of being burned by wildfires, firefighters are more and more often called in to defend homes.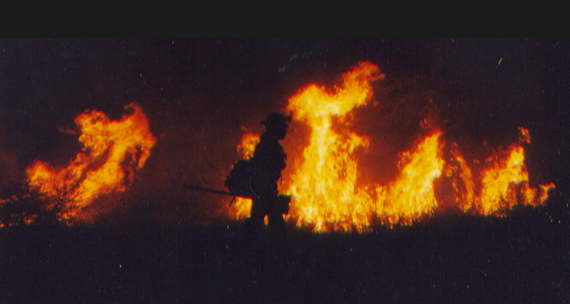 Pike Hotshot Bob Schroeder on the Angeles National Forest. Photo by Mary Pauline Lowry
I worked as a wildland firefighter on the Pike Interagency Hotshot Crew for two fire seasons. "Hotshots are the best-trained and best-equipped wildland firefighters, sometimes referred to as the Navy SEALs of their profession" (
Rolling Stone Magazine
). My 20-person hotshot crew traveled the American West chasing wildfires. My first year fighting fire, I had heard many tales of Southern California fires, about the way the fires ripped up the steep hills through the chaparral, driven by the Santa Ana winds. In September, as SoCal residents fled neighborhoods bumping up against the fast burning chaparral, my crew traveled to SoCal to join the 1,200 firefighters working to contain the blaze.
Though accustomed to digging fireline for 14 hours straight, the 28-hour shifts we worked in Southern California came as a shock. We would wake up at 5 a.m., hike four miles or so into the fire, and dig fire line all day. Then at night, once the temperature dropped and the relative humidity rose, we would use a drip torch to light a backfire off of our fireline that would burn back into the main fire, eliminating the fuel ahead of the fire and stopping the main fire in its tracks. But the backfire would inevitably throw sparks across our fireline into the unburned "green" and we would chase spot fires, working to put them out until midday, when we would hike back to fire camp to try to sleep in our tents that heated up in the afternoon sun.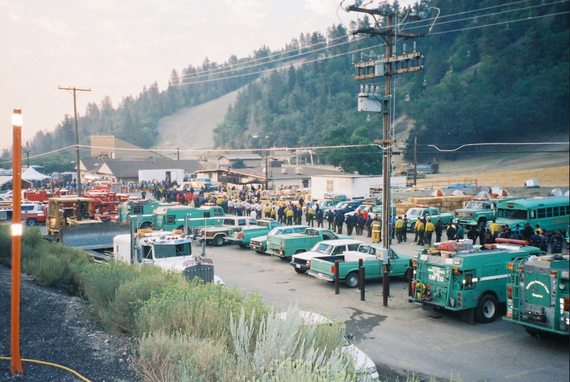 Firefighters wait in line for breakfast at a fire camp in Southern California.
Photo by John Markalunas
Dedicated, adventurous, brutally funny, and often intellectual, my fellow hotshots passed around tattered paperbacks by Hemingway and Krakauer. Yet even as we courted and idealized danger, we planned to live through our youthful adventures. Days when the fire blew up unexpectedly and we had to scramble to make it to our safety zone, we cracked dark jokes about having no desire to die on the fireline.
With California suffering a record drought, the current blazes and resulting evacuations are a harbinger of the fire season ahead. The coming months will find resources across the West stretched thin and wildland firefighters busy. And in danger. Last summer in Arizona, 19 members of the Granite Mountain Hotshots working to defend structures were burned over and died in the Yarnell Hill tragedy. The Yarnell Hill fire had begun as a small lightning strike fire on June 28, and after what has been criticized as a timid early response, grew to the larger blaze that killed 19 firefighters on June 30 and destroyed a quarter of the community.
While my former crewmates and I were heartbroken at the news, all of my firefighter friends balked at the mainstream media's description of the dead as "fallen heroes," seeing it as a pat, reductive way to avoid taking a hard look at why the tragedy occurred. (Outside Magazine, with its in-depth and insightful coverage of the Yarnell tragedy by Kyle Dickman, is one excellent exception to this trend.)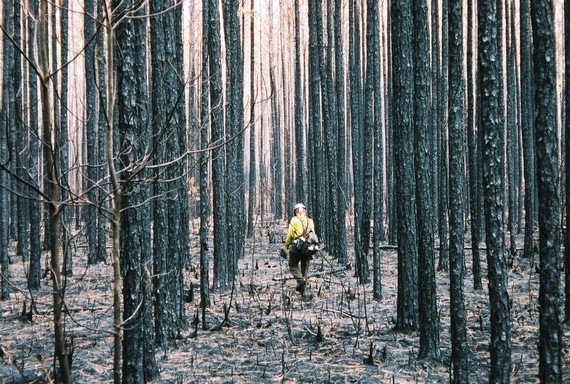 Pike Hotshot Mary Pauline Lowry walks through a burned tree farm.
Photo by John Markalunas
My hotshot friends and I knew that such a tragedy could have befallen us when we were fighting fire, and that if it had, the moniker "fallen hero" would have entirely failed to describe our dedication to each other, our antics, and our love of the work itself. We had understood the risks inherent in wildland firefighting, but also fully expected to live through each fire season. None of us accepted the job "willing to lay down our lives" for the protection of structures.
The increase in WUI areas across the country, the record droughts and high temperatures, and the United States Forest Service's historic policies of total fire suppression (which lasted from the 1920s until the 1970s) have resulted in a growth in the size and intensity of wildfires, which will likely cause increased risk for wildland firefighters in the season ahead, and the years to come.
In order to prevent further deaths of wildland firefighters, it's essential that wildland firefighting agencies implement aggressive "initial attack" strategies against all wildfires in WUI areas to prevent out-of-control conflagrations. It's perhaps even more essential for communities in WUI areas to take immediate initiative and create a defensible space around all structures. Such defensible space can prevent wildfires from burning close enough to ignite properties, and can decrease danger for firefighters working to protect towns. Yes, wildland firefighters are brave and strong and willing to rush towards raging wildfires even as residents flee. But they also should not be put in unnecessarily dangerous situations.
Calling all HuffPost superfans!
Sign up for membership to become a founding member and help shape HuffPost's next chapter