This week will kick off one of the busiest events for those in the jewelry industry -- three jewelry shows all concentrated in lovely Las Vegas. These shows include: JCK, Couture and The Antique Jewelry & Watch Show. With exhibits spread out at all different hotels, the city is bound to see the best of the best in jewels.
This year, I will be attending Couture at the Wynn for the second time, which is the premier fine jewelry show. Before heading out to Sin City with LoveGold, I decided to catch up with jewelry aficionado and PR maven Michelle Orman. Michelle is President of Last Word Communications and is one of the forces behind the show's great success. After being an attendee for 14 years, it is definitely not her first rodeo!
Michelle clued me in on what to expect, some of the craziest fine gold jewelry pieces that have launched at Couture, along with a specially-made gold piece created just for her.

What sets Couture apart from other jewelry shows?

MO: There is no other jewelry show like Couture! The sense of community at this show is palpable. The genuine fondness everyone has for one another is so heart-warming! Whether exhibiting in Design Atelier, in a Salon in the main ballrooms, in a private ballroom or in a villa, the designers here honestly feel they are exhibiting among their peers.
What can we expect and look forward to seeing?
MO: All of the fabulous jewelry, of course! I've gotten a sneak peek into the jewelry that several of our designers will be showcasing and I can tell you, we will not be disappointed! Couture is definitely the place where jewelry movements are started, and this year will be no different! I don't want to call out anyone in particular because I really am so excited to see everyone, but I'm especially excited to see Victor Velyan, Heather Moore, Pamela Huizenga, K. Brunini, Colette, Arunashi, everyone at Design Atelier, Wendy Yue, Yeprem (okay, everyone at Fragments!) Yossi Harari, Michelle Fantaci (okay, everyone at MUSE) and the designers at "Rock Vault." Okay, I could go on and on, so let's say everyone!

Will there be any new jewelry designers attending this year?
MO: We have nearly 60 new designers this year!!
Couture is known to be a launching site for some of the industry's biggest names, collections, and creations. What is one of the most beautifully designed/ craziest/unique gold piece or pieces that you've seen at Couture in all of your years attending the show?
MO: Oh, that's a tough one! The 18kt white gold and diamond glove that Shaun Leane did in collaboration with Daphne Guinness was pretty sick.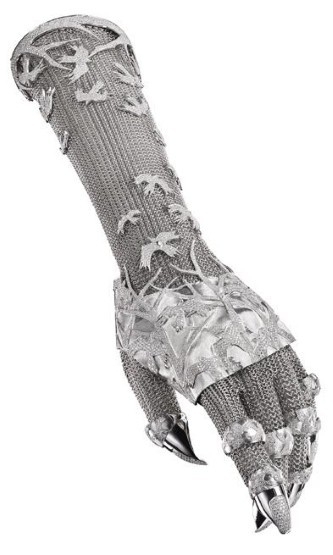 The bespoke ring Victor Velyan presented me with during set up last year blows my mind every day! He took a 28 ct peridot (my birthstone) that I had and held on to it for a few months in order to "let the stone tell him what it wanted to become." When I got to Couture, he presented me with the most breathtaking 18 karat gold and white patina ring, with my peridot surrounded by diamonds. It was love at first sight!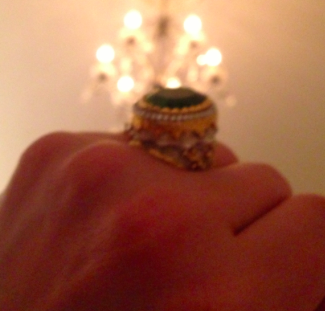 Lastly, do you have any advice for any first time attendees?
MO: I hate to say it but last year I implemented a "flats during the day, heels at night" policy and it did wonders for my feet. Drink as much water as you can at all times, have lots of tea with honey throughout the day, bring a sweater/jacket/shawl because it can be sub-zero temps at times. You won't sleep much so I bring a Vitamin B tincture to put a little pep in my step every morning (I like B Sublingual Total that you can get at Wholefoods), pack almonds to snack on (also chock full of Vitamin B), and bring arnica cream/gel and epsom salts for any minor aches and pains all that walking does to you!
Check back in the next few weeks for all of my Couture 2014 coverage & be sure to follow @bygoldgirl & @lovegold on instagram for real-time updates from the Las Vegas shows.
A few images from Couture 2013- looking forward to seeing these two designers, Coomi and Fernando Jorge at the show!
This post was made in collaboration with LoveGold