PHOTO GALLERY
Burlesque Hall of Fame Weekend 2014
Although the seeds of ballet originated in the 17th century in the court of French King Louis XIV, "Classical" ballet as we know it today incubated in the Imperial Theater of Russia in the late 19th century, and primarily under the choreographic hand of one man: Ballet master Marius Petipa's ballet "The Sleeping Beauty" is 124 years old and is widely considered the most classical work within the ballet canon. With music by Tchaikovsky, it enchants and inspires audiences to this day as a staple of many international ballet companies. The role of Aurora, the sleeping princess, tasks dancers to interpret a different incarnation of a classical ballerina, as dance critic Arlene Croce describes, "Primarily the ballet was about ballet-its flowering in the French courts of the Baroque era and its resurgence under Romanticism at the Paris Opera...Historically speaking, Aurora in Act I is the embodiment of Mlle La Fontaine, the first ballerina of the Paris Opera; in Act II, she is Taglioni, appearing to the prince as a naiad of the river of time. In the third-act mazurka, Aurora is a Petersburg ballerina."
The reason we still continue to go see "beauty" today is because its inherent classical structure allows each new generation to breathe new life into it. In ballet, classicism is a constraint to work within to push the art form forward. Classicism is not necessarily traditional or conservative; George Balanchine's choreography for the Ballet Russes and New York City Ballet solidified a neo-classical movement vocabulary, while choreographers like Anthony Tudor, John Cranko, and Sir Kenneth MacMillan pushed Petipa's story ballet format forward as a narrative artform into the 20th century. With the ever forward pacing of time, dance has evolved within the societies which support them; each generation of ballet dancers are challenged to breathe life into classical works that date back almost 200 years. Ballet in America has enjoyed steady support, which makes a well-documented study on classicism fairly straight forward.
But what about the artistic legacies of other forms of American dance? The answer to this question came into clear focus for me at the 57th annual Burlesque Hall of Fame Weekend, hosted at the Orleans Hotel in Las Vegas, which I had the incredible privilege to attend with my good friend Eli Schmidt, a New York-based fashion photographer working on a project documenting male burlesque performers.
Burlesque and ballet, both imported from Europe, finally gained their footing in America in the 1830's. George Washington Smith, arguably the only classical American male ballet dancer of note of the 19th century, made his performance debut in Philadelphia in 1832. Around the same time, American burlesque shows began popping up as well.
The Burlesque Hall of Fame was formed in 2007 in Las Vegas, forging the legacy of Jennie Lee ("The Bazoom Girl" who started the Exotic Dancers' League in 1955 and the Exotic World Museum in Helendale, California) and Dixie Evans (the "Marilyn Monroe of Burlesque" who was committed to the history and legacy of the art form, and the founder of the Ms. Exotic World pageant.) The Hall of Fame Weekend serves as their largest annual fundraiser.
While most American audiences may know Mickey Rooney or Gyspy Rose Lee, and perhaps contemporary performers like Dita Von Teese, burlesque has never enjoyed large mainstream consumption. Yet, like in ballet, the burlesque community is highly engaged in the discussion of classicism. Both dance forms rely heavily on oral histories, with choreography, technique, steps, and "tricks" passed down from dancer to dancer. (I made the analogy to sour-dough bread in a previous article.) The conversations about classicism in burlesque and ballet were identical: How do we both preserve a historic art form while pushing it's boundaries forward?
At the classic heart of a striptease is a "tease and reveal." Contemporary burlesque takes the "tease and reveal" into wildly new directions, injecting striptease with dance, circus, magic, comedy, music, and even film to become neo-burlesque.
The opening night performance, "Movers, Shakers, and Innovators," highlighted the envelope-pushing within neo-burlesque. The most striking aspect of this permutation of burlesque was the inclusion of non-traditional body types and gender orientations. Rubenesque Burlesque, a group of four big beautiful women from Oakland, California, began their strip as fat-camp victims, who stage a coup by devouring their Barbie-esque aerobic instructor before reveling in the glory of their bodies in only pasties and g-string. The crowd responded electrically, the performance diminished any rationale for a negative body image, flipping shame into sexy empowerment for the audience. Bushwick, New York's Darlinda Just Darlinda performed a solo strip to Etta James' sultry "I've Been Loving You Too Long" in a low-backed red silk robe, which slowly fell lower and lower down her back as she straddled a chair, until a dramatic whip of her hair sent glitter showering over the entire stage, a woman in heat over the edge. Ernie Von Schmaltz, a female performer in drag, performed a Gaelic river dance strip complete with hairy ass and chest with all the comedic camp of an Asterix cartoon strip.
The following night highlighted the "Titans of Tease," an exhibition performance of many of the community's living legends, which included the 4th annual Burlesque Walk of Fame, a parade of former burlesque queens. 13 dancers performed their stripteases, some in original costumes. Their bump-and-grind muscle memory still very much intact, the Legends' strength however, was still in their charismatic performances (for the balletomanes, here is a clip of a Margot Fonteyn years after her professional retirement- On-stage personality and charisma is what makes a great dancer, whether ballet or burlesque.)
The 2014 Legend of the Year Award, presented by Perle Noire, went to the "Duke's Delight" Toni Elling, who got her name from good friend Duke Ellington when she began performing in the 1960s, who also wrote her signature song. Elling prided herself on not conforming, avoiding "savage" routines popularized by other African-American performers, opting instead to perform more classic routines. The host for the evening, World Famous Bob, delivered a dynamic performance, repeatedly emphasizing to the crowd, "If you don't know where you're coming from, where do you know where you are going?"
The main event was the 24th annual "Tournament of Tease," an annual competition showcase for the best in burlesque. London's Bonnie Fox's jazz-age Charleston won her the "Best Debut," while "Most Comedic" went to New York/Seattle-based absurdist duo Kitten n' Lou, whose larger- than-life disco groove "Last Dance" had the audience cheering. "Best Troupe" went to the precise Ruby Review from Dallas, Texas.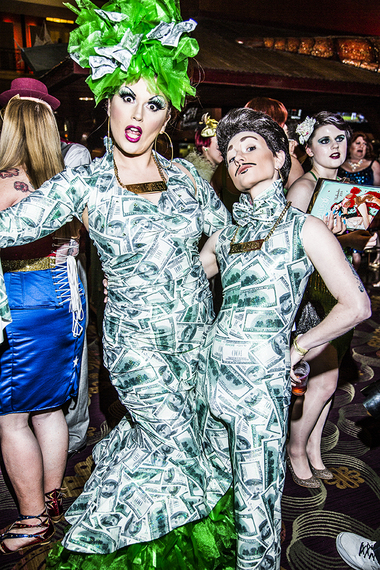 Kitten n' Lou. Photo by Eli Schmidt.
The category that prompted the most debate were the four dancers competing in the "Best of Boylesque" category. Boylesque is emerging as a sub-genre within neo-burlesque, inherently non-traditional because of the gender of the performers, yet fully engaged with the classicism of burlesque. Seattle's Eddie Van Glamm gave a flamboyant performance to the Village People's "Macho Man" dressed as a wrestling titan. The title of "Best Boylesque" however, was taken by New York City's Mr. Gorgeous, who playfully led the audience through a campy ice cream routine as an classically handsome soda jerk.
The two remaining performers in the boylesque category were fraternal twins Paris and Trojan Original. Their performances were by far the most thought-provoking. For his performance, Trojan entered the stage in only a towel, looking like he just emerged from a shower. His controlled balletic choreography allowed Trojan to play within a simple yet effective constraint; a single towel kept the audience captivated, hoping for a wardrobe malfunction. A classic concept with hyper-masculine yet vulnerable performance solidified Trojan as one of the best performers in Boylesque today.
His brother Paris took a slightly different approach. Paris was born to be a opulent showgirl, he certainly didn't disappoint. Transforming from blackbird to phoenix in full heels and feminine bravado, he sizzled each peel with the radiant confidence we all wish we had. Despite his incredible performance and costuming, his femme style perhaps may never win if the historic white heterosexual male gaze continues to be the aesthetic drive behind burlesque. While Paris certainly gave the contestants in the "Miss Exotic World" showcase a run for their money, the title went to Midnite Martini, who performed an elegant Queen of the Night aerial strip; she gave a classic performance with an innovative twist to dazzle a contemporary audience.
A red-eye flight back to New York prevented me from seeing the second half of the final evening's "Icon's and All-Stars," but I did manage to catch Brisbane, Australia's hula-hoop virtuoso Captain Kidd ("Best Boylesque" and "Most Dazzling 2011") in an outrageous green beaded bikini and blond wig, and New York duo Trixie Little and the Evil Hate Monkey ("Best Duo 2006"), whose acrobatic (and hilariously consensual) beastiality were among the most captivating performances of the weekend.
My favorite memento from the weekend was a shirt given to me by Seattle-based Boylesque performer Waxie Moon, with a black and white photo of himself on it (ironically also shot by Eli). Waxie, a former Jose Limon dancer, was my spiritual guide into burlesque, and helped me define what burlesque really is: Burlesque is sharing your humanity. Burlesque is body affirmation. The burlesque stage becomes a space where there were no wrong choices, just personality and charisma. Like with any performance, every burlesque audience just wants to get to know you. And within a structure like the art form that is burlesque, classicism can and is flourishing. That is the reason why timeless dance works become classics -- the strength of the art maintains the ability to transcend time through the new creative breath of each new performer.
Calling all HuffPost superfans!
Sign up for membership to become a founding member and help shape HuffPost's next chapter