As we all wait for season two of Broad City we have a few options for how to cope. We could sit in a dark room and cry, try to invent a time machine, or fall in love with a new series. If you chose the latter, DIBS is the best cure for Broad City withdrawals.
DIBS, created and written by Tracy Soren and Jessie Jolles (also known as Soren & Jolles), is a subtle and nuanced comedy about two best friends handling life's simpler moments. DIBS recently released its second season and does not disappoint (watch episodes here).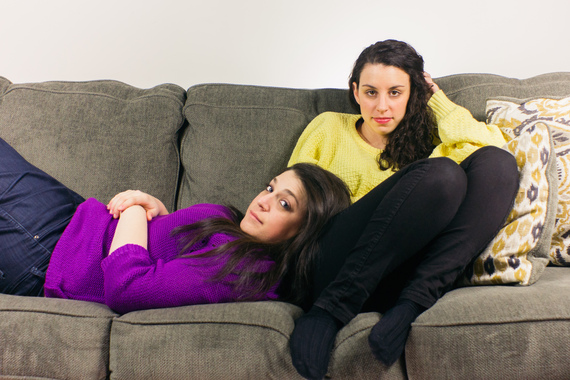 Similar to Broad City, the writers and creators of DIBS also star in the series and their chemistry is a major catalyst for humor. The friendship between the two main characters, Emily and Joey, is the glue of this web series. As Soren aptly remarks at one moment in Season Two, they're "a lot of together." Soren plays Emily, a type-A personality who is dealing with the complexity of friendship with an ex lover and her career after sudden changes. Jolles stars as Joey, who in season two goes on a new romantic adventure and works on finding the courage to pursue her dreams of singing. Emily and Joey wouldn't end up at the same party as Abbi and Ilana (Emily and Joey wouldn't even make it to the party), but there would be an appreciation of each other's fiercely loyal friendships.
With the success of shows like Broad City, Playing House, Awkward, and Girls, it is clear that audiences have been ready for honest portrayals of female friendships. DIBS celebrates the minutia of everyday situations through the lens of Emily and Joey's relationship. A tampon falling into a toilet, the act of stepping on a person's shoe, preparing for a job interview, a simple game night -- are all vehicles to the relatable comedic absurdity DIBS thrives on.
And if you're a fan of sweet, sweet emotion, DIBS has the ability to shuffle naturally from the comedic to the serious. I know we all came here to laugh but doesn't it feel good to cry sometimes? Those two emotions are easily confused - you can laugh so hard you cry or cry so hard the only thing to do is laugh so stop confusing yourself and just let DIBS do the work.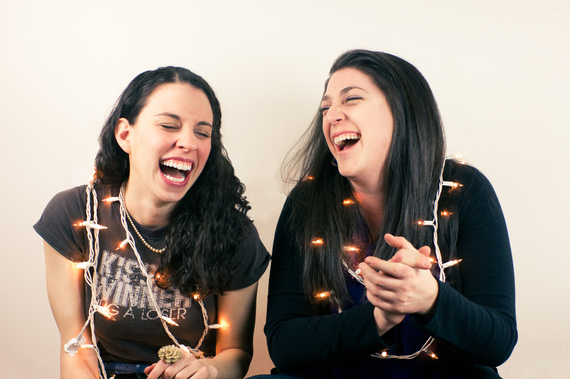 Like Broad City's Abbi Jacobson and Ilana Glazer, Jessie Jolles and Tracy Soren met at the Upright Citizens Brigade in an improv class and formed a tight partnership. They created two seasons of DIBS in a year and a half, with the release of Season One in September 2013. They successfully crowdfunded for Season Two on Seed&Spark, a crowdfunding site for independent filmmakers. As the amazing Amanda Palmer discussed in her TED talk "The Art of Asking," crowdsourcing is a mechanism through which aspiring artists (e.g., musicians, comedians, authors) can acquire the means to showcase their work. Will DIBS be the next self-made success story making its way to television?
Calling all HuffPost superfans!
Sign up for membership to become a founding member and help shape HuffPost's next chapter