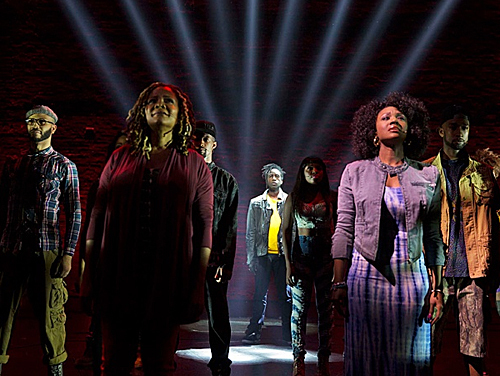 In the early 1990's the very idea of a Broadway musical being focused on the work of rapper Tupac Shakur, would have been unimaginable to most Americans. At that time rap music, especially gangsta rap, was widely considered to be a moral and physical threat to the well being of our society. Tupac Shakur was easily the perfect target for a media assault, due to his lawsuits, rivalries, jail time, politics, good looks, and gunfights. His life was a perfect storm of details which created a legend.
Today, Tupac is one of the most successful recording artists of all time, selling over 77 million albums worldwide. His music is now studied at Harvard University, and there is a Tupac Shakur foundation, arts center, scholarship, films, and books, about his life and work. Tupac has become an omnipresent visage of the anti-hero, who once was feared but is now generally accepted by the mainstream.
The only domain left for Shakur to conquer is Broadway, "The Great White Way". Judging by the extremely diverse audience presence at the Palace Theatre, which included multi-generations and races, the appeal of the show is very wide. Holler If You Hear Me is not a musical biography about Tupac's life, but rather an original musical featuring his lyrics and poetry.
Breaking new ground as being the first Broadway musical based on a hip-hop artist's work, Holler is exploring uncharted territory that may set the stage for a new Broadway genre, Hip- Hop Theater.
The production of Holler If You Hear Me faces a unique creative challenge. Tupac's lyrical prowess is the musical's strength and driving force, but it is also the biggest mountain to navigate. Watching the performances on stage, one quickly realizes that the quality of Tupac's writing far outweighs the quality of the musical's plot. Tupac's storytelling is layered, dramatic, clever, and descriptive. You can vividly hear, see, and feel his world.
Holler If You Hear Me's plot is a simplistic and predictable story about jail, pain, and home. Although the cast members performances are good, they really don't have enough material to shine. As a viewer, you basically want the original dialogue to stop and the music to begin again. The heart of the story is in Tupac's lyrics. The highlights of the show are the songs Thugz Mansion, Hail Mary, I Ain't Mad At Cha, Holler If You Hear Me, and the classic California Love.
One can't help but to wonder what type of story Tupac would have created for the musical, if he were still alive. It will be interesting to see how future productions of hip-hop music will translate to the Broadway stage. One thing is for certain, rap music has proved to be a genre of writing that can hold its literary own. The question is, will Broadway be able to rise to the challenge?
Popular in the Community