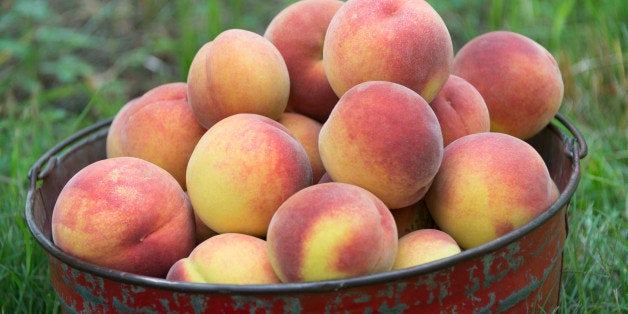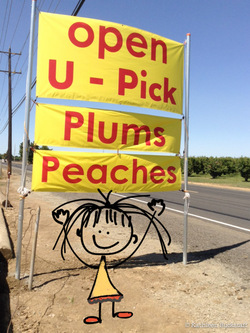 The other day, my husband suggested we take a Saturday day trip to a town in California's central valley to pick peaches. We live near San Francisco. Most days in July and August, fog pours through the Golden Gate Bridge and covers our town with what I consider to be arctic air. This means while the rest of the country is wearing shorts and flip-flops, I'm wearing wool socks and a down coat and trying very hard not to feel sorry for myself.
As a girl, I spent summer weekends at a ranch in Northern Arizona where we had peach trees. Family friends of my parents would drive from California with their four children in a yellow Pontiac station wagon, the kind with wood panels on the sides and rear seats that faced backwards. When our family friends arrived, we would pick peaches, make pies and eat dinner late. It was a time when the sun set reluctantly and singing happened around a fire at night.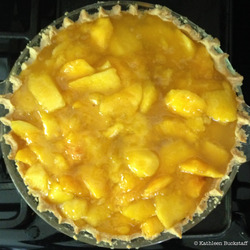 As my husband and I prepared for our day trip, fog and cold wind swirled around our house while I covered my skin in sun block. Maybe we'd see the sun. Perhaps I might even feel hot. When we got in the car, the temperature gauge read 56 degrees. As we headed north on highway 101, it only took 20 minutes for us to leave the fog behind. A half hour later, I took off my wool socks and enjoyed the California oaks and watching the temperature rise. About an hour into the drive, I pushed the AC button in the car.
We selected a U-Pick farm with peaches and plums in season near Brentwood. In less than an hour and a half of driving inland, the outside temperature almost doubled. The gauge read 98 degrees outside. The heat was heaven to me, and I felt my skin open to the warmth. In the parking lot at the farm, I put my feet in the hot dirt: summer. We checked in at the fruit stand, where we were told that the pluots were delicious and that the peaches were in rows 100 to 103. We took a bucket supplied by the farm. A white board listed prices. I laughed that to drive and pick the fruit ourselves was the same cost per pound as our local grocery store. We were paying for the experience I reasoned and decided to get my money's worth and savor being in an orchard. It had been decades since I'd picked peaches.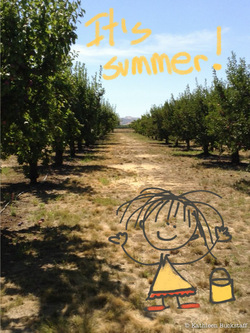 We wandered through the trees. Towards the end of row 103 (they were numbered), we saw a tree sagging with the weight of white peaches. It was stunning to see so much fruit on one tree.
The branches bowed to earth. I knew that feeling. As the mother of three, I remembered that late pregnancy heaviness. "Would someone, anyone, please have mercy and take this baby out of me?" The trees seemed to be asking the same of us.
We were allowed to sample and picked ripe peaches and ate them. Juice dripped from our hands and we delighted in the sweetness. I watched dragonflies encircling a tree and butterflies zipping upwards. It seemed the insects were doing their own version of a harvest dance while we filled our bucket with ease.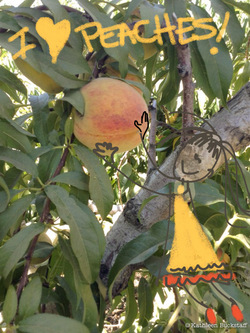 I made a note to myself when I was standing in the middle of a white peach tree to remember the feeling. I wanted to remember the heavy scent, the branches full of leaves and the ripe fruit in my face, beside me and behind me. I wanted to remember laughing.
When I was in the middle of a peach tree, I laughed out loud at the incredible abundance of a tree full of ripe fruit. In the aisle of the orchard, I laughed again at all the peaches, plums, and apricots--an orchard full of ripe fruit. I don't think our culture would suffer so much if we spent more time with fruit bearing trees. They feel generous, abundant and awesome.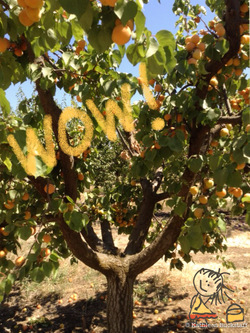 When we found the pluots, we ate them from the tree as if we were children in a candy store allowed to sample the sweetest of treats. One pluot fell from a tree and my husband, to his credit, caught it in midair. The juice burst all over his hands and shirt, exploding with summertime warmth.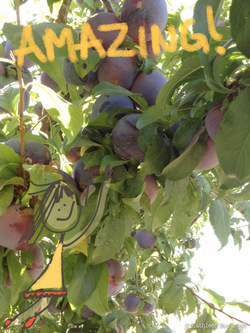 We returned to the fruit stand, hot, covered in fruit juice carrying buckets of peaches, plums, apricots and pluots. We paid for our trove, bought some white corn and filled our hot car with bags of fruit. The air conditioning in the car recirculated peach scented air. As we descended into the Bay Area, we had a view of San Francisco and the distant hills. The sky was blue, the hills were golden, and the fog had receded and hung out over the ocean. For a moment, I remembered what it felt like to be hot, carefree and drunk on peaches and summer.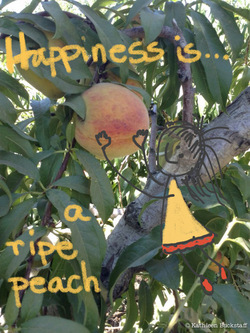 ---
Kathleen Buckstaff is the author of two books that celebrate life and motherhood:Mother Advice To Take With You To College, a collection of hilarious drawings and wise sayings, and The Tiffany Box: A Memoir, an International Best Book Awards Finalist, a true story told through emails and letters about the last two years of Kathleen's mother's life.