Shooting stray dogs is common practice in Iran. However, now the northwestern city of Tabriz has become the first and only city in the country to outlaw killing street dogs. It's all thanks to the efforts of one Iranian woman who is campaigning for those who can't speak for themselves.
Jila Pourirani founded her private animal shelter for stray dogs and cats three years ago after a massive cull where nearly 400 dogs were shot down in Tabriz. Some of the animals were reportedly buried alive, some starved to death at an animal disposal unit, while others were strangled with barb wire. The killings were carried out by a private company hired by the city.
Pourirani witnessed the atrocious acts, and is still haunted by her memories.
"I had one year of depression, and anxiety," says Pourirani.
The City refused to open a shelter, so she took out loans, sold her gold jewelry, and built one herself on land donated by a wealthy Iranian.
After years of campaigning by Pourirani and other animal advocates, the city council in Tabriz has now agreed to ban the killing of street animals. Any stray dogs or cats encountered by city officials must now be sent to Pourirani's animal shelter called "Pardis," which translates to paradise in English. While Pardis is being considered a success, other municipalities in Iran are continuing to kill homeless animals, some without using any anesthetic. Pourirani hopes other cities will replicate the model established in Tabriz.
The problem is getting worse in other parts of the country. A petition on change.org is asking Iran's Environmental Protection Agency to ban the killings in Mashhad, a city in Eastern Iran. The organizer of the petition is claiming that animal control officers are killing street dogs on a weekly basis and then collecting cash from city officials.
"They get paid 50,000 Tomans for each dog that they kill and they have managed to turn these killings into a lucrative business," writes an online user identified as Universal Declaration of Animal Rights and Welfare (UDARW).
UDARW claims that animal control will even steal people's pets in a grizzly effort to make more money.
However there is hope as the kindness of ordinary Iranians is helping to save the lives of many of these animals. A non-governmental shelter in Mashhad called Mehr has taken in more than 300 stray animals. All of them are vaccinated, neutered and spayed. Near the Iranian capital Tehran, another animal shelter called Vafa has more than 400 dogs in its care. Since it opened in 2004, hundreds of North Americans and Europeans have adopted dogs from Vafa, creating a new and safer life for them in the West.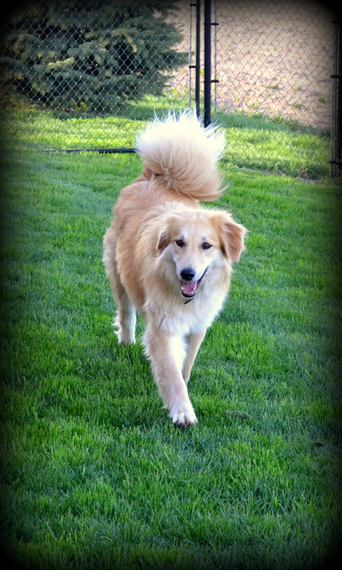 Mahtab (now Debbie), Adopted by Anne Marie and John McCusker - Mossley, Ontario, Canada - Feb 24, 2013, Credit: Vafashelter.com
It's not just street dogs that face adversity, domestic dogs also are struggling in Iran. Even walking a dog can be risky after Conservative clerics passed a motion last year banning owners from walking their pets in public or having them in cars. Authorities patrol the streets arresting the dogs, then sending them to a detention centre south of Tehran, never to be seen again. Iranians are forced to take to the streets with their pet late at night, most often in back alleys to evade the authorities . In earlier years, dog owners would pay a $100 to $500 fine to ensure the safety of their pets, but those days are long gone. Now, dozens of people in Iran keep their dogs under "lockdown" in their home and in their yards, never allowing them see the outside world.

It is still legal to own a dog although hardliners are trying to put an end that as well . Finding pet food has become a difficult task, as supermarkets will not carry anything pet related. Some veterinary clinics, which are not very common will however sell dog and cat food.

The reason for all this backlash is that dogs are viewed as "impure" in Islam, and they are also seen as a symbol of westernization. Merely walking your dog in public can be perceived as a form of resistance against the government.

Despite the restrictions and obstacles, the people of Iran continue to rally for these defenceless creatures. An S.P.C.A recently opened in Tehran, and according to ABC News Foreign Correspondent Mohammed Lila, their pamphlets advertise the kindness that prophet Muhammad showed to animals. The campaign is most likely in attempt to fight religious restrictions with religious support.

While Iran is not a friendly place for dogs, many animal lovers like Pourirani are making a difference. She has halted the killings of dogs in Tabriz, and although the whole country hasn't followed suit, change happens one step at a time. One woman can and has given these innocent animals a second chance at life.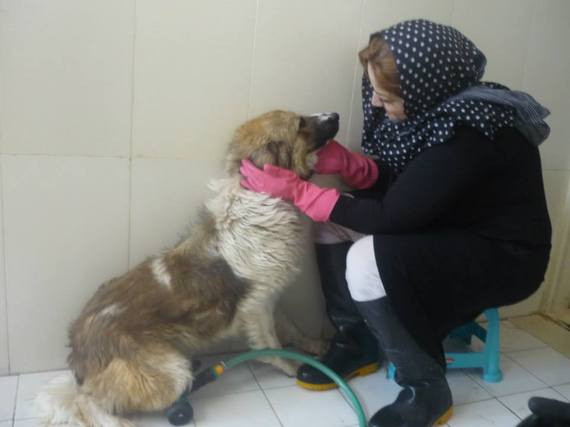 Pourirani washes dog at Pardise Animal Shelter, Credit: Facebook
To donate to animal shelters in Iran or to adopt a dog in Iran:
Popular in the Community