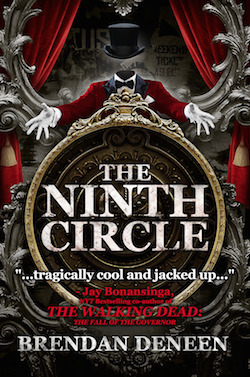 Lion tamers, a bearded lady, sword swallowers and more: Brendan Deneen's The Ninth Circle has it all and stands apart as one of the most fascinating and unique books to hit shelves in a long time.
Brendan - the executive editor at Macmillan Entertainment, where he edits projects like Robert Kirman's The Walking Dead novels - says the inspiration for The Ninth Circle came during a road trip over 15 years ago. "I was reading Dante's Inferno and I wanted to figure out a way to write a book about the circus," he explains.
A true coming-of-age story, The Ninth Circle follows the journey of Dan - a 16-year-old boy who finds acceptance after running away from home and joining a traveling circus. But along the way, Dan also uncovers a trove of dark secrets. "Feeling displaced or bullied or tortured is something a lot of kids can understand. Every single human has felt like a misfit at some point," Brendan explains. "It's based on Dante's Inferno: Dan is Dante, the Ring Master is Virgil, and everyone in the circus is basically the damned."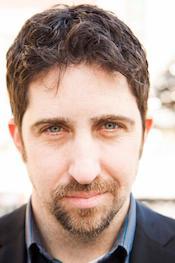 Like many authors before him, Brendan's love for writing took root at a young age. "I started writing as soon as I could pick up a pencil. I started drawing my own comic books when I was eight-years-old, and I wrote my first novel in high school and started actively writing short stories and it sort of just evolved from there."
Though The Ninth Circle is Brendan's first prose novel, he's already penned multiple graphic novels including the critically acclaimed series Scatterbrain, Flash Gordon, Casper the Friendly Ghost and the recently released Rudolph the Red-Nosed Reindeer's Island of Misfit Toys. "I have two writing brains: A side of me that always loves kids books, and then I have my other side where I like being able to explore the darker aspects of the human psyche." he says.
In addition to writing and editing, this man-of-many-hats has also worked on film and TV projects at The Weinstein Company, Warner Brothers and Legendary Pictures just to name a few.
So should we expect to see The Ninth Circle on the big screen any time soon? According to Brendan, that was never his intention with this project, but to his surprise the award-winning Florida Thespians - the largest high school theatre organization in the world - has chosen to adapt The Ninth Circle into a live theatre production. "People reaching out to me about The Ninth Circle is really a dream come true," he says. "So much passion went into this project. It really was a labor of love."
Calling all HuffPost superfans!
Sign up for membership to become a founding member and help shape HuffPost's next chapter