Is there such a thing as yoga on steroids, or is that a contradiction in terms? Yoga is often considered the ultimate in Zen exercise and mindfullness, so what would you consider a form of yoga that requires even more balance and core strength? That's what you achieve with Stand Up Paddleboard (SUP) Yoga, a fitness craze that while not entirely new is causing waves across the globe.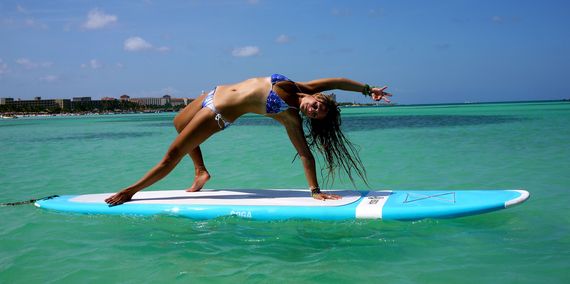 Photo Credit: Rachel Brathen
SUP Yoga is the perfect combination of the exercise sensibilities of surf-loving Hawaiians and the existentialism of the true yoga-minded individuals. The stand up paddle board exploded on the water exercise scene in 2005. The Outdoor Industry Association began tracking SUP in 2010. In their annual Outdoor Recreation Participation Topline Report 2014, they stated that stand up paddling had increased 24 percent in three years. The one year change was 29 percent, the highest of any activity monitored. Somewhere along the way, a yoga enthusiast noticed that paddle boards were about the same size as a yoga mat. A few modifications later, and SUP Yoga was born. Communities and retreats are now available throughout North America, Europe and Australia.
Enthusiasts say that SUP Yoga brings a new dimension to their workouts. It builds core strength more effectively than traditional yoga because you have to work the midsection more to stay in balance. Other key components are range of motion and balance. Since so much of yoga is focused on posture, it's pretty easy to tell when your pose is not aligned properly on water, as your board slowly begins to list to one side. Participants also have the added advantage of being able to commune with nature, instead of a stifling hot gym or yoga studio. The sound of waves lapping at the board helps focus your mind, and provides a gentle rhythm for your breathing.
Some people say that it's hard to exercise because it feels like they are doing the same thing all the time. SUP Yoga brings a new dimension to the workout mat, and offers a fun new way of becoming one with the universe.
My Top Five Picks For SUP Yoga:
Aruba -- Marriott Resort in Aruba -- Certified Paddle Board Yoga Instructors and daily classes as well as private instruction
TURKS AND CAICOS -- Island of Providenciales. The water is clear and the reefs are magnificent
MEXICO -- Punta Mita, a village about 30 miles north of Puerto Vallarta, Mexico
FLORIDA PANHANDLE -- I highly recommend an early sunrise paddle on the Choctawhatchee Bay
SAN DIEGO -- San Diego Bay, Mission Bay, and Carlsbad Lagoon
NOTE: In the spirit of full disclosure I have no commercial connection to any brands named in this article nor was I paid or compensated in any way to write it. In truth, I am just a guy who is always looking to take my health and wellness to the next level.