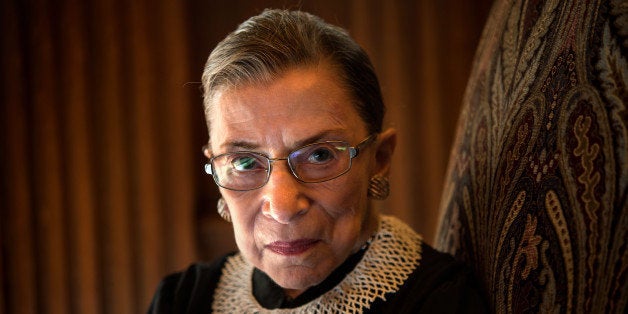 On Monday morning, the Supreme Court surprised many by declining to hear appeals from decisions in five states striking down bans on same-sex marriage.
Supporters of same-sex marriage have widely hailed the Court's move as cause for celebration. And they are undeniably correct that in many ways the decision represents forward progress for marriage equality. The decision immediately allows same-sex marriage in the five states -- Utah, Oklahoma, Wisconsin, Virginia, and Indiana -- where a federal court of appeals had previously struck down a ban on marriage equality but had stayed its ruling.
Moreover, the states that were not directly involved in the appeals presented to the Court, but that are governed by the same courts of appeals, will also likely begin to allow same-sex marriage. If this happens, same-sex marriage will be legal in 30 states.
Yet as advocates of same-sex marriage cheer the march of progress, it's important not to lose sight of the fact that marriage equality affects individuals. Individual couples and families won an important victory today when the Court effectively increased the number of states where same-sex marriage is legal from 19 to 30, but the wait is far from costless for those in the other 20 states.
Last month, Justice Ruth Bader Ginsburg told an audience in Minnesota that "there is no need to rush" for the Supreme Court to address the issue of same-sex marriage. Her explanation is that there is no circuit split: every federal appeals court to address the issue has resolved it in the same way.
Perhaps for some issues this reasoning would hold true. But with respect to marriage equality, delay is often costly and sometimes devastating. Recall Kim Woodard and Jerry Custer, a couple in Oklahoma who -- after nearly 20 years together -- decided in 2013 to marry. They originally planned to marry in California, but Woodard's health deteriorated, and he could not travel. Today's Supreme Court decision declining to review Oklahoma's same-sex marriage ban comes too late for Woodard and Custer. Woodard passed away on July 23, 2014.
Or consider the situation of Veronica Romero and Mayra Yvette Rivera, a couple in Indiana. Romero and Rivera have been together twenty-seven years, have two children, and were married in Illinois in March 2014. Rivera has advanced ovarian cancer. Indiana initially refused to recognize their marriage -- thereby depriving them of spousal rights such as the ability to make medical decisions for one another -- but eventually agreed to do so after a federal court intervened. While Romero and Rivera did receive the legal relief they sought, many other couples in their situation have not and will not.
Short of the painful situations of Woodard and Custer in Oklahoma, and Romero and Rivera in Indiana, thousands of other couples experiences tangible negative consequences as the result of delays in the recognition of same-sex marriages. The experiences of Aaron Feller and Nik McFarland, a couple in Utah, reveal many of these harms, ranging from denials of health care benefits to delays in educational access to the risk that elderly relatives may not live to witness a joyous union.
In short, delay in marriage equality means that many would-be spouses remain uninsured or underinsured, depriving those with physical or mental health issues of life-changing medical care. Delay in marriage equality means a delay in educational opportunity for those who could not afford it without benefits gained through a spouse; if the delay is lengthy, it may shape the course of a career. The delay may interfere with the experience of parenthood for those who wish to bring children into their family but hesitate to do so without the protections afforded by legal marriage. Delay may increase income tax liability. Delay complicates the disposal of estates among even the most devoted domestic partners. Delay risks preventing beloved relatives, particularly those who are elderly or in poor health, from sharing in the joy of seeing their children, grandchildren, nieces, and nephews wed the people they love. Delay imposes immense psychological and emotional costs on the thousands of couples waiting anxiously to learn whether they can legally marry. And for some couples -- those where one or both people are elderly or seriously ill -- delay might foreclose marriage altogether.
So with the utmost respect to Justice Ginsburg, she is incorrect that there is no need to rush to consider marriage equality. To say that there is no need to rush is to say that it does not matter if same-sex couples undergo a range of serious, tangible harms that result directly from a delay in marriage equality. It is insulting to same-sex couples to suggest that they should wait patiently for some indefinite period of time until courts and legislatures get around to making decisions that intimately affect these couples' fundamental rights.
When the Supreme Court stayed the decision striking down the ban on same-sex marriage in Utah, over 1300 same-sex couples had already married in Utah. These already-married couples litigated to have their rights recognized, and Judge Dale Kimball held that those rights should receive recognition. "Legal uncertainties and lost rights cause harm each day," he wrote.
Judge Kimball was right. Let's hope the Supreme Court soon recognizes the day-to-day harm of these lost rights and acts quickly to implement marriage equality for everyone.
Calling all HuffPost superfans!
Sign up for membership to become a founding member and help shape HuffPost's next chapter