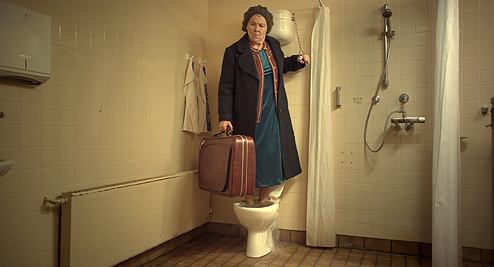 Mamma Gogo (Kristbjorg Kjeld) ©Spellbound Productions
Apparently, even in Iceland, there are mothers.
No matter what country we're from or political office we hold, we all have mothers, and the impact they have on our lives is seismic. Fridrik Thor Fridriksson's new film, Mamma Gogo, is a real life tribute to his mother with Alzheimer's, who turns 96 this week, but also to those of us who navigate the rocky road of the mother-child relationship. Read: All of us.
For those who don't know Fridriksson (yet), he is one of if not the leading directorial voices for Iceland, an Oscar Nominee (Children of Nature), has a production company with Francis Ford Coppola and is able to get A-list actors like Kate Winslet to collaborate on his films without accepting their usual million dollar salaries.
No one is ever really lost to us, even and especially if they're dead, in a Fridriksson film. But with a disease such as Alzheimer's, we can feel like we're losing those we love, even while they're still with us. In Fridriksson's film Mamma Gogo, which is based largely on his own experiences, life is anything but one-dimensional.
On the surface, Mamma Gogo is a story about a director (played beautifully by Hilmir Snaer Gudnason) waiting desperately on an Oscar nod for his critically acclaimed film while his mother's mental health deteriorates from Alzheimer's. Underneath this, the film has incredible richness, depth and unexpected humor.
When asked if it is hard to be so vulnerable, to show one's own life experiences for millions to see, Fridriksson says, "Filmmaking is the greatest strip-tease of all. You're always showing your own feelings and ideas."
Almost immediately in the film, there is a scene that is inspired: Mamma Gogo is watching her redheaded grandson and she has a drink while they watch Charlie Chaplin together. The phone rings, and as she goes to get it, the young boy secretly finishes her drink and pours himself another. Soon, he is sick and she's forced to take him to the hospital. The boy declared fine, Mamma is rushing home in the car to get there before the boy's parents return and she is stopped by the police.
"Have you been drinking?" they inquire. "Nothing to speak of" she says. "Will you take this breathalyzer test?" She hesitates "Is that really necessary for a woman my age?" Evidently it is; she blows into the tube and the alcohol results are over the limit. It looks like she and the boy may spend the night in jail, or worse. "That test is broken," she says, "Have the child blow into the tube to prove it." Her grandson's results are, obviously, even worse than hers! The police officer apologizes profusely and they are safely on their way back home.
Actress Kristbjorg Kjeld gives the performance of a lifetime in Mamma Gogo. Even though Fridriksson had Kjeld in mind for some time for the part, "I was waiting for this actress to get older." (How un-Hollywood is that?!) There are sequences in the movie that feature a very young Kjeld; it was a stroke of genius on Fridriksson's part to use an earlier film she acted in to play her younger self. The old 1962 black-and white film was Eric Balling's 79 Af Stooinni. The new film had already been named when it was realized that Kjeld's character's name in the first film was also Gogo. Coincidence? Fridriksson thinks not. He declares charmingly, "As Elvis Presley said, 'Some things are meant to be.'"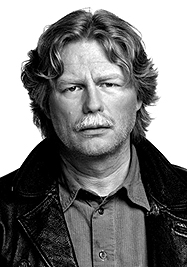 I spoke to Fridriksson on September 11 and he said that he was scheduled to be on American Airlines Flight 11 nine years ago. He was flying out to meet Keith Carradine before they started shooting their film Falcons together. Fridriksson was in Toronto for the festival, but the cheaper flight was from Boston. The morning after a big premiere, he was forced to spend the extra fee to fly direct. "One hundred and fifty dollars turned out to be what my life was worth," Fridrik says, with a sad, ironic laugh, "but you begin to think about purpose. I feel like I survived so that I could make this film."
The film in question is another he has recently made, the documentary A Mother's Courage: Talking Back to Autism. A mother flies to the States and Europe from Iceland to find out what possibilities there are for her ten year-old son Keli who until then has been unable to really communicate. Turns out, there are endless hardships, but also endless possibilities. "It was like filming a miracle." says Fridriksson. Today, Keli is able to communicate and be educated in an entirely different way. They also encounter other mothers and autistic children and we see their journeys and transformations. The film also contains major talent. It is narrated by Kate Winslet and has music by Sigur Ros and Bjork.
"Everyone we asked to do something, they did it. For free. This film was protected by God, or whoever's up there." Fridriksson also gave up his own salary.
Fridriksson's two films are about Alzheimer's and autism, two conditions that can feel like they steal those we love away, even as they live and breathe right next to us. But that's not their only similarity. "Some drugs for Alzheimer's work very well for people with autism," he says. "There may even be more similarities that we haven't found out about yet." Fridriksson feels confident that a cure for Alzheimer's will be found soon. "If I quit filmmaking, I would have a cure in four years!" he laughs, joking. Or, considering how much he's been able to accomplish in his life, maybe he's completely serious.
Popular in the Community