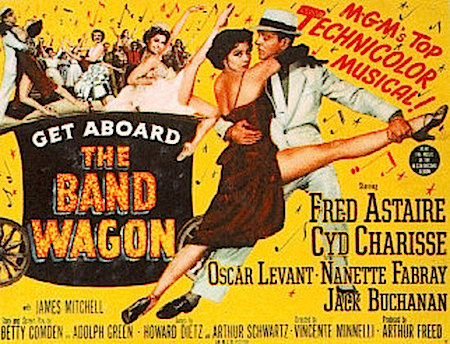 Who even watches The Band Wagon anymore? Well, my daughters do, Lea and Sara, ages eleven and nine. The Band Wagon may be their favorite movie musical.
Fred Astaire's shoe shine. Cyd Charisse's murderous gams. "Dancing in the Dark." "Triplets" (especially). Even Oscar Levant's delectably demented ineptitude singing and dancing "That's Entertainment."
News that Encores! here in New York is mounting a "new stage adaptation" of
The Band Wagon as a "Special Event" beginning Thursday filled my girls with wonder, and not a little moral outrage. "Why?" they cried!
All I could think to reply was: Why not?
I telephoned Douglas Carter Beane, one of our great living comedic dramatists (Lord, we need more), and the person credited with fashioning a new Band Wagon book for Encores! from the timeless screenplay by Betty Comden and Adolph Green.

"What have you done to the Band Wagon?" I asked Doug.
"Just a touch defensive, are we?" Doug more or less laughed. "I've simply made it into a stage show, as is my want, from time to time.
"I do have a good reason," he went on. "Have you ever noticed that about two-thirds of the way into the movie, the story just stops and the film becomes a collection of musical numbers."
"Yes," I said. I had noticed that.
"Well," said Doug, "I once asked Betty and Adolph why. And Adolph answered: 'Because our contract at MGM was up. We sort of left town. We told MGM: You could pay us a lot of money and we'd stay an extra month to finish it. But MGM said no.'
"The rest of the movie," Doug added, "was basically patched together by the director, Vincente Minnelli, and -- as I understand it -- Alan Jay Lerner wrote some uncredited connecting material."
"Cool," I said. Who knew?
"I became interested in trying to finish what Comden and Green started," continued Doug. "I even told them what I was up to -- as I ran into them over the years at various benefits and cocktail parties. And they told me things from their original screenplay that had been cut, including an old romance between the Fred Astaire character -- the washed-up Hollywood hoofer Tony Hunter -- and Nanette Fabray's character, the lyricist Lily Martin. Who was a thinly-veiled version of Betty herself. Who was married in the movie to her songwriting partner, Lester Martin. Which was Comden and Green's little inside joke on the common misperception that they, as a team, were married to each other. Which they were not!"
The Band Wagon is a 1953 movie musical about the creation of a Broadway musical -- not just the making of it, but the actual business of producing it. The Band Wagon delights in show business nitty gritty. We see disastrous out-of-town tryouts and combustible rehearsals. We even see the roundelay of hardcore pitch-and-sell that gets a show off the ground: Tony Hunter being lassoed by his friends, the Martins, into signing on as the lead in their new musical on the basis of nothing more than a very pushy synopsis; the Martins and Hunter, in turn, together hyping the wunderkind actor-producer-director Jeffrey Cordova (marvelously over-played by Jack Buchanan) into taking on their project; with Cordova then hooking the prima ballerina Gabrielle Gerard (Charisse) and her boyfriend and choreographer, Paul Byrd (a snippy James Mitchell), by at first feigning disinterest in both of them for his show.
I realized that what interested me most about this new Band Wagon at Encores! was how it had come to be. And, more importantly, where it hopes to go.
Think Encores! and the producing of Broadway musicals, and one inescapably thinks of Chicago and Barry and Fran Weissler, the husband and wife producing pair who scooped up Chicago as a 1996 Encores! concert production and moved it to Broadway where it remains to this day -- a monumental stage hit that was also made into a 2002 Academy Award-winning film (in contrary motion to The Band Wagon's path).
Sure enough, Mr. Weissler's name soon surfaced in my chat with Mr. Beane. "Yes," Doug allowed, "Barry first approached me in 2002 about adapting The Band Wagon. Barry's idea was very complicated, with lots of flashbacks. Barry's show was called Dancing in the Dark and it ultimately premiered at the Old Globe in San Diego in 2008. It got pretty good reviews but it didn't quite have the magic to move on.
"Years passed -- as they do," noted Doug. "Then, this year, I got another call from Barry saying he had Kathleen Marshall as director for an Encores! production and would I be interested in looking at the show again. And I said, yes."
I realized I needed to talk to Jack Viertel, to complete this circle, or cycle, if you prefer. As Encores! artistic director and a former commercial producer himself, Jack knew everything that I needed to know.
"I actually saw that Old Globe production," Jack began. "I thought it very promising and very unfinished. Barry Weissler and I talk all the time anyway. Less than a year ago, the subject of The Band Wagon came up because he was retooling it. And he said to me, 'Do you think this is something that Encores! would do?' And I said, 'Well no, not in our regular season, because it's not a bona fide revival of an old Broadway musical.' Though there is an old Broadway musical called The Band Wagon from 1929 that inspired the movie," Jack added, parenthetically, "but it wasn't remotely what the movie became, it was simply a revue; and one of the great ones."
I did know that. Jack went on.
"I told Barry: We do have this Fall slot for a Special Event. It's a fund raiser. We're always interested in trying something that we haven't tried before. The Band Wagon might make a very interesting Special Event. And it would give you, Barry, a chance to see your show up on its feet in its new version. Are you comfortable with having it seen and reviewed? Barry thought about this and came back to me and said: 'Yeah.'
"That's the lovely thing about having a Special Event spot now for Encores!" Jack concluded. "We can do whatever we like."
This brought me to the subject of Broadway as a destination. "Your last Special Event moved," I said to Jack, thinking of After Midnight, a nifty tribute to the nightclub revues of the Harlem Renaissance era that Encores! had created in collaboration with the Lincoln Center Jazz Orchestra.
"Not quite," Jack corrected me. "Our last Special Event was A Bed and a Chair, the Wynton Marsalis-Stephen Sondheim collaboration. But you're right, two years ago, our Special Event, After Midnight, did move to Broadway."
"How much does it factor into your Band Wagon equation," I asked, "that it, too, might move?"
"You know, in one sense it doesn't factor into it at all," Jack answered. "We're just trying to find shows that are entertaining for our audience and at least within the ballpark of what Encores! does. On the other hand, this is a rare situation, where Barry and Fran do have the first-class rights to produce The Band Wagon on Broadway and are just licensing us to do their show. Usually when we revive a show, like Finian's Rainbow -- which also moved to Broadway - we secure the rights ourselves."
I thought of Joseph Papp and The Public Theater, which for years lived off the revenue generated by A Chorus Line. Papp was always unashamedly on the lookout for another money-making Broadway transfer to support his New York Shakespeare Festival. Was this at all true for Encores?
"No, " said Jack. "That's not why we do shows; not with the idea of moving them. Also, Joe Papp was mostly interested in new material. We do revivals. And it is my opinion that revivals -- particularly those with 28-32-piece orchestras -- are miserably hard to do commercially. That said," added Jack, "it would be disingenuous for me to say that the success of Chicago has not generated funding for City Center in general, and Encores! specifically.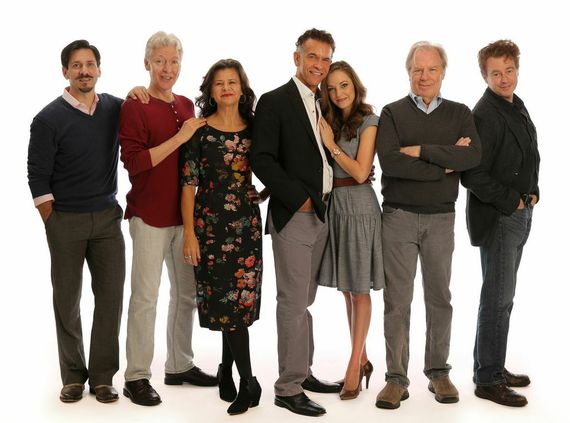 This week's Encores! production of The Band Wagon has a sensational cast: Brian Stokes Mitchell, stepping up for Astaire as Tony Hunter, Tracey Ullman (for heaven's sake!) as Lily Martin, Michael McKean as Lester Martin, Laura Osnes as Gabrielle Gerard, Michael Berresse as Paul Byrd. I'm looking forward to seeing the show with my kids, to savoring Arthur Schwartz and Howard Dietz's exquisite score, augmented, as I understand it, by some additional Schwartz-Dietz songs.
But I also can't help thinking how much has changed in the way musicals are today sent to Broadway since The Band Wagon spectacularly spotlighted the process circa 1953. Not that that's news. It's just "Entertainment."
REAL LIFE. REAL NEWS. REAL VOICES.
Help us tell more of the stories that matter from voices that too often remain unheard.