Admit it, all you really want is the sticker. Yea, yea, yea, it's nice to do our civic duty and all, but nothing beats the feeling you get when at the end of the process, you're handed the "I VOTED TODAY!" sticker. Pride. For the wearer, the sticker imbues a certain commitment to the cause, the American Way, the one thing that joins Americans. Our right to vote.
So here we go, my top five reasons to love the sticker:
It's understated and unisex. An equal opportunity sticker.
It's iconic. It's been around since 1985; the design is ubiquitous and recognizable from across the room. Shout out to the Phoenix Association of Realtors who actually created the sticker in 1985 as a way to promote community involvement. Who knew?
It's a conversation starter. "Oh, so you voted today?" "Me too." And then goes the small talk and the next thing you know you've met the love of your life, landed a huge account or discovered the elusive meaning of life. All because of a little sticker.
It easily adheres to your clothes without damaging the fabric. Once on, it stays until you peel it off and place it on your bathroom mirror as a reminder of your voting coolness. Or maybe that's just me.
It makes you look like you're in a secret club, mainly to kids and tourists. Oh, and people not registered to vote.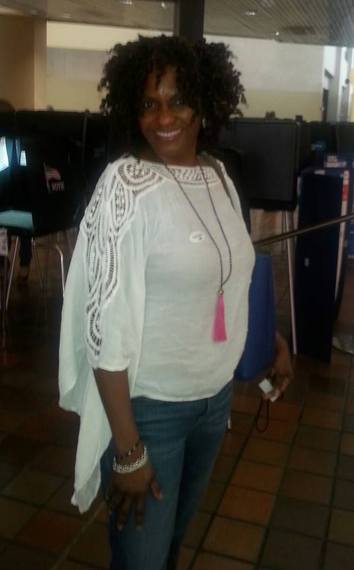 Those are the main reasons, but not to be left out are these ancillary arguments.
Voting is the single most important thing you can do for your country. IT'S YOUR DUTY PEOPLE! As is said, "the people get the politicians they deserve." If you don't vote then shut up about how the government doesn't work. I'm not a big fan of government efficiency (is that an oxymoron?), but because I vote in every election, mid-term or presidential, I get to scream at Fox News when they tell lies about our president. I get to call up my elected officials because they work for me, the one that voted, whether I voted for them or not.
Yes, YOU CAN. And you thought it was just a clever tagline of the '08 election. The truth is the reason it worked so well is because it made voting uber personal and put the voter in control. And look what happened, history was made not by TV commercials, corporations or rich white dudes, but by the great unwashed masses. Keyword "masses", as in you and me.
So if you want to be fashionable and appear (or actually be) informed, REMEMBER TO VOTE on Tuesday November 4th. Go to iwillvote.com and find out how and where to VOTE.
Cause it's all about the sticker.
Popular in the Community