Welcome and thank you for being with us today at the launch of The Huffington Post Greece. Around the globe everyone recognizes the innovative and successful model of The Huffington Post, which combines original quality news content, curation, blogging and commentary. All in a winning formula that highlights, in a disruptive manner, the message behind the news. Disruption is encoded in The Huffington Post's DNA. Besides, Arianna is a Greek who against all odds succeeded in creating a digital platform with her name into one of the most influential media brands in the world, with a continuously increasing audience.

The conversation starts here. It starts from the Acropolis Museum. From a place that stands a stone's throw from one of humanity's greatest achievements. From a place that converses with the past and the future. From a place only a few meters away from The Pnyx, the geographical embodiment of the equal right of every citizen to debate matters of policy -- this is where it first happened, two and half millenia ago.
When, almost three years ago, we embarked on this journey that led us here today, the motivation, not only ours but also of the Huffington Post's senior management team was not to bring Huffington Post to Greece, but to create the Greek Huffington Post.
Today we present to you The Huffington Post Greece, a digital platform that, while following the principles, vision and code of ethics of The Huffington Post, will make the news of interest to Greeks reach the world and, at the same time, introduce the global conversation to Greece. Greece will finally have a strong voice in the world, and the world will come closer to a quite-often-introverted Greece.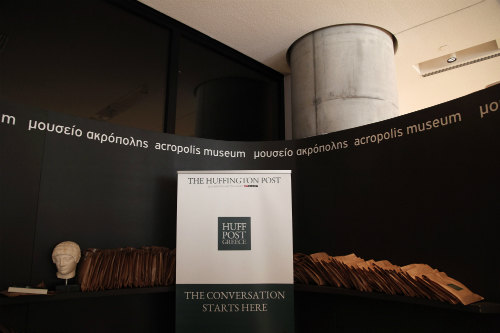 The Huffington Post Greece will not be a passive transmitter of news but an active receiver of what society has to say. It has neither a left nor a center nor a right agenda, however, nor does it pretend that there are two sides in every story and truth is in the middle. We will present all facets, but The Huffington Post Greece will have a strong opinion and will voice it loud and clear.
This effort found strong allies in Marianna Latsis, Petros Pappas and Eugenia Chandris; patricians and very extroverted and international in their business activities yet with their eyes clearly set on the growth and development of this country.
The four of us invested in a common vision and today we are delighted to see it becoming a reality.
The launch of Huffington Post Greece takes place in turbulent times for Greece:
In a Greece still in crisis, but also in a Greece of recovery
In a Greece of unemployment, yet in a Greece of a creative and inspired new generation
In a Greece that financially struggles, but also in a Greece of innovation
All these are different aspects of the same country and all naturally trigger frictions and confrontations.
In The Huffington Post Greece we seek these confrontations to be the beginning of dialogue and conversation rather than its outcome.
As Chairman of 24MEDIA, Greece's largest digital media publisher, I am very proud that we are The Huffington Post's media partner in Greece and Cyprus.
The track record of our international partnerships, the experience of our executives complimented with a rigorous and inspired journalistic team make us very confident that we will prove to be one of The Huffington Post's most successful editions worldwide.
As of today news of Greek interest will spread around the globe.
The conversation starts here. It will be intense, to the point, disruptive and fruitful.
Calling all HuffPost superfans!
Sign up for membership to become a founding member and help shape HuffPost's next chapter