Generally speaking, I am not a chick who listens to girly popular music. At age 14, my first concert was The Grateful Dead. I was the only chick there in a sea of tie-dyed guy friends. Scared to death, nonetheless, but that was my first choice.
I was raised on Earth Wind and Fire, The Beatles, Eric Clapton, Michael Jackson, The Rolling Stones, Stevie Wonder and Blood, Sweat and Tears to name a few. My parents tried to veer me away from "bubble gum music" at a very young age. I could not understand my dad wanting me to listen to a 30 minute song without words, but The Allman Brother's "Mountain Jam" was my childhood.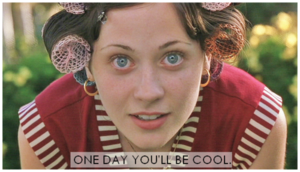 Photo credit: fatoselivros.blogspot.com
By nature, I am pretty damn loyal to these roots with a few exceptions and the inevitable, that music has evolved over time. In terms of today, I'm a sucker for sounds that exhibit older influences. My go-to's never include Taylor Swift, Katy Perry, Nicki Minaj, One Direction or Justin Bieber. That's all cute and fun (eye roll so hard I can see my brain), but I literally have no idea what my girlfriends are blasting and screaming the lyrics to when songs come on their iPods, iPhones or car radios. Sometimes I feel like an alien. Are these artists talented? Sure. I guess... However, I'm not that kind of girl. I lost my virginity to (metaphorically speaking) and have given my full-fledged enthusiasm to rock and roll, folk, R&B, Motown, funk and indie music.
Always searching for something unique and off the beaten path, I'm like a lioness dodging bandwagons in the jungle; hunting for octopus or coconuts instead of some sort of more accessible meat. Am I a hipster? Hardly. But I search for and dissect new sounds and lyrics like a mad (lioness) scientist.
It's 2014. If you're like me, you've probably heard about all you can of the songs Fancy, Chandelier and anything Pitbull. Don't give up though, there is some exceptionally great stuff out there.
The end is near and I wanted to wrap 2014 up with a few of my favorite finds from the past 365, that you may or may not have missed. Here they are in no particular order:
1. The River by Son Little
Raw, rough, and unrefined. This is honest, sexy, sweaty nightmare-ish, hands to head... DESIRE. Clap happy soul with wicked feet tapping blues. The lyrics tell a story about the desperate need for someone, masked in the absolute coolest sounds possible. "There's not a self-conscious moment here," and that's why it's my new music crush.
Fav lyrics: Taking her clothes off, it break my mind/ Taking her clothes off, gone take all mine/ Want you so bad, it's like I'm out of time/ Want you so bad, I had to break your mind
2. Uptown Funk Mark by Ronson featuring Bruno Mars
If this pick doesn't get you dancing, you must be dead. Channeling the spirit of the 60's, 70's and 80's, it's a rainbow explosion...Like when Dorothy first saw Oz in Technicolor. Prince guitar, James Brown howls, Earth Wind & Fire horns. Hot damn! Ronson said, "Production-wise, this is the most progressive record I've ever done... "This time around, I wanted that sh*t to sound tough, crisp -- and fucking massive." No doubt this is the most enormous, vibrant, shiny shoed whale dancing in the radio waves.
Favorite lyrics: "This sh*t, that ice cold/ Michelle Pfeiffer, that white gold/... Smoother than a fresh jar of Skippy
BONUS: I first found it on Kate Hudson's Instagram. Check it out, it's sure to make you smile! #ThanksgivingDanceWarsChallenge
3. You Go Down Smooth by Lake Street Dive
It's a soulful, indie piece with a wild, heart-racing, vocal blast. Listen up if you want to try something pop-y/ swing-ish, with a touch of jazz. "We want it to sound like the Beatles and Motown had a party together," says drummer Mike Calabrese. This has major staying power and I'll RSVP "yes" to that party. Mad fun. See you there.
Favorite lyrics: "And I am afraid to need you so/ And I am too sober not to know/ That you may be my problem, not my love"
4. Shelter Song by Temples
Time machine destination: Late 60's. Totally mesmerizing... Like opening up a psychedelic memory dream box with The Beatles, The Zombies and early Rolling Stones floating out in a cloud of smoke. It's melodic, dazed... and confusing, flower power-y. Get transported to the Whisky a Go-Go where you'll hear harps, cowbells, and want to spin in circles for hours.
6. Like A Mighty River by St. Paul And The Broken Bones
This song is the spirit animal of Al Green. Dirty southern gospel- rock SOUL. Swoon and get me a fainting couch. Tom Dozois said it best, "Do you like brass ensembles that are tight enough to make your butt hole pucker? And do you want all of this oozing out the throat hole of a dude who looks like your accountant and wears pleated pants?" Well... that might be too much information, butt... it's pretty spot on.
7. Digital Witness by St. Vincent
This one's for all of you social media addicts and narcissists who might lose control if you don't get the perfect #selfie or a satisfying number of "likes." My ears perked up when I first heard this for three reasons. 1.The instrumental horns remind me of Cake and that's a hoot. 2. Her voice is somewhat robotic, neurotic and zombie-like, but pretty at the same time 3.The lyrics are about someone who fears losing control in a digital world. It's comical: "What's the point of even sleeping if I can't show it/ If you can't see me/ What's the point of doing anything?" #GetAGrip
8. Left Hand Free by alt-J
In 20 minutes these guys used a "joke riff" from rehearsals and all of a sudden, BOOM... their big single was born. Why you'll like it: it's soulful with character, wit and an old school catchy and classic blues-rock hook. A sardonic and mystical combo. It is about masturbation? Guns? Etc? You decide. This. Just. Floats. My Boat.
Lyrics: Hey, shady baby, I'm hot like the prodigal son/ Pick a petal eenie-meenie-miney-moe/ And, flower, you're the chosen one... O-M-G / Gee whiz, girl, you're the one for me.
9. Another Story by The Head And The Heart
If you could go inside a broken heart, this is what it would sound like. A gorgeous, melancholy piece about profound loss. These haunting yet soothing vocals and violin will rip your heart roots out. It was written after the Newtown shootings and has "a spirit that rallies against the dying of the light." The Head and the Heart reminds us that, "The sun still rises, even through the pain."
Favorite lyrics: Every time I hear another story/ Oh the poor boy lost his head/ Everybody feels a little crazy/...Can we go on, like it once was?
That's a good question...
Calling all HuffPost superfans!
Sign up for membership to become a founding member and help shape HuffPost's next chapter