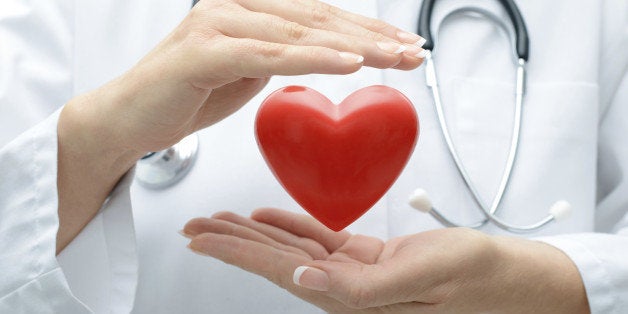 February is American Heart Month, a whole 28 days devoted to raising awareness about heart disease. But did you know that until about 13 years ago, cardiovascular disease was defined as a man's disease? You may remember, if you are old enough, the warnings for men when it snowed NOT to shovel their walks because they could get a heart attack; or in the movies, the classic symptom -- severe pain in the chest and running down the left arm. Well, forget both of those if you are a woman. Women do get heart disease and it is the number one killer of women. Women have to be careful about shoveling that walk as well and heart attack symptoms for women can be quite different with pains in the jaw or neck, fatigue or what feels like indigestion.
When the Society for Women's Health Research (SWHR) started advocating 25 years ago for women and minorities to be included in clinical trials (because women were generally prohibited from participating in trials during their reproductive years), it was a surprise to those who didn't know what a clinical trial was; and to those who did, mostly thought it didn't matter because it was assumed we were the same biologically except for reproduction. SWHR is celebrating its 25th anniversary this year and women are now included in clinical trials (medical research) and science has proven over and over how different women are with respect to disease burden and outcomes. But in many cases, including trials in heart disease, women are not represented in sufficient numbers to make it clinically relevant. In other words, we don't receive enough evidence to show whether the drug or device worked the same in men, women and minorities. We do know, for example, when the Government Accounting Office (the investigative arm of the government) investigated the FDA in 2001, 8 out of 10 drugs that had been pulled off the market had more adverse effects in women and one, for cardiovascular disease, caused heart failure in women [1].
One reason women were not included is that they were seen as "little men" and research done on men could translate to women. In the case of heart disease, it usually develops 7 to 10 years later in women than men. Since most trials in heart disease included younger men, no one was looking at women. In fact, more women die of heart disease than men but this was not recognized until a decade ago. This often led and continues to lead to a lack of recognition of their symptoms and, tragically, less aggressive treatment for women.
SWHR is working with the FDA to require women and minorities in medical research and for results to be analyzed for sex or ethnic differences, not just in heart disease but in all conditions that affect women. We are making progress, but still the latest drug approved for heart disease did not include a sufficient number of women [2].
For those of you interested in the history of the omission of women in medical research and what it took to begin to achieve equity, we are publishing a book this spring on the history and what we know so far about sex/gender differences. Stay tuned for its publication. It is a good story and one you should be aware of.
References
http://www.gao.gov/products/GAO-01-286R
http://www.fda.gov/Drugs/InformationOnDrugs/ucm423935.htm
Calling all HuffPost superfans!
Sign up for membership to become a founding member and help shape HuffPost's next chapter