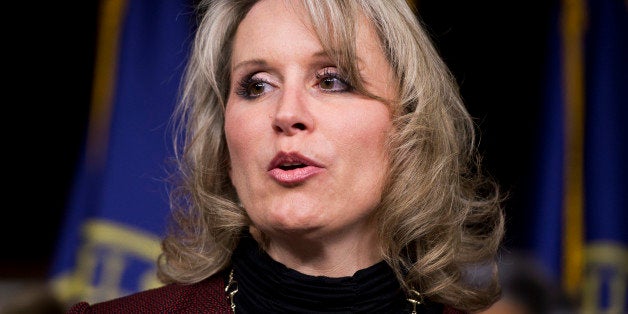 As lifelong pro-choice Republicans who have supported GOP candidates for decades, we are dismayed by activists on the right and the left attacking the GOP leaders who spoke out against House Resolution 36 last week.
H.R. 36 proposed banning abortion after 20 weeks in a pregnancy. Like most abortion-related bills, the polls, talking points and rhetoric were twisted and turned. Right-wing leaders claimed the majority of Americans supported the ban, however, they failed to tell the full story. When voters learned the facts, that the bill contained insufficient protection for victims of rape and incest, and risked the health and future fertility of a woman, the numbers shifted against this bill. Leaders on the left continued to highlight the shortcomings of the bill, and used the debate to paint all Republicans as extreme fanatics who believe abortion should be the main agenda of the new GOP-led Congress. Both sides were wrong.
A core group of Republicans, including Representatives Renee Ellmers (NC), Jackie Walorski (IN), Charlie Dent (PA) and over twenty more GOP members, recognized that H.R. 36 would harm women and was not the type of legislation that should be central to the GOP agenda.
These leaders, of many ideological stripes, set aside their personal views on the issue of abortion and saw that this bill indeed went too far. They understood that H.R. 36 violated the private doctor-patient relationship, threatened to jail physicians and put the health, future fertility and lives of women at risk. Particularly alarming was the requirement that victims of rape and incest report their assault to law enforcement officials. With the majority of rapes (over 70 percent) going unreported in the U.S., imposing restrictions that prevent victims of rape and incest from accessing care adds further insult to injury for women who have survived assault.
Instead of seizing this as an opening to expand real discussion on a polarizing issue, these GOP leaders have now found themselves under attack from the right and the left.
The extreme right has already begun clamoring for primary challenges to these Republicans who simply believed in more examination of the ramifications of H.R. 36; proving again that they will put basic decency aside in their single-minded effort to make all abortions illegal while misleading voters that their objective is to "protect women." By the same token, the left entirely missed the opportunity for dialogue and condemned Representatives Ellmers and Walorski for having false intentions, claiming they don't care at all about women, only politics.
We don't agree with those positions of Representative Ellmers or Representative Walorski on a woman's right to choose. But anyone with a basic understanding of the political process has to recognize that this can be a first step toward common ground. Rather than condemn these GOP leaders, we need to work with them on the mutual goal of truly protecting women and families. With real consideration of the facts, perhaps a common sense policy for increasing access to birth control which thereby reduces teen and unintended pregnancy AND abortions can be achieved. Surely the protections of rape and incest survivors should be a priority, as well as an effort to understand that one-size-fits-all legislation on reproductive choice can leave women and families in dire, life-threatening medical situations.
Despite the backlash from those on both sides of the aisle and issue, at the Republican Majority for Choice, we know that to have any breakthrough on the issue of reproductive health policy requires more leaders to question legislation that could be detrimental to women and families. Although we were disappointed to see the passage of H.R. 7 last week, we believe the delay of H.R. 36 gives hope that members will stop simply rubber-stamping the demands of the anti-choice lobby.
When all is said and done, the two sides can continue to scream at each other, or we can all take a step back and try to work together on issues where we can find common ground. Passing preventive reproductive health initiatives will boost the health and economic prosperity of American families, while continuing to lower the national rate of abortion. RMC calls on all elected leaders to use this as a place to start a new discussion on policy that can have a positive and lasting effect on the social and economic health of millions of women and families.
Candace Straight & Susan Bevan, Republican Majority for Choice National Co-Chairs
Popular in the Community