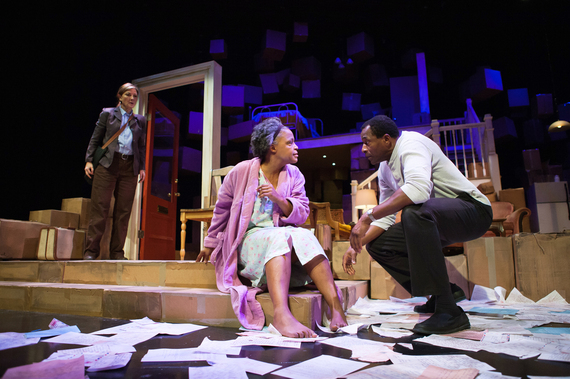 Didi Marcantel (Susi Damilano*) looks on as Mrs. Jessalyn Price (Cathleen Riddley*) and her son Leo (Carl Lumbly) argue. Photos by Jessica Palopoli.
Tree, by Julie Hebert, currently in its regional premiere at the San Francisco Playhouse through March 7 is a play about the family ties that link human beings regardless of skin color, sexual orientation or estrangement.
Hebert's story is set in Chicago's Southside in a house that is simultaneously surreal and down-to-earth. It unfolds when Didi (Susi Damilano) a southern white woman shows up unannounced at the home of Leo (Carl Lumbly) an African-American man in Chicago. On a pilgrimage of despair following the loss of her father she identifies herself as his half-sister claiming to have made this discovery through love letters their father wrote to Leo's mother, Jessalyn (Cathleen Riddley). The letters suggest that her estranged father once had a romantic fling with Jessalyn and that Leo is a byproduct of the union. Despite Leo's initial hostility, and his desire to protect his mother (who is suffering from dementia) from disturbing memories they are compelled to confront their shared past and the story of Jessalyn's lifelong love slowly emerges. In the process they must navigate her fragmented memories.
Deep seeded, painful issues that are thoughtfully explored amid the tense encounters are the challenges of racially mixed families, the piecing together of unknown aspects of our loved ones' lives, and dealing with personal revelations. It is a profound examination of love, family, race, and the onset of dementia. However, the play offers hope that in a world of seemingly insurmountable barriers people can find the intersections where love connects them.
All four of the actors in this play give powerful performances. In particular Cathleen Riddley gives a courageous and bold portrayal of Jessalyn as she unravels with dementia. Although complex, thanks to Jon Tracy's clear vision the actors navigate the world of this play seamlessly.
Tree: Drama. By Julie Hébert. Directed by Jon Tracy. Through March 7. 105 minutes. $20-$120. San Francisco Playhouse, 450 Post St., S.F. (415) 677-9596. www.sfplayhouse.org
Calling all HuffPost superfans!
Sign up for membership to become a founding member and help shape HuffPost's next chapter