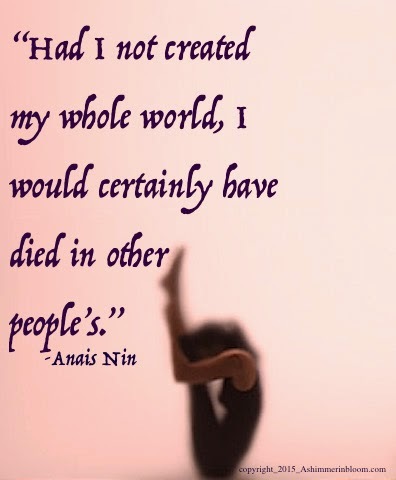 There are many ways to define gratitude. It's been a bit of life motto for me in the past five months.
I have been meditating daily, doing yoga and writing often and a simple recurrence appeared in my life -- any time I thought hard or adjusted the lighting (of my life) to be from a place of gratitude, things simply looked brighter. No matter how my day would twist or turn, my central basis for processing all things was positive. Beyond just positive, all things lead back to the question: "How much do I have? How can I find grace in this situation?" Like anything, it took some training, but it was the only anchor left. It would serve as the last holding weight for my soul-surfing self. Upon which, I took pause and launched again.
It is no secret in my circles or even publically now (due to my blog), that I am fallible. I've been roasted on the stake of judgment and alienation, and to my surprise I am still standing -- bearing new scares and layers, but here nonetheless. Life as I knew it shifted and morphed. People evaporated, friends fell through secret trap doors without any fair warning and everything that had previously felt secure was no longer so.
I had fits of anger, sadness and confusion, but it is not my nature to dwell too long in a place or emotion that doesn't "fit." I have always repelled any position, be it geographical or from my own decisions made, that hinders my constant need for evolution. I prefer the challenge to bend through gale-forces of change to prove I will not break. There is vulnerability in seeing yourself at its worst. When the criticisms are so harsh from outside and the persecutions become palpable in everyday life, you must choose: "Drown, or fashion your own floating device."
One of my old-soul girlfriends insisted I get back to a daily routine of meditating. It was in her prolific words that a small voice within me emerged, now echoing as a roar of trust in myself and the universal balances of life's journey.
She wrote a short note of encouragement. It inspired and touched me from the inside out. Her words turned everything upside down. I felt the energy to start writing again. The gratitude I felt from reading her perspective of me was overwhelming -- that feeling of appreciation and being understood, despite the mess in which I found myself. It launched in me a maiden voyage of living authentically. I chose to simplify immediately.
A memory of an incredible yoga teacher from the Chicago Yoga Center came back. He once suggested after our 90-minute Ashtanga rigor, that we lie in the final resting pose of Savasana. "Then, starting at the crown of your head say, 'Thank you' to your body, part by part, for all that you have, and all that it does for you, until your toes feel your appreciation."
I saw in an instant the over-abundance of blessings that I had been overlooking in my life. If I were to start there, at simplicity, I would say, "My cup runneth over." I've cleared the noise, and started paying closer attention to the beauty and magnificent bounty in the details.
I do this every day from the simplest form of gratitude. With my newfound commitment to live gratefully, my goal of absolute authenticity was born and I wouldn't change a thing.
So to answer the question: "What is the one thing I'm most grateful for?" This I believe:
It is the inherent right bestowed upon us all to choose at any moment, on any day, to start where we are and begin again. For that, I am eternally filled with absolute gratitude.

I'll end this post with the life-changing words sent to me from my good friend -- but more importantly, the gratitude born from them -- a gratitude that inspired a shift towards a better version of me.
Dearest Lulu, You see the world in different ways, perspectives, and characters, like in your novels. You are adapting to change so fiercely and consistently that your eyes see the duality of life, the push and pull nature, the sticky marriage of chaos and order. I've watched you surrender but not succumb to the numbness that sees only in black and white. You're in it, being open or being broken, open to new worlds and new identities. Empathy, your most dominant core trait, identifies the truth.. gratitude rises above illusion.
This blog post is part of a series for HuffPost Gratitude, entitled 'The One Thing I'm Most Thankful For.' To see all the other posts in the series, click here To contribute, submit your 500 - 800 word blogpost to gratitude@huffingtonpost.com.