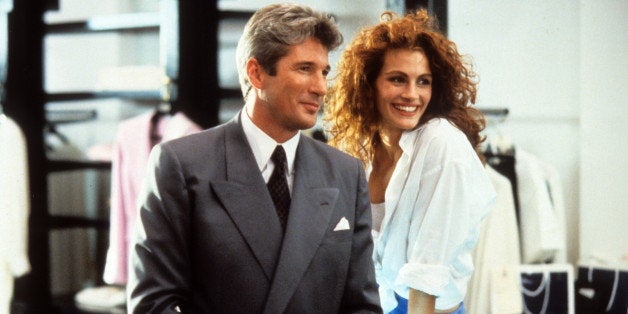 One of the most iconic scenes of '90s cinema comes from the 1990 film Pretty Woman.
The legendary moment is when Julia Roberts, playing down-and-out LA sex worker Vivian Ward, walks into a Rodeo Drive boutique to buy an expensive and elegant evening gown. She is soon rudely asked to leave by the shop assistants. Her provocative attire and slap-dash look make both think that poor Vivian doesn't have a cent to her name.
Loaded up with cash but unable to use any of her $100s, Vivian despondently exists the store, upset at how these women "wouldn't let her shop". (Memorably another '90s movie, Romy and Michele's High School Reunion, paid tribute to this scene. While watching Pretty Woman, Michele says to Romy, "I just get really happy when they finally let her shop.") After later Vivian wins her way into respective Rodeo society, she returns to the scene of the (fashion) crime and dishes out some home truths to the snotty shop clerks.
Vivian is a local L.A. street girl whose roommate has used up all their rent money on drugs while Vivian is struggling to make ends meet working the streets. One night as Vivian takes a walk down Hollywood Boulevard a flash sports car pulls up and the dashing and debonair Edward Lewis (Richard Gere) pokes his head out the window. The sauve Edward asks her to help him with directions around Hollywood before Vivian soon slides inside.
Edward asks Vive to be his girl for a week-long rendezvous, with one condition -- that she join him for dinner as his female companion for a business meeting. But after cruising through Beverly Hills with her hundred dollar bills trying to find an outfit appropriate to wear that night, Vivian is escorted out of the high-end stores because of her skimpy clothes and unrefined attitude.
As you can expect, emotions get mixed up in Edward and Vive's transactional sexual arrangement and Edward must soon choose whether to stick to his cool cold business tricks or make this beautiful but uncultured woman his girl. Between expensive jewellery and limousine trips, Edward and Vivian work out their differences and happiness ensues by film's end.
Looking back at Pretty Woman, it's not hard to see the era it was made in. The film came out right at the end of the 1980s and that decade's big business boom, high-end fashion culture, and obsession with luxury, wealth and coin. We see the glamorous hotel rooms, decadent and exotic meals, and the ravishing clothes and hats Vivian gets along her Beverly Hill shopping strips.
The film proved to be an enormous success when it was first released in 1990 and has since become one of the seminal movies of the romantic-comedy genre. It also helped launch Julia Roberts's acting career and gave the Hollywood star her first Best Actress Academy Award nomination -- a rare feat even by today's standards since Roberts played a sex worker.
Of course, being an American film, Pretty Woman joins the mythology captured in cinema people trying to climb the social ladder out of the slums and into the mansions. Undoubtedly, many women have watched the film believing that a gallant and rich man could sweep them off their feet and make them his girl, too. Either way, Pretty Woman still offers an excitingly escapist tale. Many of us can believe that the handsome Gere will one day cruise up to us on a street corner somewhere and asks us to join him inside.
With her bad blonde wig and safety pins holding her imitation leather boots, Roberts still dazzles us with her earthy, warm, and self-deprecating Vivian 25 years on. She transforms from the anxious, risqué and cash-strapped Hollywood girl into a beautiful, assertive and self-aware woman after her windswept romance with Edward in their luxurious hotel room.
While 50 Shades of Grey has recently captured our attentions and titillated our imagination, it may be time to forget about the s-and-m kink and stripped back Beyoncé tracks and instead indulge in a Pretty Woman couch session. You'll see Julia Roberts work the streets in black thigh-high pumps, a black American Express credit card, and, of course, encounter an intensely romantic fire-escape reunion that will leave you begging for more.
Calling all HuffPost superfans!
Sign up for membership to become a founding member and help shape HuffPost's next chapter