When Jessica Herrin had her "aha moment" she was standing in an elevator full of Mary Kay saleswomen after they had just attended their annual sales conference. In that short elevator ride, Herrin was struck by the women's excitement and affinity towards the brand they were selling. "It was clear to me that it wasn't just about the product, it was about being an on-ramp for women in the workforce. It was an instrumental moment for me when I realized this is my calling." She spent the next few years analyzing the direct sales model, and realized there were improvements that could be made to the way that the current providers were utilizing this model. "I thought, it should not work this way, it should be multi-channel, it should be the best product, it should be customer obsessed, it should be tech and socially fueled."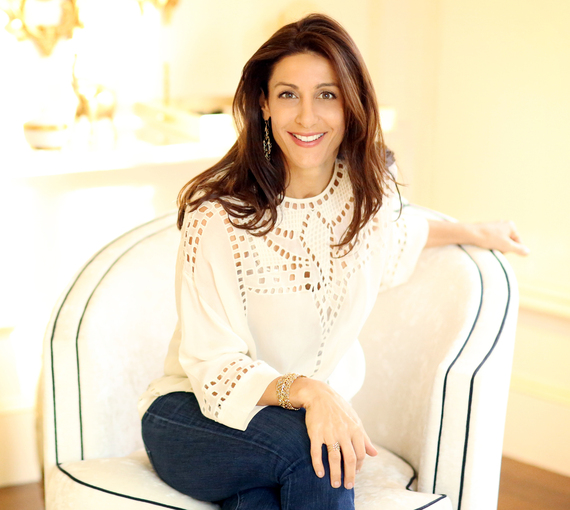 Herrin set out to create her own model which she dubs "social selling." Herrin states, "I wanted to come up with a better answer for democratizing entrepreneurship. I wanted to build a business that was a bit more profitable and bullet proof for the average person who wants to do this on a flexible basis and not have to go all in on the risk category or the time category and somehow be financially better off."
Herrin differs from most entrepreneurs in that her product was secondary to her mission. She sought to empower and inspire women, and provide an opportunity for moms, moms-to-be (like she was at the time) and women who were looking for flexibility and/or supplemental income to thrive. And with over $200 million in sales and 30,000 stylists globally, she has not only accomplished that mission, but also developed an iconic brand worn by women across the world.
I sat down with Herrin to discuss how she came up with the concept for Stella & Dot, her tips for current and aspiring entrepreneurs, and how she juggles work/life balance as a successful mompreneur.
1.) How did you come up with the concept for Stella & Dot?
This idea had been ruminating in my head for so long before I started this business and I think that is a really good thing for people to know....my gestation period for my business was way longer than my gestation period for my human babies. Business babies take longer to gestate! I had this idea at Wedding Channel (her first company that she founded at 24 years old) but didn't start for four years.
I looked at DIY crafting b/c that was a big trend at that time. But then I kept simplifying the idea until it narrowed down into jewelry. It was initially customizable charm necklaces and beading kits but I soon realized that selling fashion jewelry was much simpler and more profitable. I started making jewelry in my living room.
It was the perfect solution because in addition to people needing a platform for success, which includes the tech, distribution, customer care, the training, life coaching, inspiration, they also need an effective way to be an advocate for something that helps them with confidence. Jewelry is a public product which makes it easier to share and sell because you are overtly showing it as you go about your life... it is something that women compliment each other on and feel confidence from.
2.) What makes you a successful mompreneur?
I've done this business the whole time as a mother and that makes me so much more efficient. With Wedding Channel I had endless hours to give, and now, I pretty much have to go at all times! My children are so insanely adorable that my opportunity cost is high. So, I ruthlessly master my time. I don't think of it as time management, I think of it as time mastery. I'm always assessing: What is my best use? Am I doing what matters? Otherwise I should be at home baking cookies! I shouldn't be doing something if I don't think it will result in something that is impactful for the business. And I think being a mom has made me a much better, more effective person.
3.) Any other tips for work/life balance and juggling the worlds of motherhood and entrepreneurship?
People are so intrigued by time management and confidence. The first thing is to dispel the myth sold to women that "we should have it all". No, you should have what you care about most and that you choose to prioritize. The idea that you are crazy busy and your time is not something that you are in charge of is really disempowering to yourself. You really need to own the fact that no one has ever done anything with anything more than 24 hours 7 days a week - nothing, no other construct of time. It's just choices! So you need to choose wisely, not spend time on guilt, and make sure you are living your time in line with your priorities. I never schedule meetings after 5!
So many women think they don't have time for themselves and I think that is the biggest fallacy. If you don't take time for yourself you will be a crappy mother, wife and manager. If you deplete yourself, you can't overflow on anyone else - I don't skip myself and I think that allows me to be efficient and effective the rest of the time.
4.) Do you think as an entrepreneur it is harder or easier to balance these worlds? I often feel that as an entrepreneur there are more hours and stress but one of the biggest benefits is the flexibility. Would you agree?
I think flexibility is the key. And that is my what my passion is - reinventing the very nature of work for women. Flexibility is essential to happiness. I work a lot, there is no getting around the fact that having a business is going to take time, but I will still be the person who decides when that time is.
5.) What are your tips for aspiring and current entrepreneurs?
You have to be doing something that you are truly passionate about because being an entrepreneur requires some other p's like persistence - you won't be able to persist bc its not going to be easy. if you are not passionate about what you are doing it is unlikely you will stick with it. The first thing you should do is authentically listen to what you want.... put your ear down to your heart and make a plan.... then create a plan that aligns with that passion so that you can persist.
I think it is also about pivoting. If you have a plan and you start with it you have to have open ears and mind and evolve what your business concept is....mostly by listening to your customers..... go out there and listen to your customers and evolve your idea. A trap that many entrepreneurs fall into is being very close minded about what it is they are doing. This often happens when they are focused on a product instead of a problem. You have to focus on who are you serving, what is their need, and how you might fulfill that need. You have listen to that and make sure you are not coming up with a solution to a non-problem.
And finally, it takes patience. I was a driven person when I started my first business. When I started my second I'm glad that I tempered my own pace. When I'm on my death bed I'm certain that what flashes before me will not be a growth curve, it will be my daughters. Patience is about what really matters to you in life and being comfortable about that.
6. What is you Mompreneur Mantra or the one piece of advice or quote that you would share with aspiring and current entrepreneurs?
Herrin selected a quote by Cecil Beaton:
"Be daring, be different, be impractical, be anything that will assert integrity of purpose and imaginative vision against the play-it-safers, the creatures of the commonplace, the slaves of the ordinary."
For more of my interview with Jessica and more inspirational quotes from successful women business leaders, click here.
Anjali Varma is "The Modern Mompreneur", her site and YouTube channel provide entrepreneurship and lifestyle tips for the modern mom. She is also the owner of Kidville Bethesda, an enrichment facility that offers classes, retail, haircuts, and birthday parties for newborns - 6 years old. You can find Anjali on Twitter and Instagram @anjvarma.
Popular in the Community