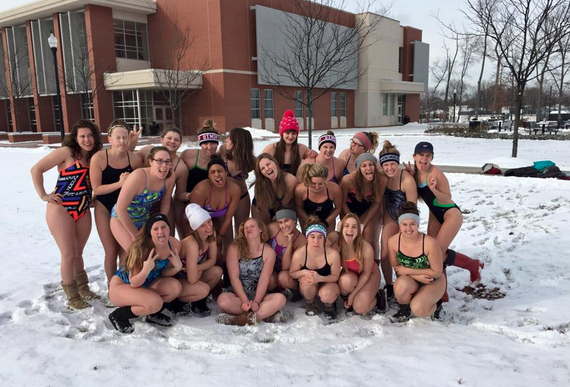 A look at life at UIndy and the life of a Greyhound
1. You have had the opportunity to make friends with the squirrels
Note that I said opportunity. They still have rabies and I am not about that, however as you can see from this photo, it is perfectly possible to get really close to them. If you are as lucky as the football player during my freshman year, you may have one of the squirrels jump on your leg.
2. You have attended a Midnight Breakfast
Here at UIndy, Midnight Breakfast is a tradition that is not to be missed. Where else can you have your professors, Athletic Director and even your President serve you breakfast food...at midnight?!?! I've found that Long's donuts, eggs and bacon taste better when you eat them at midnight.

3. You hang out at Smith Mall
The unsuspecting outsider may look for The Gap and Forever 21, but us Greyhounds know that Smith Mall is the place for impromptu Ultimate Frisbee games and inflatable movie screens.
4. You are always greeted by Miss June at dinner in the café
From her charming smile to her delightful British accent, I look forward to having her swipe my card every night, and if I'm lucky, she may even ask me about my day.
5. You're a member of the "Move-In Crew"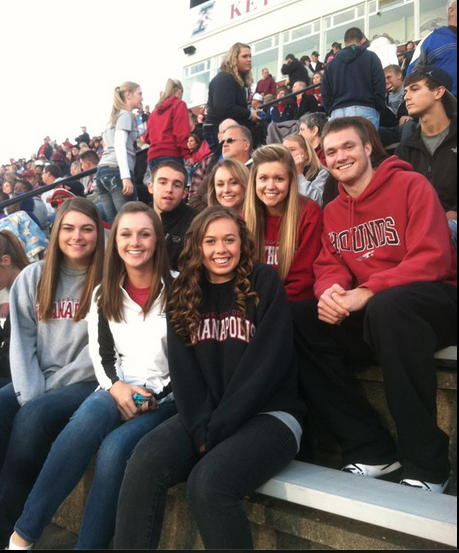 Here at UIndy we have something special. On Move-In Day, our Freshman drive up to their dorm and are swarmed by athletes and upperclassman waiting to unload their cars. It is a once-in-a-college-career luxury that we use to welcome our Freshman.
6. When people ask if You're part of a sorority, you say no
UIndy prides itself on its long-standing tradition of not having Greek Life on campus. There is no Greek Row, no Rush Week and no Greek alphabet to memorize. Besides, when you're a student-athlete like me, my team is my sorority. We spend just as much time together, have team-bonding and sit together at meal times.
7. You call many of my teachers by their first name
From Rebecca to Dr. Doug, the faculty at UIndy are no strangers. With our small class sizes, they are guaranteed to know our name and they expect us to know theirs. While not all of the faculty ask that we use their first name, a lot of them don't mind. Some of them even give their own nicknames, such as Prof. C.., enough said.
8. You're a member of Top Dog Communication or know someone who is
Being a PR major, it is only fitting that I be a member of Top Dog Communication, our student-run PR firm. Not only do we work with non-profit clients in the Indianapolis area, but we teach students the fundamentals needed to be successful in PR. Did I mention that we are 2-time winners of the Dr. F.H. Teahan Award for Best Outstanding Chapter Firm (2011, 2013)?
9. You wake up nearly every day (or so it seems) with an email from Kory Vitangeli
From the schedule of activities for the week to winter weather advisories, Dean of Students Kory always knows what's up.
10. You've got friends from all over the world!
Part of being in college is making new friends that will last a lifetime. At a school that has students from 55 nations, it's virtually impossible to have friends from only the United States. With my friends in this picture, I could travel to Brazil, Israel, Cyprus and Poland.
11. You talk about "Thanksgiving Dinner"
Another awesome tradition at UIndy is the Thanksgiving Dinner held every year. Turkey, stuffing, cranberry sauce, green beans, you name it I'm sure it is there. The best part is watching one of my friends attempt to carve the whole turkey on our table. Or maybe the best part is the pumpkin pies at the end...or taking the leftovers back to my room...or maybe the live music being played while we stuff our faces?
12. People make up other names for UIndy
Sometimes I hear the strangest names for our school. Some of those include U of I (No we are not the University of Illinois), University of Indy (what is that?), U of Indy (that is longer that UIndy), Indianapolis University (I'm not sure that's a real place). In a few years, I believe that UIndy will be just as well known as IU. Small but mighty, that's what we are.
13. President Manuel rules the school...
Prez Rob is one cool dude. I don't know any other University Presidents that enjoy having groups of students over for dinner at his house (which is right next to campus), orders pizza to campus dorms because the school is shut down due to ice and snow and brings his family to dinner in our dining hall. Oh yeah, did I mention that he offered me a ride in a golf cart once?
14. You've been to Flapjacks more times than I can count
Ahh Flapjacks, how I will miss you. Nowhere else can I get huge amounts of breakfast food for college-student prices. UIndy students frequent there so often, they offer a student-discount during the week. This place is always a must-have after Saturday morning practice, or anytime really.
15. You're a Greyhound now and forever
Being a member of #HoundPoundNation is the best experience I have ever had. In the stands and in the classroom, UIndy has been everything I had hoped for and more. I know that I can walk out of here on May 2nd and say that I had the best education I could have asked for during the best 4 years of my life. You can take the girl out of the country, but there will always be a little bit of country left with her.