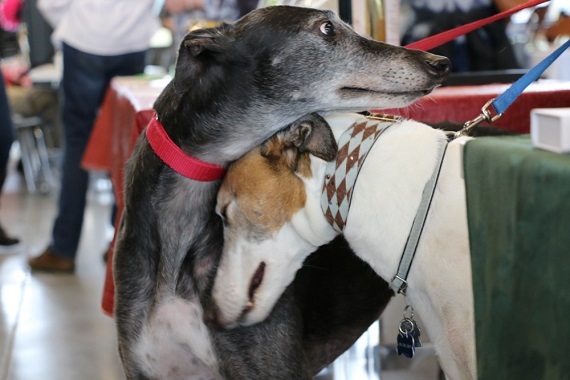 April is National Adopt-a-Greyhound Month! Whether you are looking to adopt, volunteer, or just want to learn about this beautiful breed, the time has never been better to spread awareness about greyhounds and help them find forever homes.
Why greyhounds make great pets
Greyhounds are affectionate, low-key family pets and can even learn to live peacefully with small cats and dogs. A greyhound's bliss is lounging around the house with family. They are sprinters at heart and widely known as '40-mile-per-hour couch potatoes,' enjoying minimal spurts of activity followed by leisurely naps on the couch. In fact, they tend to be low energy dogs and do not require much exercise beyond a daily walk.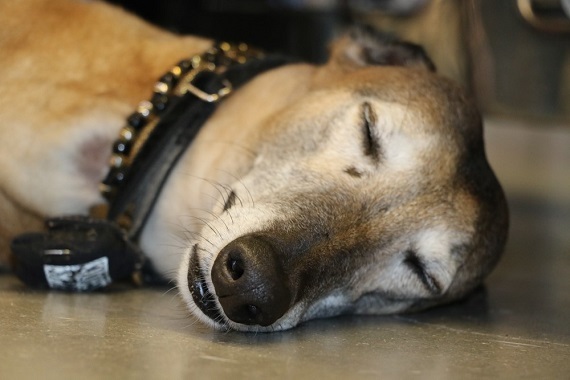 However, even active homes looking for a high energy companion can still find the dog of their dreams in a greyhound mix. These greyhound mixes, called 'lurchers,' tend to be outgoing, energetic, and playful. They thrive in households with a confident leader to show them the ropes and provide years of loyal companionship in return.
Where to find a greyhound
One organization of note helping to find homes for these magnificent dogs in the Pacific Northwest and Southwestern Canada is Greyhound Pets, Inc. of Woodinville, Washington. Founded in 1985, this section 501(c)3 nonprofit is dedicated to the welfare of greyhounds and greyhound mixes. Some have travelled to GPI from as far away as Ireland and South Korea. The organization's mission statement explains the immense value of their efforts:
We work to find responsible, loving homes for the dogs in our care. Through the efforts of our valued volunteers and benefactors, we provide loving support and veterinary services to the dogs directly in our care and ongoing resources and education for our adoptive families and the public.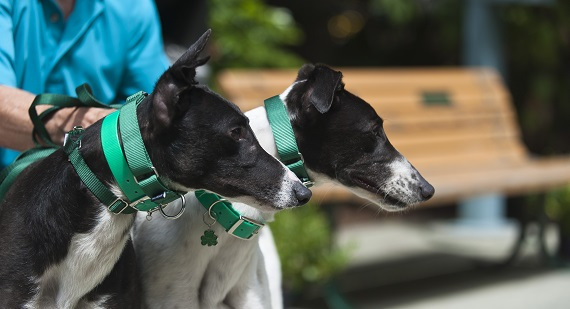 On the experience of adoption, GPI President Moira Corrigan says:
"Adopting a greyhound is like watching a rose bloom - they blossom as they become part of the family in their adoptive homes."
To aid potential adopters, GPI published an Adoption Guide available online which explains the process of adopting a new greyhound from the organization. Also helpful is their FAQ with good-to-know information for anyone interested in the breed.
Meeting a greyhound in person is a great ways to see if the breed could be right for you. The public can visit GPI's meet and greet events staffed by knowledgeable volunteers (and the greyhounds they love) all year round. Their events calendar can help identify one near you.
For potential adopters outside of the Pacific Northwest, take a look at this handy directory to find your nearest greyhound welfare organization.
How to get involved
Caring for these dogs doesn't stop at adoption. Greyhound enthusiasts may find volunteering a highly rewarding experience as well. The need for volunteers at organizations like GPI is great. It takes 56 volunteers alone to complete twice-daily 'turnout' for the dogs each week. According to their website, these duties include:

...loving on them, brushing them, making sure they get some exercise, and helping us to get to know the dogs better.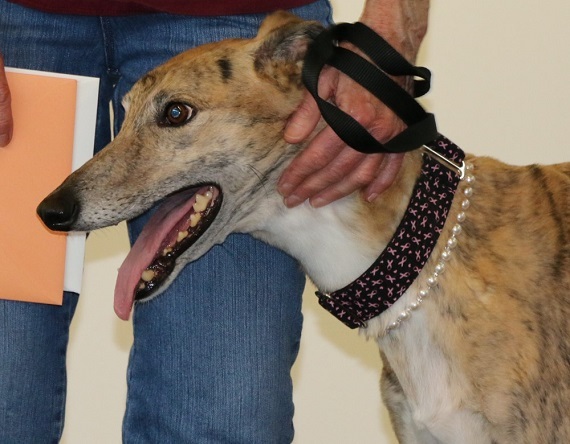 On the subject of volunteering, Corrigan says:
"GPI couldn't do what we do without our volunteers. As we tell our volunteers - nobody can do everything, but everyone can do something. Together we make a difference."
If your schedule is full and you're not in the market to adopt or volunteer, you might look into alternate forms of support. Many organizations accept gifts of donated food, toys, and cleaning supplies. Some even offer unique ways to donate. GPI, for example, provides the opportunity for greyhound lovers to express their special connection to a specific dog through sponsorship. Frequent Amazon users can fulfill items on GPI's wishlist, or contribute through the AmazonSmile Program which donates a small percentage from each of your purchases to the charitable organization of choice.
The ways in which you can get involved with greyhounds is endless, but the need in all areas is great. Whether you share your knowledge about these beautiful dogs with others, make a donation to an organization in your community, or adopt a greyhound into your home, you will make a big difference in a greyhound's life.
Thank you for supporting these wonderful dogs during National Adopt-a-Greyhound Month!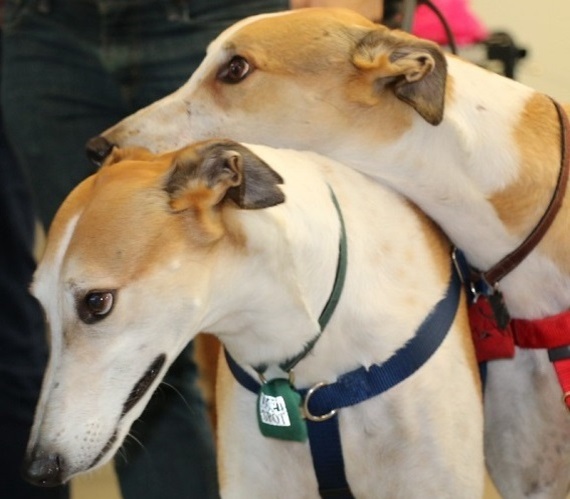 REAL LIFE. REAL NEWS. REAL VOICES.
Help us tell more of the stories that matter from voices that too often remain unheard.