Holocaust Remembrance Day, observed last week, included many commemorations and programs that honored survivors, most of who are now in their 80s and 90s.
Teachers across the country and around the world are at the heart of searching for meaningful ways to teach this complex history and to keep alive the memory of those who perished and the inspiring stories of those who survived.
The first was published on JTA.org.
It describes a partnership between the USC Shoah Foundation , and Discovery Education, that brought 25 educators from around the world to Poland for the January 27 commemoration of the 70th anniversary of the liberation of Auschwitz.
A webcast produced during the trip, "Auschwitz: The Past is Present Virtual Experience," will be made available to teachers and students in grades 9-12 on May 13 through the foundation and Discovery Education. Educators can find out more and register on the Discovery Educators Network site, .
One teacher who was selected in the USC Shoah Foundation essay competition to travel to Poland is Keith Stringfellow, a history teacher at the Charlotte Islamic Academy in Charlotte, North Carolina. Stringfellow first became fascinated with the military history of World War II, hearing stories from an uncle who helped liberate the concentration camp at Dachua, Germany.
The 43-year-old Stringfellow, who has a Master's degree in military history, is most interested in conveying to his students the conditions that enabled the Holocaust to happen.
He draws on a wealth of primary source documents, personal interviews and a collection of some10,000 unpublished photographs he has acquired to support his teaching.
"To stand in the place [Auschwitz} with Holocaust survivors was awe inspiring," Stringfellow said. "I made a commitment. I will not forget you. I will carry the baton of your experience in my classroom," he recalled telling NJ survivor Manny Buchman.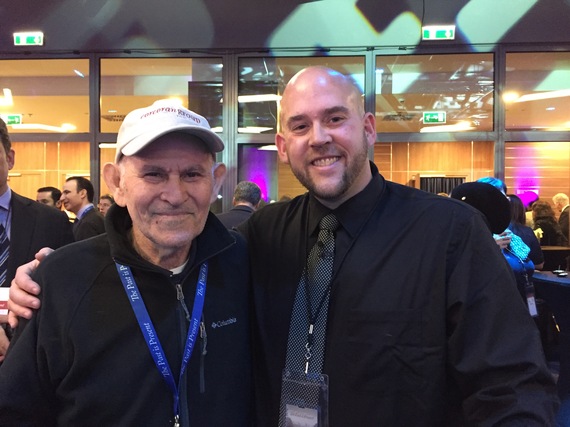 Keith Stringfellow with Holocaust survivor Manny Buchman, courtesy Keith Stringfellow
Stringfellow is eager to deepen his use of the USC Shoah Foundation's visual archives that has recorded 52,000 testimonies from survivors as a way of humanizing the stories beyond textbook learning, he said.
Five Million Stamps and counting...
"Holocaust Stamp Collage Project Inspires Students" published on April 17 by The Jewish Advocate,, in Boston.
The Holocaust Stamp Project is a unique art-infused community learning program at Foxborough Regional Charter School in a suburb south of Boston begun by now-retired teacher Charlotte Sheer. Now in its sixth year, the project has surpassed the five million mark, in a goal to collect 11 million postage stamps, one for each life lost during the Holocaust. Students have already created 11 Holocaust-theme collages, with 18 planned.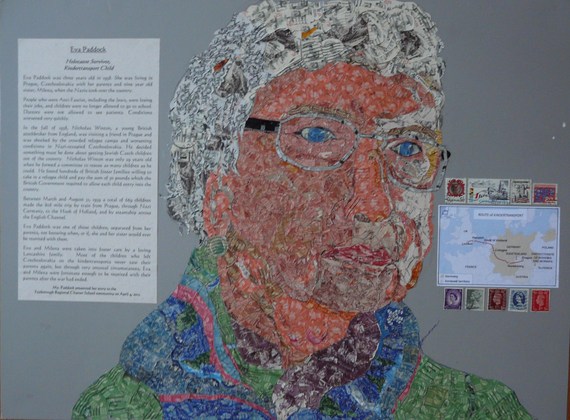 Collage of Holocaust survivor Eva Paddock, whose talk at the school inspired this stamp collage. Courtesy, HSP
Calling all HuffPost superfans!
Sign up for membership to become a founding member and help shape HuffPost's next chapter