It's that time of year. Music festival time. I have been spying on the beautiful people attending Coachella and Jazz Fest via Instagram, which inspired this piece on jewelry dos and don'ts for festivals. Who better to turn to than New Orleans BFF and jewelry designer Ashley Porter, the creative force behind Porter Lyons. We connected at the private event at which she launched her latest collection, Category X, which commemorates the 10th anniversary of Katrina and the resilience of the city of New Orleans. I couldn't help but pick her brains...
1. Layer like Woah! It is haute to wear a large choker necklace and layer with a long 32" pendant, stack your fingers high with rings and layer on the arm swag.
2. Mix Metals. Whether it's silver, the range of gold K's, hematite or rose it's a geaux. You want to make sure you keep the finishes so they all work effortlessly together. Think different sizes and shapes.
3. Ear Cuffs: Go Faux. Forever fading is the commitment to an actual piercing with the increased illusion of being pierced.
4. Finish the look with a fresh gel manicure & some nail art. Use your imagination to come up with a design, or to follow @madnails to get inspiration -- love MOD nails, or the 'fat French.'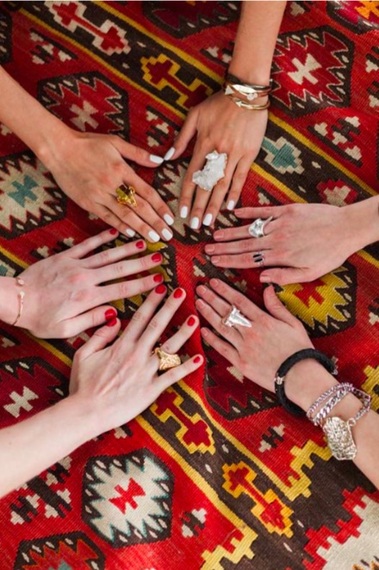 Photo Credit: Caitlin B Photography
5. As long as you feel comfortable and confident, you can never lose.
1. Wear NO jewelry. It's such a fun way to express your style and add an additional dimension to your look. Each piece can tell a story and set off your outfit with some metal texture.
2. Wear the real stuff. We all know that shit happens. Whether you're dancing, laying in the grass and/or making out with some beaux, don't worry your mind about loosing your small fortunes.
3. Midi Rings. Guaranteed to fly off, and with the risk of being Mean Girl-esque, "They were so last year."
4. Forget your SPF... You don't want to be 'that girl' looking like a lobster because you negated the sunscreen.
5. Stress about your hair. It's most like going to be hot, dusty and humid. Whether your hair is naturally curly or straight, let that mane run wild and throw in a braid or two to give it some shape.
6. Don't wear necklaces if you are doing to be jump-dancing; they bounce around too much...