With a nine-course "Midwestern Tapas" menu in which each course uniquely fits into the three-hour performance and five generously poured wines in the accompanying flight, Café Nordo's first production in its new permanent location is an experiential spectacle for the senses. Saturday night's full house performance of Don Nordo Del Midwest was captivating and entertaining from the moment we walked in the door and were greeted with champagne until the grand finale dessert tree, which tasted as good as it appeared on stage.
Not that there was an actual stage in the room. Don Nordo Del Midwest's spectacular chorography used every inch of the simple room to both entertain and provide sumptuous gastronomical offerings in a continuous parade of song, acting and food service. In a manner similar to Seattle's other such venue Teatro ZinZanni, even the wait staff joined in, serving the audience while participating in the show and making five costume changes.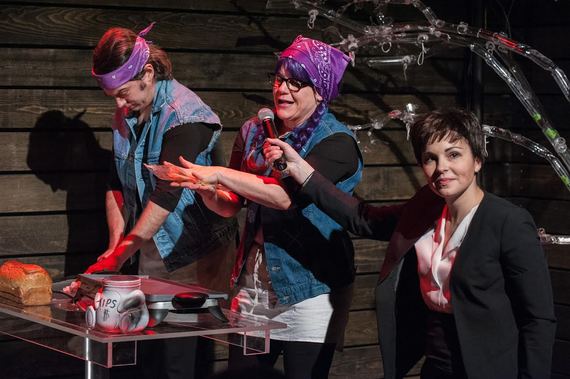 And as the audience followed Don Nordo and his faithful sidekick Sancho (brilliantly played in a comically understated manner by Maximillian Davis), we were taken on a gustatory spectacle excursion through modern American bland cuisine, factory farming and much more. Still, the dining was fit for a foodie, simple, delicious and served in creative and entertaining ways. This magical immersive voyage into the making of a chef was entertaining, tasty and fresh. It should not be missed.
The audience laughed, ate and enjoyed Don Nordo Del Midwest, and I look forward to the next production this very creative ensemble will bring forth in their new home in Seattle's Pioneer Square. Don Nordo Del Midwest continues through June 28.
Popular in the Community