By now the New York artworld has pretty much reduced the Dan Colen show at Larry Gagosian's 24th Street gallery in Chelsea to a cynical attempt to market chewing gum as art designed for corporate lobbies (Any interest, Trident?). And visitors to Sperone Westwater's spectacular new headquarters on Bowery have tsk-tsked that not even Sir Norman Foster, or a total price tag, estimated by a Bloomberg reporter to be "north of $20 million" can squeeze comfortable visitor flow from a footprint 25 feet wide. (Referring to an artwork near his office, an ersatz noose studded with rhinestones, Gian Enzo Sperone, one of the gallery's founding partners, quipped, "I may be using that soon," at the inaugural opening--uh-oh!)
Still, in a season abounding with power plays among high-rolling Manhattan art dealers, one of the most ambitious exhibits also risks escaping notice.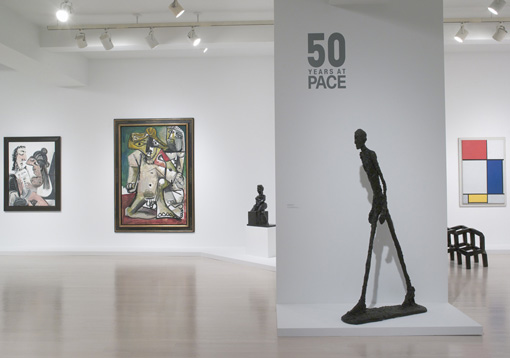 50 Years At Pace occupies all four Pace galleries in New York--including a newly opened one at 510 West 25th Street. Presenting a beautifully installed round-up of historically significant artworks, the show is comprised of loans from private collectors and institutions. 85% of the exhibited works Arnold Glimcher, Pace's founder, claims to have sold through the gallery. An unapologetic effort to cast 20th century art stars as quintessentially Pace artists, this is, nonetheless, a dazzling show. And it even includes an iPhone app.
"I really believe that if you go through the time-line of the gallery," said Glimcher, during a recent interview, "from our exhibits of Albers, and the Oldenburg store, to shows like Bonnard/Rothko, De Kooning/Dubuffet, and more analytical ones, like The Women of Giacometti, you see that this gallery is about art and artists. It's not about fads. It's not about what's hot and what's not. It's about what's good."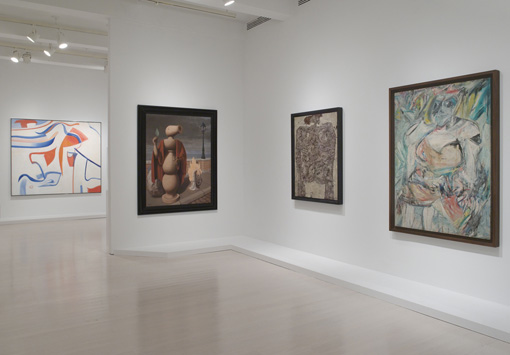 At 32 East 57th Street, works by Picasso, De Kooning, Dubuffet, Bonnard, Rothko, Mondrian, Reinhardt, and Giacometti, reveal partial reconfigurations of previous historical shows. Glimcher is particularly proud of these. "We were the first to do museum gallery shows," he said, citing a practice that has since become a mainstay among contemporary dealers, who generally organize focused theme shows around a pivotal work or two, whose sale ideally justifies the cost of expensive overhead costs, and a scholarly book.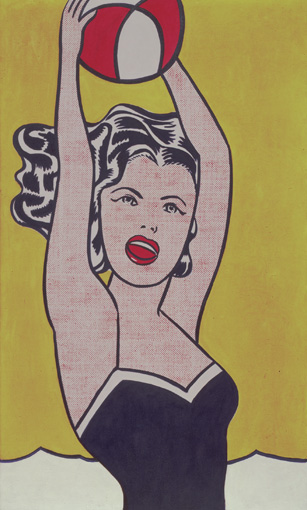 Among 50 Years at Pace's many highlights are Roy Lichenstein's Girl With Ball, 1961, Robert Rauschenberg's Erased De Kooning Drawing (1953), and Lucas Samaras' exquisite Mirrored Room (1966), last seen in New York City at the artists 1973 Whitney retrospective, De Kooning's seminal Woman II (1952) and a 2008 painting by Thomas Nozkowski (though Pace's homage to contemporary art, at the 510 West 25th Street space, is by far the least impressive).
Glimcher refused to divulge the cost of his four-gallery extravaganza. "My parents always told me you never talk about money,'" he said.
Moments later, however, he couldn't help recalling that, back in 1980, Burton and Emily Tremaine, prominent American collectors, were offered $500,000 for their Jasper Johns painting, Three Flags (1958), "a mega price at that time," he said. Feeling that it was "a quintessentially American painting, and belonged in an American museum," Glimcher continued, "I said to Emily, 'If I could bring you a million dollars, would you hold off on the sale to Germany?"
Glimcher tapped his good friend Leonard Lauder, he said, asking, "Don't you agree with me?" Lauder put up a quarter of a million dollars himself, found three other collectors to do the same, and the work was purchased for the Whitney Museum of American Art for $1 million, then a record for a living artist, according to Glimcher, who still gloats at the significance of this. "Picasso never even sold a painting for a million dollars during his lifetime," he said, grinning.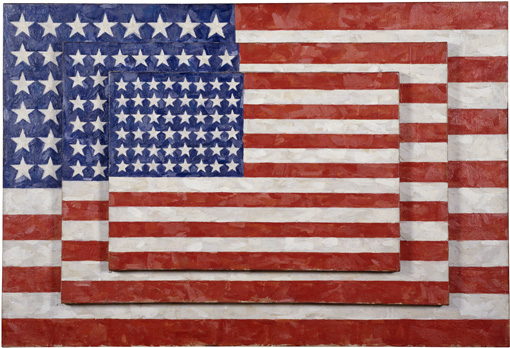 Three Flags hangs between Jasper Johns' painting, Jubilee, 1959 and Roy Lichtenstein's Femme au Chapeau, 1962 at the 534 West 25th Street gallery. It is also reproduced, along with an accompanying gatefold featuring the New York Times' page one story about the sale, at the center of 50 Years at Pace's splashy catalogue, which includes more than 250 full color illustrations, and, given its heft and embossed title, resembles a tombstone.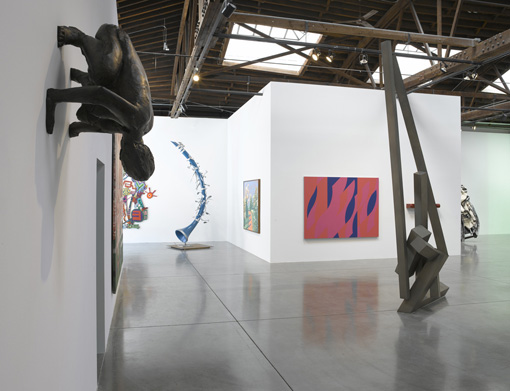 A time-line on the wall in the back gallery at 534 West 25th Street reveals the at times cloying extent of Glimcher's desire to cement his legacy. The opening of Pace Gallery at 125 Newbury Street in Boston in 1960, for example, appears alongside President Eisenhower's signing of the Civil Rights Act of 1960. Likewise, the opening Pace's second space at 9 West 57th Street in October 1963 is referenced alongside the tragedy of President John F. Kennedy's assassination less than a month later, implying that all of these historical milestones are of equal importance--ahem!
Still, the ultimate beneficiary of 50 Years at Pace, is the public. After all, who can deny the thrill of roaming at one's leisure through a fabled art wonderland, or of reading personal typed and handwritten letters from Adolph Gottlieb and Louise Nevelson, which are presented in vitrines at both the 534 West 25th Street and 34 East 57th Street spaces? Or of chuckling over Lucas Samaras' 1966 letter to Glimcher: "money, money, money....I got your check and I got your postcard...money money money money....I have 2500 for the room, but what do I eat, chopped cockroaches and Central Park grass?...money money money...."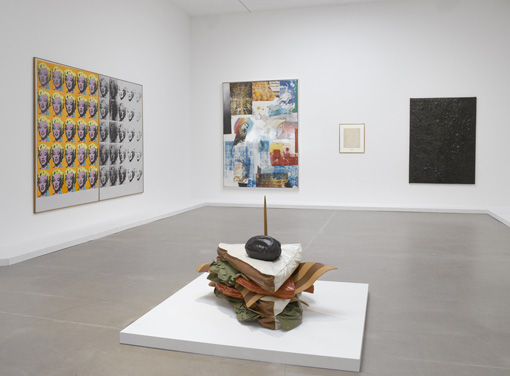 This season's muscle flexing among elite Manhattan dealers feels bizarrely out of touch, given the rising death toll in Afghanistan, and the precariousness of our economy. But if pleasure is to be had in admiring great works of art, 50 Years at Pace packs a laudable punch. And as Glimcher recalled, "When I opened in 1960, there was no art market. There was not a chance of being rich. I wanted a life in art, and I made that choice. And every time I sold a painting it was a miracle."
50 Years At Pace runs through October 23rd, at all NY galleries, except at 510 West 25th Street, where it closes October 16th.
Photos courtesy The Pace Gallery
Popular in the Community