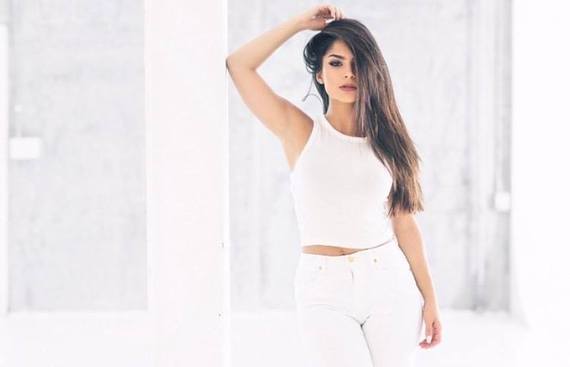 Monique was raised in a Cuban household in Miami where music was infectious, singing and dancing was a daily ritual, and her creativity was never stifled. While most little girls were playing with their dolls, an unwavering, nine-year-old Monique made a decision that would seal her fate: She signed herself up for vocal lessons.
Fast forward to present day and you quickly acknowledge this rising star is a triple threat. In addition to producing smooth, crisp vocals, Monique is a dancer and actress. Her sound is a unique blend of popular genres, catchy melodies, and bass lines that will make you dance until you sweat. More importantly, each song tells a story; one that plants thoughts of strength and fearlessness in the minds of young women.
We were introduced to Monique in her role as the energetic female lead in Austin Mahone's video, "MMM Yeah," featuring Pitbull last year. This year, her buzz is ever-growing with the release of her remix for, "El Perdon (How Can I)" featuring Pitbull. Taking advantage of her newfound fame, Monique dishes on upcoming projects, the stories behind her music, and how she keeps herself grounded in the following interview.
At nine years old, you made the decision to begin training with a vocal coach. How were you sure at such a young age that you wanted to sing?

Ever since a young age, I was drawn to and infatuated by anything to do with the arts. I'll never forget the day I was in the car with my family and I started singing over a song that was playing. My grandmother, in shock, stopped the music and in the most sincere voice said, "You have a gift". She felt and recognized it. At that moment, I knew I would share this "gift" with the world.
Growing up, what kind of music did you listen to? How did it affect the kind of music you create today?

Growing up in a Cuban household, music is a religion. There was never a day music wasn't playing and we weren't dancing and singing. The playlist was extensive; we would listen to everything from salsa, boleros, bachata, merengue, flamenco to Selena, Whitney Houston, Celine Dion, Beyoncé, Backstreet Boys. The way Latin music made me dance, the goosebumps I felt when Whitney sang, and how I felt invincible after a Beyoncé performance influenced not only my music, but my artistry. The unique blend of Latin sounds and pop culture embody the essence of my music.
The remix you released with Pitbull, "El Perdon (How Can I)" is based on a situation that most women have been in; I was able to relate to your message. What kinds of responses have you gotten from your female fans regarding that track?

I am receiving an abundance of supportive, uplifting responses from my female fans, especially the younger ones! They not only relate to the storyline, but embrace the message of being a strong woman. As a female, I want to make sure my music inspires women to be all we can be.
How much of your personal life do you put into your music?

I'm influenced by moments in life. Therefore, I put pieces of my personal life into my music and leave out the names.
As a songwriter, how does it feel to know the words you're writing are helping people get through hard times?

As a songwriter, your main objective is to tell a story and relay a message. I feel so humbled and inspired when I receive messages from fans telling me how I make them believe in themselves or how my song switched their entire mood. When I can spread light through a speaker, it assures me I'm on the right path.
How do you feel when you hear your own music? Does it make you replay the experiences you had that inspired the lyrics?

When I hear my own music, l feel a sense of accomplishment followed by butterflies inside. Music is timeless; it can take me right back to the experience, which inspired the lyrics. Sometimes, I close my eyes and it takes me to center stage, sold out arena, with a sea of screaming fans. I have to say, that's the best feeling in the world.
You have a bold, distinctive sound that spills into multiple genres. What is the motivator behind that energy?

Purpose and culture are the motivating factors behind the energy of my sound.
I understand that finding a good support system had been a struggle earlier in your career. What kept you from giving in?
Yes, it was quite a journey to find a home base. Building a team is necessary, but finding the perfect candidates is crucial. Believing in myself and knowing my worth kept me from settling and giving in.
What lessons has the struggle taught you?

This journey has taught me that no one in this world will want your dream as bad as you do. You must trust yourself and act accordingly. When you look in the mirror, you have to believe what you see. At the end of the day, this gift was given to you. You hold the key, when you turn it on, the world will follow.
How does it feel to go from being virtually unknown to having this growing popularity?

Honestly, watching my numbers grow fuels me to work even harder. I feel extremely blessed to have people believe and join the movement. It makes me only want to give the best of me!
What keeps you grounded between having a personal life and your work life?

God and my family is what keep me grounded.
Do you worry about losing privacy as a new star?

I feel like losing privacy is something that comes with the territory. I'm open with my fans and I like for them to get to know me. However, it's all a matter of creating a balance with what you share.
You've collaborated with hit-makers, Pitbull and DJ Blackout. Who are other artists you'd like to work with?

It feels surreal to be on a song with such influential names like Pitbull and DJ Blackout. In the near future, I would love to work with Drake! His melodies are infectious and I think our tones would compliment each other on a song.
What can fans expect to hear/see from you in the near future?

My single drops this year along with some secrets I have up my sleeve. To all my Moniquesters, this is the beginning of the MoMo Takeover!
"El Perdon (How Can I)" featuring Pitbull Lyric Video
https://www.youtube.com/watch?v=AQ4CXW07e_U
For more Monique updates on Monique, follow her at https://instagram.com/heresmonique and
https://twitter.com/heresmonique.
Calling all HuffPost superfans!
Sign up for membership to become a founding member and help shape HuffPost's next chapter