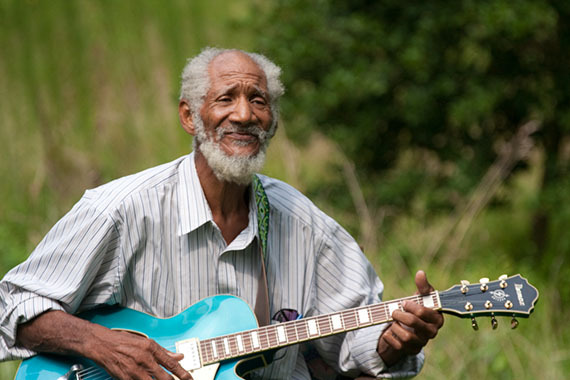 Music Maker Relief Foundation artist Dr. G. B. Burt. Photo by Tim Duffy. Courtesy of Music Maker Relief Foundation.
Public folklorists like me often advocate for traditional arts, and for individual traditional artists. We try to increase funding, support, and participation in the art forms we work with, and we recommend artists for gigs, awards, grants, and other recognition. Although I'm in the government now, for a long time I worked in the non-profit sector, and I have great respect for the folks in those trenches, battling the forces of indifference and cultural homogenization in their attempt to preserve and present traditional folk arts. It's a tough job, and it requires a rare blend of idealism and street smarts, artistic sensitivity and practical life skills.
Because of this, I'd like to draw your attention to the Music Maker Relief Foundation. They have two catchphrases, neatly summing up the double impulse of advocacy for the arts and support for the artist: "Preserving the Soul of America's Music" and "Helping Artists Make It." While they're based in the South and mostly support Southern styles like blues and old-time, their mission statement is more basic: "Supporting American roots music." Their programs include stipends to help struggling folk and blues musicians pay the bills for food, utilities, and medicine; support to help artists build their skills and advance their careers; mentorship programs to pass the arts on to the next generation; concert tours that take great unsung artists to places as prestigious as Lincoln Center and as far away as Australia; photography exhibits that raise awareness of traditional musicians and their work; and (of course) a label that has released over 150 albums.
It's this last feature that I'll focus on here, giving you a rundown of just a few of their recent releases, most of which have a pretty "live-in-the-studio" feel involving minimal production. If you like the kinds of music they present, chances are you're just fine with that. Before getting to the reviews, let me also recommend that you explore the Music Maker website at this link; there are videos and free streaming tracks from almost all their artists, and you could spend all day listening to free music on their generous site--while contemplating how much to give or what to buy, of course!
Now for reviews: first up is We Are the Music Makers! This double-cd compilation includes 44 tracks by almost as many artists. It's an entertainment experience, but it also reveals hidden styles found in the secret treasure-box of the Music Maker vaults, becoming an educational history of old-time music making. It includes human sound-effects like Whistlin' Britches' "Clickin'" and novelty tracks like Captain Luke's Jew's harp version of "Freight Train Boogie," along with an interview segment with Guitar Gabriel about the meaning of the blues. But it's mostly a rich buffet of great roots music, ranging all over the (Southern U.S.) map in style and subject matter. The primary genre is blues, but there are healthy helpings of rootsy gospel like Carl Rutherford's "Old Rugged Cross" and Mother Pauline and Elder James Goins's "Old Time Religion," as well as a few great old-time pieces like Benton Flippen's "Benton's Dream" and the Carolina Chocolate Drops' "Sourwood Mountain." Guitar styles alone range from Cool John Ferguson's intricate picking on "No Hiding Place" to songster-style strumming on Boo Hanks and Dom Flemons's "Keep on Truckin'" to the hot electric blues of Beverly "Guitar" Watkins on "Back In Business." (See the video below.) There's also boogie-woogie piano on Essie Mae Brooks's "Feel Like My Time Ain't Long" and Mr. Q's "Cocktail Boogie," and archaic banjo styles on Neal Pattman's "Shortnin' Bread" (where the banjo is played by Taj Mahal) and Samuel Turner Stevens's "Railroadin' and Gamblin'.
Beverly "Guitar" Watkins performs "Back in Business."
Among the blues numbers, there are songs drawn from life on the farm, like Big Boy Henry's "Old Bill," and others drawn from life on the street, like Adolphus Bell's "Child Support Blues." There's a fun grouping of songs with bawdy themes, including Willa Mae Buckner's "Peter Rumpkin" and Algia Mae Hinton's "Cook Cornbread for Your Husband, Biscuits for Your Outside Man," both examples of old-time hokum blues, as well as Ironing Board Sam's "Nothin' But Your Butt," which cooks along with an infectious funky beat. I should also mention that, although primarily African American and Anglo, the collection features Pura Fé and the Deer Clan Singers performing a Tuscarora song called "Pigeon Dance," and Leyla McCalla singing a beautiful traditional song in Haitian Creole. We Are the Music Makers thus includes old and young, rural and urban, black and white, native and immigrant, archaic and modern. It's sprawling, diverse, and rich; worth buying, worth hearing, and worth exploring. Although it can't be summed up in one track, there's one that speaks loudly to the Music Maker mission: Dr. Burt's "What Can an Old Man Do (but Sing the Blues)?" See a video of that great song below.
Dr. G. B. Burt performs "What Can an Old Man Do (but Sing the Blues)?"
I don't have space to review all their compilations, but I'll briefly mention two more albums from a few years ago: Blues Sweet Blues Volumes One and Two, now available as a double CD. Those focus more tightly on the blues, but still have room for some great weirdness, like a psychedelic poem called "Giant Squid." It's another great collection, and highly recommended; for a preview, you can find the track list here, and hear some of the songs here, by clicking on individual artists.
Live at the Hamilton presents a near-perfect evening of laid-back electric blues by Captain Luke and Cool John Ferguson, captured live in Washington, D.C. Captain Luke had a deep, smooth, smoky voice, perfect for the low parts in church and many blues songs to boot. Cool John's electric guitar playing is equal parts country blues and 70s rock. Together with the rhythm section of Sol Creech (bass) and Ardie Dean (drums), they put together a charming, atmospheric electric blues set that includes Tony Joe White's 60s hit "Poke Salad Annie," Albert King's "Angels of Mercy," and Slim Harpo's "King Bee." One of my favorites is "Old Black Buck," Captain Luke's own take on the folk genre of mule-driving songs. But no song suited his voice better than White's "Rainy Night in Georgia," which is on the CD, and which you can watch as a video below. Captain Luke passed away about a month ago; he loved to exclaim "Lord have mercy," about anyone and anything, and I'm sure that mercy will extend to his gentle soul. To remember him, we have this satisfying set, his two previous Music Maker albums, and the video below. (We also have this very nice obituary from WUNC, featuring audio of Captain Luke and Tim Duffy's terrific StoryCorps interview recounting the genesis of the Music Maker Relief Foundation. The uncut interview can be heard in the archive where I work at the American Folklife Center of the Library of Congress.)
Captain Luke and Cool John Ferguson perform "Rainy Night in Georgia."
One of the youngest musicians on the label, the 19 year old Lakota John, has his own take on blues and gospel, informed by his Lumbee and Oglala Sioux heritage. His album Lakota John and Kin features buoyant arrangements of classics from Robert Johnson, Elizabeth Cotten, Jesse Fuller, and Charlie Patton, among others, plus some traditional songs. His guitar playing places easy strumming alongside demanding but tasteful slide work, and his soulful singing recalls Dave Van Ronk. The backing instruments, which include guitar, blues harp, fiddle, washboard and kazoo, are played by his dad, mom, and sister; sister Layla also sings excellent lead on three songs. It's really fun, mostly upbeat, and does a great job of presenting old classics alongside some almost-forgotten treasures like Sippie Wallace's "Women Be Wise," which you can hear in the video below. This impressive debut establishes Lakota John as a young musician to watch!
Lakota John and Kin, featuring Layla Locklear, perform "Women Be Wise."
Finally, I'll talk about one of the label's best known acts, Dom Flemons, who won a Grammy Award with his former band, The Carolina Chocolate Drops. Now mostly a solo act, Dom most recently released Prospect Hill. He proudly claims the label of "The American Songster," establishing himself in the lineage of artists like Lead Belly, Mississippi John Hurt, and Henry Thomas, and Prospect Hill lives up to that promise. It presents a varied selection of old pieces, some traditional and others from commercial 78s. Highlights of the old repertoire include "But They Got it Fixed Right On," which Flemons covers with exhilarating abandon, and "Sonoran Church Two-Step," a laid-back but infectious fiddle tune from his native Arizona. Like the old songsters he so admires, Dom also creates fantastic original songs that fit right into the traditions he loves. His brand new piece "Hot Chicken" is destined to be a new classic of hokum blues. His originals "San Francisco Baby" and ""Til the Seas Run Dry" might fool you into thinking you're listening to an old piece from Gus Cannon or Frank Stokes, but with a more modern flair for arrangement. (See a video of "'Til the Seas Run Dry" below.) Flemons even bravely tackles compositions in some of the more archaic styles of African American folk music, showing his chops on "Grotto Beat," a piece in the fife-and-drum style collected by Alan Lomax and others in the Mississippi hill country. He's joined by a number of guests, including Guy Davis, himself a revered figure in folk music and a masterful proponent of the songster style. It's a telling partnership, and rewards the listener with several tunes that couldn't have been done by anyone else. They're joined by a banjo belonging to the late Mike Seeger and the guiding spirit of the late Pete Seeger, both of them mentors to Dom and Guy alike. You can feel the presence of both Seegers in every note of this brilliant work, which is easily one of my favorite albums of recent months,
Dom Flemons performs "Til the Seas Run Dry."
So those are the reviews. You can get the albums through the Music Maker Shop. But I know what you're thinking: "What about that 'Free Album' you promised us?" So here's the deal: when Dom Flemons was recording Prospect Hill, he found he had a number of outtakes and alternate versions that were worthy of being released. He put them on a vinyl-only album called What Got Over, and offered it as a Record Store Day special. Dom and Music Maker decided also to make it available as a free download for a limited time. They've extended that time a bit just for our readers, so head over to this link to get your free download. And enjoy one more Dom Flemons original in the player below!
Dom Flemons performs "Too Long (I've Been Gone)."
Disclaimer: as always, the opinions I express on this blog are my own, and don't reflect my role in the government. I'm also not affiliated with Music Maker Relief Foundation in any way.