From Sheryl Sandberg to Marissa Mayer, women are not sacrificing themselves for their kids like they used to. Why? If you ask me, a confident and happy woman makes a better mother. And whatever it takes to get there should be done. But as a mother myself, I know how hard it is to maintain a sense of style, run a successful business and to feel like an okay parent all at the same time.
Women who are flawlessly manifesting this enchanting trifecta are the new wonder women of our times and they are my idols. So I got to wondering how they actually do it all and have it all. Is it really possible? Are they hiding something? Do they secretly never floss? I hope to answer these questions and to give the rest of us moms cheat sheets of motivation to remember that we can stay true to ourselves, live fulfilling lives and love our families as much as ever by interviewing the moms who are doing it.
If you know a woman who fits this mold, please share her info with me on Twitter @metromomclub
Wonder Mom #1: Lindsey J. Boyd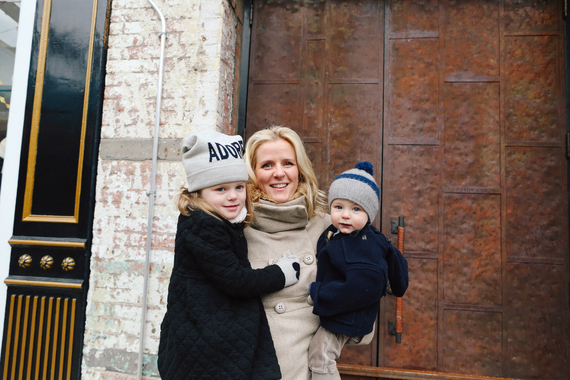 Lindsey lives in NYC and co-founded her eco-friendly company, The Laundress, ten years ago following a successful career at Chanel, and has since been reviving the lost art of laundry care one person at a time. She has been at the helm of a fast-growing global empire (available in more than 38 countries with store fronts in Tokyo and Milan), while balancing her family life of 2 children under 5 years old. She is truly a wonder mom!
How did The Laundress come into being and how did you know it was the idea to run with?
Our Co-founder, Gwen, and I came up with The Laundress from our own personal need to care for our clothing the right way without having to run to the dry cleaner. We knew that 9o% of our wardrobe could be washed and should be washed so we set out to create The Laundress products to do just that.
5 words to describe your personal sense of style?
Classic, Timeless, Stylishly thought out and accessorized.
How do you find time to get ready and maintain your style?
I stick to a daily routine as much as possible and think about what I want to wear the night before-this helps tremendously. Sometimes I even pull it out before going to bed.
Where do you get your energy?
I work out a lot and eat healthy-it is the only way I could be able to feel good and keep going. I do splurge every once in a while!
What inspires you? (other than your children)
Art, Fashion, People Watching, My Husband and other moms.
Who are your role models and why?
My parents, they have taught me so much while being supportive through their strong encouragement and guidance.
Any words that you live by?
Stay True to yourself and who you want to be.
Live in the moment and dedicate your time to that moment. The results are so much richer!
What would you do with more time?
Read more! I am always behind. There is so much I want to read from books to magazines and blogs.
How do you balance family and work?
When I am at work I am 100% at work, when I am with my kids I am 100% with them and when I am with my husband I am 100% there. This may mean late night email checking or getting up a bit earlier but if you try to do a little bit of both you end up with not a lot other than frustration and stress.
What do you do to relax?
Rolfing, a type of deep massage that releases tension on a skeletal level, or a hot bath.
What time do you get up and go to bed on a typical day?
Up at 6am and bed by 9pm.
What do you typically eat for breakfast?
A smoothie with coconut water, strawberries, blueberries, banana, peanut butter, coconut oil. It is my signature smoothie and my kids love it too!
Coffee, tea, wine, tequila, or other (please specify)?
Perrier Sparkling Water all the time, LaBuena Vida Kona Coffee from my brother-in-law's farm in Hawaii that I like to call "liquid gold", Chardonnay, Sancerre and big Tuscan reds. I never realized how specific I am on my drinks until putting it in writing!
What is something that you struggle with fitting in to your lifestyle and how do you deal with it? i.e. Do you make time for ALL of your yearly medical maintenance check-ups and dental cleanings? Or, are you running on a 3 year old contact prescription and can't even find time to floss let alone go to the dentist?
Ugh, yes-I definitely look down at my nails and think "what is going on here?" or "my roots need a serious dye job!" I found that if I make the next appointment when I am leaving the salon or doctor's office then I tend to keep myself more organized. I have a pocket organizer where I keep everyone's appointments and activities and that's helpful. Even though I am an avid iPhone user, it's easier to see everything at a glance the old school way.
Advice for new moms, or moms who are struggling to make it all work?
I think taking a step back is important to do-try not to over commit, set boundaries and realistic expectations and make lots of lists to check off. I have a problem saying no to activities and events with friends and family. I am a huge planner so I love doing a lot but at some point I had to say, only 1-2 major evening events a week otherwise I am completely burned out. Setting expectations and looking at your calendar for the week ahead is very helpful in maintaining a balanced life.
It is not easy! And there is not one formula for every mom. You need to balance and rebalance constantly but you will get your groove on.