Lindsey McKeon has just posted her latest interview on her website. The actress then naturally tweets it out and then asks the interviewee if he can do the same. To the normal everyday person, this wouldn't be a big deal. Even to McKeon, it probably didn't run through her mind the magnitude. However the interviewee is a superhero. Okay not really, but he does play one in the movies. The interviewee in question was none other than Chris Evans. The two have been friends for years since meeting on the set of a series called Opposite Sex. After Evans tweeted out the link to his few million followers, McKeon's website lindseymckeonblog.com crashed due to the volume. Yes, "Captain America" crashed her site, a feat that only a select few in the social media world could accomplish. Still, Evans did state on his Twitter account that it was the "Favorite interview (He's) ever done. Ever." So, what is the website about and why did Lindsey McKeon start it?
Lindsey McKeon recently launched Healthy, Sexy, Mindful Living by Lindsey McKeon. McKeon, an actress, has worked steadily in Hollywood and is best known as Tessa/The Reaper on Supernatural and Taylor James on One Tree Hill. The idea for the site came to her on a few separate occasions. "In the beginning I shrugged it off because it didn't feel organic to me." McKeon states. "I'm not a fan of forcing anything just because I'm told there may be a benefit to it." She states. However after sitting on the idea for a while, she got inspired to create. "I realized that yes, I could do it my own way, sharing things that were important to me. And that felt exciting." She exclaims.
The site is a reflection of how McKeon lives her own life. She uses both her experiences and the experiences of others to empower and share knowledge and insights on how we can live our best lives. She believes being aware of one's self is one of the keys to achieving this. "I've learned and experienced so much of my own life through awareness." She states. "Awareness of the self, awareness of the habits and programmed behavior that keep us reactive, and ultimately keep us from joy. In the present moment joy is abundant. And if we slow down long enough, we are able to see that it is our nature." She says.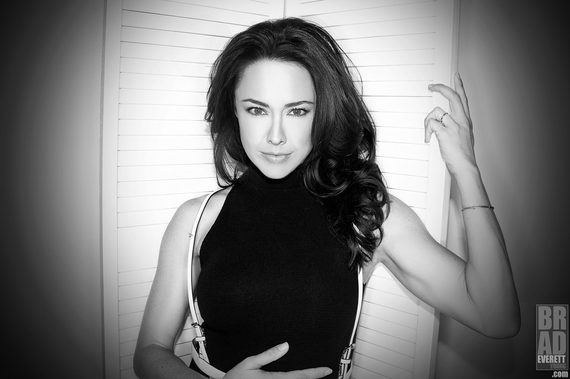 (Lindsey McKeon by Photographer: Brad Everett Young)
Her article "Getting Inside Chris Evans' Head" is a set of videos where we learn some new things about Evans'. Some of the questions include "What terrifies you?" and "What do you do or practice to continue your growth?" These are not the typical film questions, but instead delve deeper into the actor's or interviewee's mind.
McKeon wasn't that surprised by Evans' answers. "I just felt proud. Proud of who he is, proud that we have the ability to offer this information to the world. He speaks it so well, I would love to see him write a book or be a motivational speaker; maybe do a TED talk." She says with enthusiasm. After releasing the article last week, she was thrilled to see all of the responses from the fans. "It really seems to have hit home with them. To me, that's a huge gift."
Besides the Chris Evans interview, McKeon has a few others coming up as her site begins to grow. She is currently filming an interview with Sheila Kelley, actress and founder of S Factor, a feminine fitness program that incorporates Pilates, yoga, stretching and uniquely designed pole dance routine. She is also working on an interview with Arielle Kebbel, star of The Rock's new HBO Show Ballers. So what does Lindsey McKeon hope readers (and viewers) take away from her new venture? "I hope it connects with them on some level. If I can spark a new, healthier way of being or thinking, than my blog has been a success. And hopefully it gets to be fun in the process!"
After viewing the interview with Chris Evans and e-mailing back-and-forth with Lindsey McKeon, it is clear why Evans holds her in such high regard. Besides the acting roles (She has a few projects in the works), she will continue writing in various forms, including poetry and also in the process of creating a Goddess Women's Group in LA which is where a group of women meet once a month to speak openly about their lives, offer each other support, and affect change. While this may seem like quite a bit on a person's plate, there is no doubt in my mind Lindsey McKeon can handle it. It will be interesting to see her different ventures take-off, but in the case of Healthy, Sexy, Mindful Living by Lindsey McKeon she is clearly going in the right direction. Even though she received a "superhero" boost, it is clear that she is driven to keep the momentum going and I personally see her website continuing to grow as time goes on.
To visit Healthy, Sexy, Mindful Living by Lindsey McKeon. and read/watch the Chris Evans' interview, you can visit the site here.
Calling all HuffPost superfans!
Sign up for membership to become a founding member and help shape HuffPost's next chapter