Sometimes life gets in the way of our best laid plans. It's been awhile since our family has been able to take a vacation. We finally got away for a few days and I'm eager to tell you about a place that's not only beautiful and accessible, but also restorative for the soul.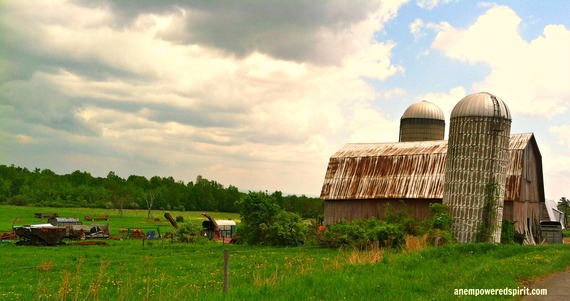 There are places in our own backyard that we never visit. For us one of them was the Finger Lakes, a group of eleven long and narrow lakes in the west-central section of Upstate New York. A scenic area with sprawling farmland, rolling hills and wonderful wineries, the Finger Lakes is also a "bioregion."
We hadn't taken a vacation in a long time so we decided to pack up and head to the Finger Lakes before the start of our crazy summer schedules. After a three-hour drive from home we arrived at the Inn where we'd be staying.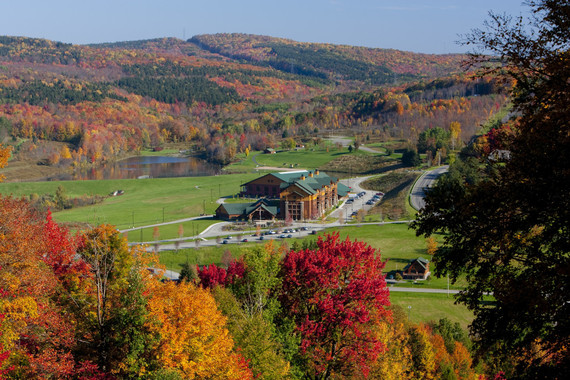 Greek Peak Mountain Resort, located in Virgil, New York is nestled in the midst of picturesque mountains that, from a distance, looks like a painting. It is both a gorgeous ski lodge and a summer vacation resort with its high vaulted cedar ceilings and A-frame door of glass that allows visitors to drink in the dazzling beauty of the outdoors.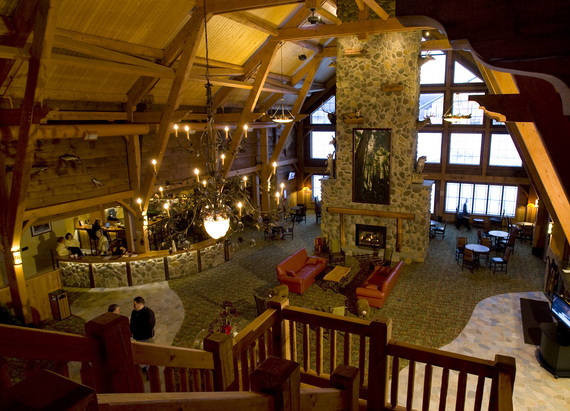 We checked into our handicapped accessible room on the first floor. A beautiful, bright room, it is large enough to maneuver a wheelchair and the bathroom is fully accessible. There is also a kitchen for those who prefer to cook meals in their room. (We also saw non-accessible rooms that were equally spacious and well appointed.)
When it was time for dinner we settled into the Acorn Grill, the Inn's restaurant located on the first floor. I wasn't expecting much in the way of menu choices, so I was happy to be completely wrong. Their menu offered a wide array of entrees and we were not disappointed. Each dish was deliciously prepared with fresh ingredients and dessert? Let's just say there was nothing left over.
After dinner we walked the grounds and found a lovely, flat (unpaved) walking path that loops around a sparkling lake just begging to be used for boating or swimming. If we stayed at the Inn longer I would have taken advantage of its full-service Waterfall Spa for a facial or massage. And I certainly should have used their fitness center or taken a few laps in their pool. But that's another story..

Many tiny towns dot the area outside of Virgil, and as we toured them we felt compelled to pull over and drink in the beauty of the landscape.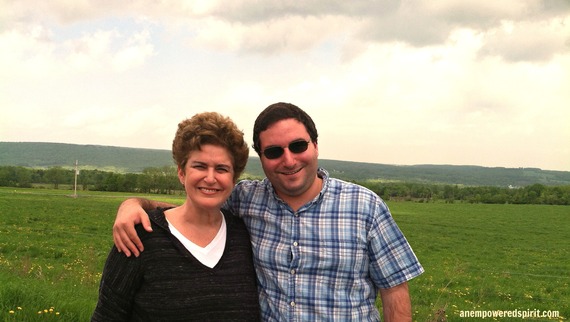 We stopped at a few places of note that I'd suggest to anyone planning a trip to this part of the Finger Lakes:
Cornell University and Cornell University's College of Agriculture and Life Sciences' Botanical Gardens: After driving around the lovely campus of Cornell University in Ithaca our next stop was the beautiful Cornell Plantations, a part of the University that offers easily accessible pathways leading around beautifully landscaped gardens of herbs, vegetables, perennials, conifers, peonies and much more. It's an enchanting region of Ithaca that's made more lovely, I am sure, when the flowers are in full bloom. (NOTE: Most of the walkways are paved, flat and accessible. The path changes in a few areas where the walkway is made up of natural stone.)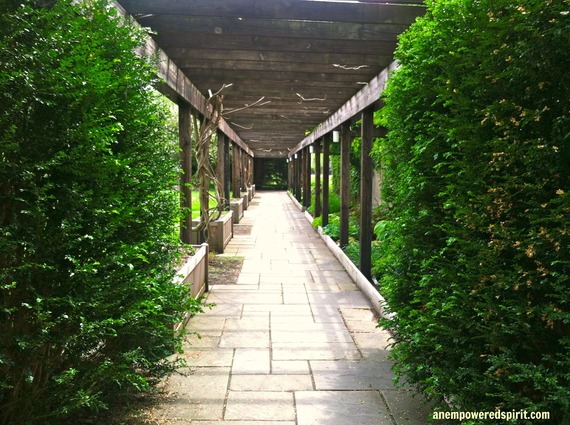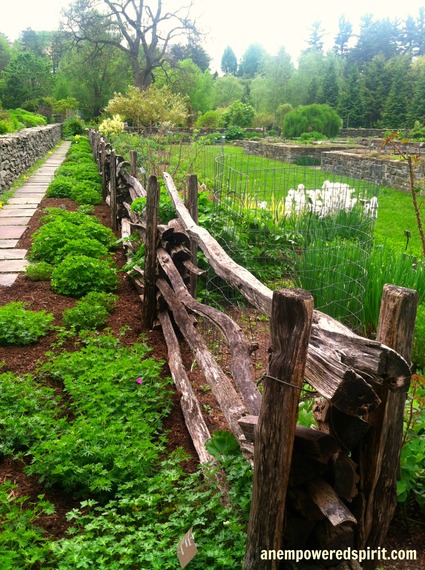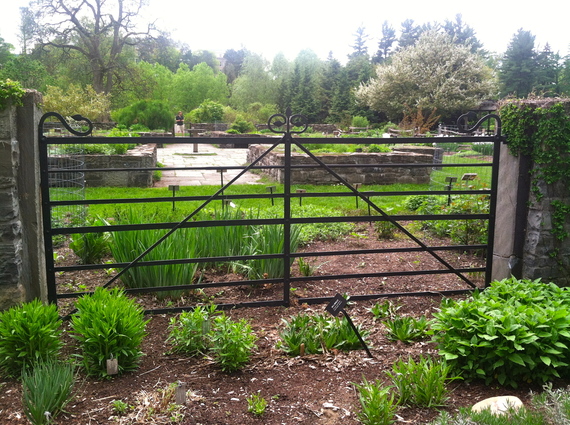 Cascadilla Gorge: This site is idyllic in both sight and sound with eight waterfalls creating frothy cascades that slide down limestone and shale to create wide cascades that can reach 54 feet high. (NOTE: The gorge is only accessible on the grassy park off the parking lot where you can see the creek and possibly one waterfall.)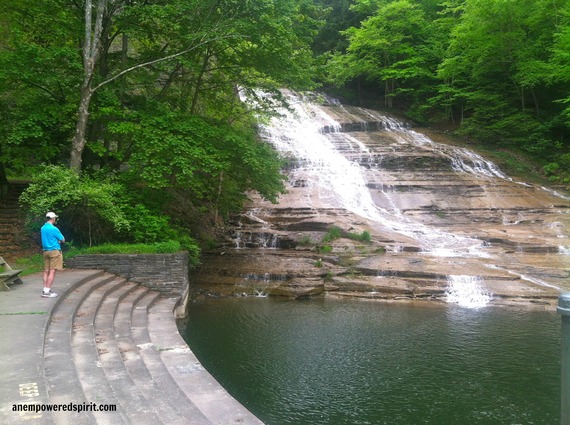 Lakewood Vineyards and Winery: The Finger Lakes is known for its award-winning wines found in many of the areas vineyards. We chose Lakewood Vineyards and Winery for our afternoon wine tasting and tour. I've visited many vineyards in Napa Valley and the Loire Valley in France and Lakewood is equally beautiful.
Located in Watkins Glen and situated off Seneca Lake, the views from the almost 80 acres of vineyards are breathtaking and, although they are best known for their whites, it also offers 14 varieties of grapes that include Riesling, Gewurztraminer, Cabernet Franc and Pinot Noir. The staff was friendly and knowledgeable and helped make our "tasting menu" interesting and fun.
We decided to try their semi-sweet and sweet Rieslings, although the bottle we purchased was a Long Stem White from a grape that was developed at Cornell.
(NOTE: There are a few steps to get into the winery from the parking lot and then onto the deck that overlooks the vineyard. A path leading visitors through the vineyard toward Seneca Lake is flat but unpaved. As you get closer to the lake there is a large gazebo to sit and view this magnificent property.)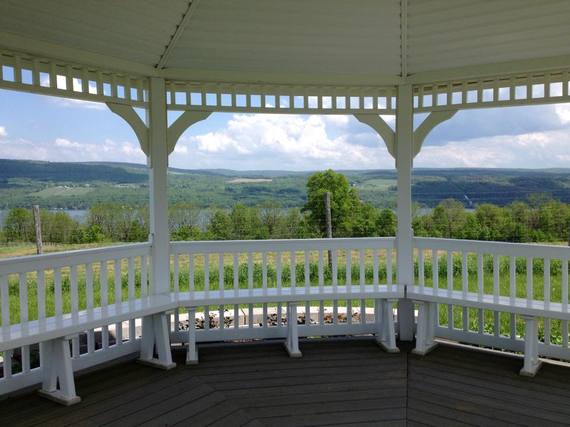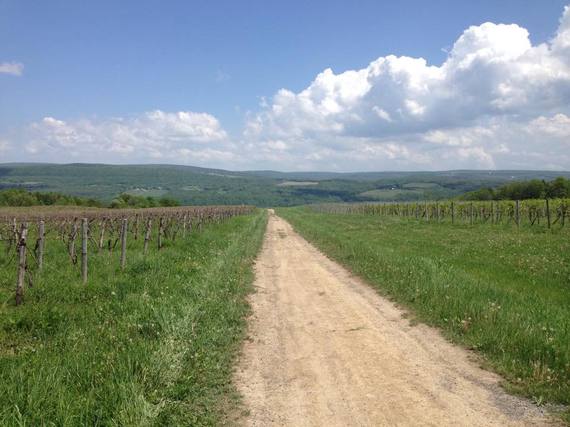 If you're looking to get away from it all for a few days try losing yourself in the Finger Lakes region of New York State. There's so much to do, and I know we'll be going back to explore the area again and again.
Cathy Chester is an award-winning writer and health advocate who has lived with Multiple Sclerosis for 28 years. In her blog, An Empowered Spirit, she writes about finding the joy in life despite disability. But MS does not define her, so she also writes about living a quality life in midlife, social good causes, animal rights, book and movie reviews, and the importance of using compassion and kindness as a way of making the world a better place.
All photos are the property of Greek Peak Mountain Resort and Cathy Chester.