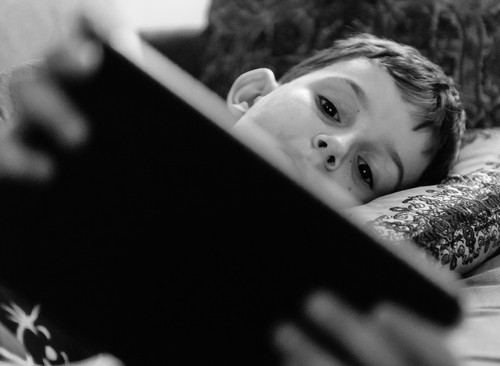 Screen time. Love it or hate it, it's hard to avoid -- and it's gotten complicated. How much is enough? Do I get my kids their own tablet? Will my kids feel isolated from their peers if I don't let them play Minecraft?
As a Gen-Xer I did not grow up with any rigid screen time rules. I was able to watch my favorite TV show, the Brady Bunch, when it came on afterschool and I was allowed to watch Saturday morning cartoons. I found most other TV boring and don't remember asking to watch anything else. Playing the Atari 2600 was more of a family activity and there were no discussions about limiting my time playing Space Invaders. We got my first computer when I was in high school, but since there was no home internet then I used it only to type up schoolwork.
So, this is mostly new territory to me and parenting the iGeneration of digital natives who just cannot believe that I did not have games on my phone growing up has posed some challenges. What is a well-meaning Mom to do?
• Dr. Craig Bach, Vice President of Education at Goddard Systems Inc, has some suggestions for how parents can use screen time responsibly by keeping it short, focused and engaging.
• Start by reading the NAEYC/Fred Rogers Center Position Statement on Technology and Interactive Media in Early Childhood Programs.
• Keep screen time active rather than passive, or collaborative by using it with other children or family members
• Integrate screen time as part of a broader activity
• Talk about the outcomes of using digital tools with your children. Families should stay involved and chat about the experience -- ask your children what they found cool, fun or challenging?
• Make sure the tools your children use on the Internet are safe and teach children how to identify and respond to situations that seem unsafe (e.g., someone asking for their name).
Noemie Dupuy, Co-CEO and founding partner at Budge Studios, shares her perspective as a "freemium" kids' app publisher:
• Parents have to actively manage screen time and content, whether screen time is provided as pure entertainment for a child or a way for parent to get some time to themselves when they need it.
• Approach screen time as a treat, like chocolate or ice cream, and like with all treats it is the parents who need to take responsibility and set the limits.
• Look for ways to create rich family experiences that encourage time together, such as food apps that turn the recipes kids create in our apps into recipes that they can make with their parents in real-life.
• Be aware of the dangers in chat rooms and other ways that kids can find links to websites or apps that may inappropriate content. These dangers are addressed in apps that are specifically designed for kids so ensure that the content your kids are accessing is appropriate and safe for them.
• Parents can set a good example for kids by limiting their own screen time when with families.
As for my family, we still enjoy a good movie night. I have looked for ways to make screen time more engaging and active and have found that I like the idea of using toys such as Angry Birds Stella or Transformers Telepods with my children because they allow the use of physical toys interacting with the digital. One of my favorite aspects of these toys is that it makes turning the tablet off less difficult for my children who can continue their game after the device it turned off. Although I was initially reluctant to give my kids their own tablet, I decided to take the plunge with a Kindle Fire Kids Edition with Freetime that comes with protections such as shipping with blocked access to social media sites and in-app purchases and disabled location based services. I particularly like that I can set daily limits and restrict access to certain categories (like games and video) in case I want to allow my children to use their tablet for a specific purpose like reading or playing a math-based game. Budge Studios has apps that make the cross-over into the real world, such Strawberry Shortcake Food Fair that gives simple recipes for the food in the games.
Exercise is another way to make screen time active. One way to keep kids moving while they get their dose of screen time is to use a trampoline. I know some parents who encourage kids to bounce while watching videos. A trampoline such as the JumpSport iBouce Trampoline has a unique feature that integrates a tablet holder to allow kids to watch whatever they like while exercising, or to hop along with a bunny using an app developed by JumpSport for use with the trampoline. Another fun way to get kids moving while enjoying screen time is to get a gaming system like an Xbox that has fitness games for kids, including JustDance that has kids in constant motion.
While everyone, including kids, sometimes needs a little time sitting on the couch watching TV there are many options for making screen time more of active activity than a passive one. Find one that suits your family!