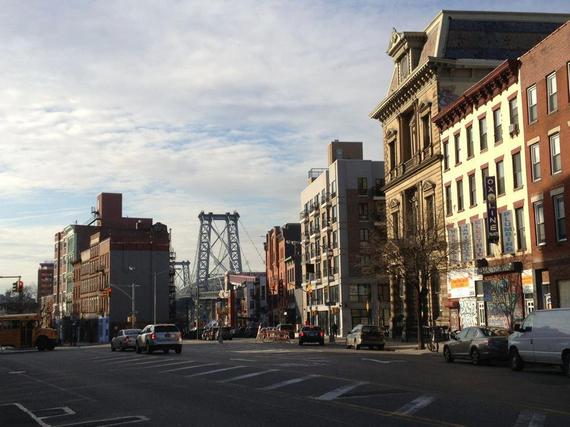 Photo by Jaspermaz via Wikimedia Commons
A hipster paradise within the sprawling boroughs of New York, Williamsburg is just a short ride on the L train out of Manhattan. Known for its diversity of culture, food, and fashion, the neighborhood is a must-visit for anyone who likes to stay on top of all trends.
Williamsburg is most well-known for its up-and-coming independent stores. Particularly, it's home to several adorable boutiques, where you'll be able to find stand-out pieces to spice up your wardrobe. The first boutique you should visit on your stroll through the neighborhood is Life: Curated. Located on Grand Street, this boutique is a hot stop for all Brooklyn shoppers. Every piece in Life: Curated looks as though it could have come straight from a street in downtown London. Their carefully selected collection of dresses and tops are the perfect shapes to look flattering on any body type. You'll be able to find a piece for virtually any occasion, day or night. Plus, their accessory collection is to DIE for!
After buying everything in the store, you'll definitely have worked up an appetite. If you're looking for a quick bite for a light lunch, be sure to stop by the nearby Atlas Café. Their vast array of pastries will leave your mouth watering as you place your order at the counter. From croissants to turnovers, there is sure to be something to satisfy your sweet tooth. You may even want to grab a bagel to-go for the morning! Thirsty? Grab one of their signature teas in one of 15 flavors!
Take a walk down Havemeyer Street and you'll run into another can't-miss boutique: La Di Da Dee. With clothing even cuter than its name, this boutique is a must-visit for any fashionista. Their store is filled with simple pieces that have an edgy flair. With lace inserts and metallic fabrics, they offer an innovative take on classic styles. As you browse through the racks hanging on ropes from the ceiling, you'll have a hard time not taking one of everything. Keep an eye out for their statement necklaces-they'll add a flirty touch to any throw-on dress in your closet.
The next shopping destination? As you wander over to Bedford Avenue, you'll run into another unique boutique. Whether you are looking for rompers or slip-on shoes, you will find something at Babel Fair that you can't live without. The boutique has one of the most diverse selections of dresses of any boutique in New York. As you browse through the store, the intricate patterns will catch your eye-each one makes for an exciting outfit in itself (no styling necessary!).
Next, take a stroll over to Kent Avenue for an early dinner! We all know food Instagrams are our guilty pleasures; they fill our newsfeeds with every yummy looking treat from popsicles to pancakes. It can be difficult to find a place that has exactly the treat that your favorite account has posted, with every cafe and restaurant offering something different. It's difficult, that is, until you take your first trip to Williamsburg's own Smorgasburg. A food lover's paradise, it has hundreds of photogenic foods that will turn your Instagram account into your friends' new favorite food porn source. Many of the stands at Smorgasburg are independent cafes or catering companies that offer small plates: the perfect size for an afternoon full of snacking. Our favorite bites? Big Mozz's Mozzarella Sliders or the world famous Ramen Burger. The only problem you'll have is trying to find the room in your stomach for dessert (we recommend Gooey & Co's mini cakes). Just make sure you get there before the vendors shut down at 6.
Once you've had your fill of delicious snacks, take a short walk over to the Music Hall of Williamsburg to check out what concerts are going on. This venue has hosted such well-known artists as A-Trak, Bleachers, Tove Lo, and and Conor Oberst; so be sure to catch a show while you're in the neighborhood so you can say you "heard them first!"
What's next? Time for a post-concert snack! Stop by one of the neighborhood's most popular pizza places: Shelter Pizza. They have the classic Margherita pizza for the more traditional audience, but also have innovative creations such as a Truffle Pizza for the adventurous type. Not a pizza fan? They have dozens of entrees and appetizers-you're bound to find something you love!
As one of the city's most popular neighborhoods for 20-somethings, Williamsburg is a must-see for any tourist visiting New York. It's easy to spend hours, or even days, wandering through the neighborhood without even scratching the surface of what it has to offer. A center for artists, musicians, and designers on the rise, Williamsburg will leave you only wanting more after a day's visit.
Calling all HuffPost superfans!
Sign up for membership to become a founding member and help shape HuffPost's next chapter