Q: Tell us a little about your background -- where did you grow up, where did you go to school, what inspired your writing and your love of film?
A: I'm half British (father) and half American (mother) and I grew up in London. My father is a writer and director of theatre, opera and pretty much anything else that can be staged. My mother also worked in theatre through which she met my father in New York.
My brothers and sisters (the ones of working age) all work in the arts. One sister is an art, culture and travel journalist, the other a musician. One brother is a theatre director and AD, the other a fine artist and graphic designer. We were encouraged to get stuck into whatever industry we wanted to; it just so happened that we all ended up in artistic pursuits. There aren't really any individual seminal moments I can think of that drove me to what I do; rather I don't really know what else I would do. When your family and so many close friends have careers in the arts, you do have some examples around that make it seem a tangible dream, however crazy it truly is.
My technical training ground was starting a small video production company with a friend that saw us produce music videos, short films and other viral media for tiny budgets where we performed almost every role ourselves. This really allowed us to experiment with cameras, lighting, editing, and the host of other jobs required. However, I knew I wanted to get more into narrative work so I decided to go to film school which is really where I kicked on my storytelling.
Once at The London Film School I really became a full-time student of cinema, an education ever ongoing. Every film I watch, script or story I read or set I work on, whether the experience is positive or negative, I learn a little more about what I think I can offer in my own work.
Q: Is Halfway your first feature-length script?
A: Halfway is certainly my first completed feature-length script. I have other pieces in various stages of development, some as far along as redrafted full scripts, but given that the writing, especially when writing for yourself as a director, is never truly over until the scene is shot (and then even sometimes dialogue is rewritten and rerecorded whilst in post-production) Halfway probably must therefore be considered my first.
Q: Is this the first time you've been both writer and director?
A: I wrote [and directed] all of the short films that I've made that preceded Halfway. As a new director I think it's invaluable being able to write for yourself. This is not to say you're the best writer in the world, simply that, as a director, without being able to write for yourself, you're relying on good writers letting you cut your teeth on their work. Then, if you do find a great script you want to make, be it short or feature, you have two egos you have to massage through the process.
The most important thing I've learned in my young career is not to be too precious about what you're doing because things change very quickly and you have to be able to react to that. That becomes harder if you're not just "killing your own babies," but someone else's too. This often plays into director's careers later, when they're perhaps better equipped to deal with it (or not as the case may be), but I think mitigating that in your first works is rather more liberating.
Q: Does directing change how you write? In what way?
A: I think knowing you're going to be the one that directs the script can change the way you write, though it shouldn't. I know in the beginning it did for me. I think it's fine if a director's voice is known. A PT Anderson or Coen Brothers script can be read by financiers, actors, all the key players and know what the deal is. I'm not saying their scripts won't be complete, just that the bits left out can be filled in by the reader knowing what has come before so what is likely to be filled in.
As a first timer, it's no good me giving a draft to my producer, who knows my work/style from my shorts, and expecting them to have all the time to make everyone watch my shorts and mood reels to get the tone/content. The script needs to stand-alone as a good piece of writing. Then, if drawn in by it, our collaborators will still want to see what I've done before and if I'm someone that has enough of a voice to carry the script.
Q: What inspired Halfway?
A: Although I was born and raised in London, UK, my mother is from Wisconsin, USA, so as a child I would spend summers in the States seeing family. With fond memories of playing on my family's Wisconsin dairy farm, I always felt like an outsider in my inability, even as a child, to do the things my farm-raised cousin could.
As an adult revisiting my family's farm, I found the chores performed incredibly hypnotic and calming to watch. Farms are a place of tremendous upheaval and mechanical power, but also of baseness, of simplistic physical duty.
Farms are so little understood by the urban dweller, of which our societies are increasingly more becoming. By in essence, sending my protagonist to a farm to cleanse him, I want to show an American Dream story, of social movement and rejection of his past transgressions through physical hard work in a new frontier.
The outsider element at the core of the film is race. I find perception and discrimination due to race fascinating. Clearly the United States still has a problem with race relations in many parts of the country and whilst I cannot try to tackle everything in this film, I certainly wish to pose some social questions.
I'm very much drawn to rite-of-passage stories as I find tremendous drama in looking through a microscope at an individual's life at certain stages of change, of challenge.
In this film I wish to take my certainly less-than-perfect protagonist and make his battle the audience's battle.
Q: Did you do research while you were writing to help you understand the story?
A: I've spent a lot of time in the last few years in Wisconsin, so my understanding of the setting and people was pretty good. I've also kept a keen eye on race relations (as I'm sure many do), and the systemic incarceration flaws over the last years, too, so thinking about the sort of a voice I might be able add to the conversation was key. As a white Brit writing a story dealing with American race issues I thought a good way in for me was by making my protagonist an outsider, as that is where my experience comes from (though of course in very different ways).
Q: Do you remember the first thing you wrote? What was it?
A: The first story I really remember writing was at twelve years old in an entrance exam to my middle school (secondary school in the UK). I was given a series of titles to select from and I chose "No Man's Land." The story involved an island a ship wrecks off of, and the protagonist swimming ashore to find only Amazonian women. I was very proud of my punny take on the title.
Q: When did you write your first script?
A: I wasn't a filmmaker that started at eight with a video camera telling stories with my friends; far from it. In the last few years of high school I got into reading literature, mainly our course materials, and started to quite enjoy the required essay writing that went along with it. When I left school I took a "gap-year" (a pretty standard break from education in the UK where teenagers work and travel before starting further education).
Having lost my school writing to deadline, I started to really miss the process of writing. I started, like I'm sure many teenagers do, writing what I thought was a novel or a novella, a short semi-autobiographical piece based on a particular experience of mine and some friends. I gave a first pass to my father and he suggested that my writing felt like it had elements of screen/stage direction accidentally incorporated in it. He showed me a basic script structure and I started reworking it in that form. I never made that piece but it was certainly the first actual script I wrote.
Q: What else have you written?
A: I have written numerous shorts. During my MA course at the London Film School I wrote many different pieces, some of which materialized as films, many of which hit the script graveyard. I wrote and directed two traditionally narrative shorts during my time there, one set entirely in a prison cell that we built on a school soundstage, The Castle, and my graduation film entitled Drift.
Q: What role do you think film has in our social awareness and in driving our discussions about culture and humanity?
A: I don't think that filmmakers, or anyone in fact, has a responsibility to drive awareness or discussion of anything. However, clearly there are enough people that take it on themselves to do just that, and, for me, that's vitally important. Any art form that has an audience, a reader or a listener has the opportunity to evoke some human emotion. Since its genesis film has been used as a platform to engage and inform its viewer, be that for social good or bad. I can't see this changing. I certainly hope to be able to continue making films with themes I see as important to discuss.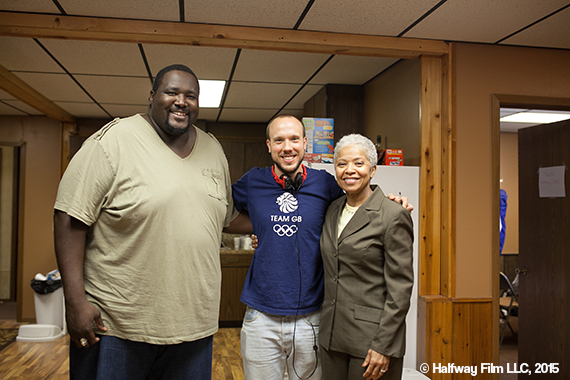 Ben on the set of Halfway with star Quinton Aaron, who plays Byron in the film, and Linda Bright Clay, who plays Byron's parole officer. © Halfway Film LLC, 2015
Q: What are your short- and long-term goals as a writer and director?
A: I hope that Halfway is received well and that I get to follow it up with another in the coming years. I have lots of stories I'd like to tell so hopefully this is the first of many.
Q: Do you hope to branch out even further, or is writer/director your niche?
A: I also produce. I've just finished a small film set in the countryside in the UK, a dark love story, entitled Long Forgotten Fields. We're just taking that film out to the market now so hopefully there will be some positive news on that front in the coming months. I also have some other projects of varying scopes in the works, some other US, that we'll hopefully have some exciting announcements about soon.
Last week: Q&A with Halfway Producer Jonny Paterson.
Coming next week: Q&A with Halfway star Quinton Aaron.
Somewhere between funny and philosophical lies the truth in Pam Stucky's writing. Pam is the author of several books including the Wishing Rock series (Northern Exposure-esque contemporary fiction, with wit, wisdom, and recipes); the Pam on the Map travelogues (wit and wanderlust); and the YA Sci-Fi The Universes Inside the Lighthouse (wonder and wisdom). Pam's driving forces are curiosity, the pursuit of happiness, the desire to thrive, and the joy in seeing others do the same. Pam is currently working on writing a screenplay, because life is short, so why not try?