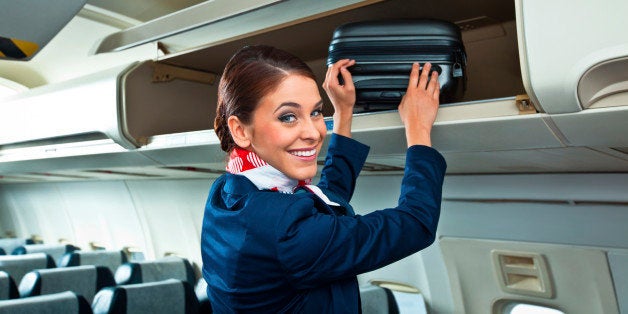 There hasn't been a better time to pursue a job in the sky in years. Dozens of airlines are accepting applications and hiring flight attendants. According to The Washington Times, Delta is planning to hire 1,800 new flight attendants and even with the merger in full swing, American Airlines is still looking for flight attendants.
Once you begin to work your way through the flight attendant application process, you will discover it is an interview process like no other. Most airlines have candidates complete several assessments and video questionnaires before they are invited to a live interview. Interview day will be a new experience, too. Airlines interview 60 to 100 candidates during an all day interview session which includes a group interview, group activity, and a more traditional, sit down interview segment called a face to face. Becoming a flight attendant is not a quick or easy process. According to Marketplace, you should just "get in line" but with preparation and these four tips, you can navigate the face to face interview, rise to the top, and walk away with a job offer.

1) Don't stand out.
This may seem to go against conventional wisdom and although you want to dress to impress, you do not want to dress to stand out. Airlines put a lot of time and money into choosing just the right uniform for their brand and put even more time into writing a uniform standard that includes guidelines for everything from your undergarments to the height and shape of your shoe heel. Wearing something that is trendy could cause the recruiter to think twice about your ability to completely conform to the strict uniform guidelines. Wear a well fitting suit, closed toed shoes, and pantyhose. The Houston Chronicle advises ladies to pull hair back in a sleek up do or a low ponytail and under no circumstance should you have any part of a tattoo showing. Reach up and bend down to make sure your clothing stays in place and your peek-a-boo thong stays covered. Nails should be neat and well groomed. Finally, don't forget those finishing touches: blush, mascara, lipstick, small earrings, and a watch. You can also wear a necklace or scarf and a ring on your ring finger. By following the uniform guidelines, the recruiter will be able to picture you in a flight attendant uniform and you will have removed another barrier between you and your new career.

2) Smile. Chat. Repeat.
Don't be fooled, the interview does not begin when you sit down in front of the recruiter. The moment you enter the building, you will be observed and rated on your ability to interact with strangers. The best way for the airlines to observe your behavior is to put you in room with sixty other hopefuls, sit back and watch. Showcase your natural people skills by entering the room with confidence and a warm smile. If no one around you is talking, start the conversation. Easy questions like, "Where did you fly in from?" are great icebreakers. If you enter a room where groups of people already talking, join the conversation. Throughout the day you will be asked to learn about the other candidates and you may even be tasked with solving a problem as a group. Be on your best behavior and use nice manners. All those things your mama taught you: stand up straight, sit like a gentleman, introduce yourself, and under no circumstance should you be chewing gum. Remember this mantra: "Participate, don't dominate and you'll do great." Learning the art of small talk will serve you well at the interview and in your new career. Check out these Huffington Post articles to learn more small talk tips.

3) Sell Yourself.
By the time you have been invited to a flight attendant interview, the airline has already taken a good hard look at your resume and decided you have all the skills and experience they are looking for. What they don't know is whether or not your personality and attitude are a good fit. It is up to you to make sure they get to see the real you. Tell your fantastic customer service stories with confidence and don't let false humility hide your amazing work ethic. If you saved the day for a customer, take credit and shine. When asked to introduce yourself, do not regurgitate your resume, but highlight your experience in a way that is engaging and interesting.

4) Be Prepared.
With your interview invitation, you will also receive instructions regarding what time the interview will begin, how to navigate your way to the interview location, and a list of items to bring. You may be asked to bring anything from your high school diploma to a complete 10 year work history to your passport. Take several copies of each of these documents. Pay attention to what is requested. Hopefuls have been turned away at the door for neglecting to bring the correct paperwork. Besides the list of thing you are asked to bring, be prepared for unforeseen mini disasters. Pack an extra pair of pantyhose, a small pack of baby wipes to polish your shoes or remove a spot from your jacket, and a small sewing kit. Being prepared will allow you to focus on what is important instead of the run in your pantyhose. Susan Portnoy offers more packing tips in this Huffington Post article.
Although there are plenty of flight attendant jobs out there, there are even more flight attendant candidates. According to ABC, Delta will sift through over 100,000 applications before awarding a pair of wings to the chosen few. You can tip the odds in your favor. Take time to prepare, dress for success, make some new friends, let your attributes shine and you will be jet setting around the world in no time.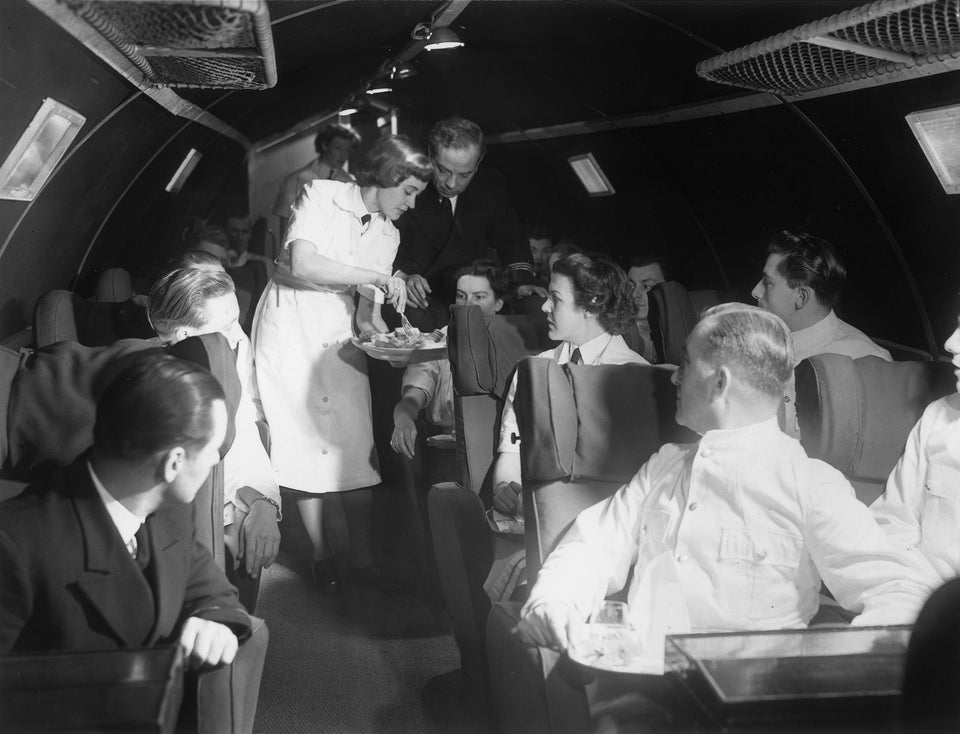 Vintage Air Travel Photos