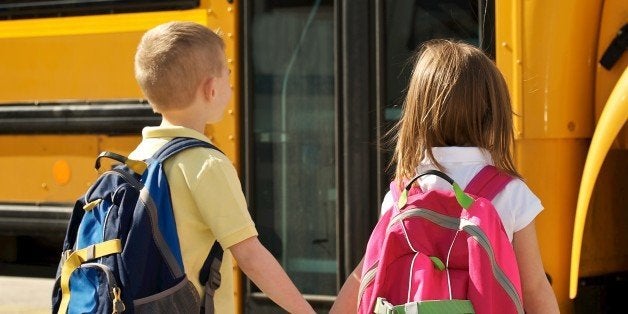 Back to school typically means back to spending for most families. Who remembers being a kid and being so excited to go shopping for brand new clothes, shoes, and supplies? Well now that I'm looking back on it I can only imagine what financial stress I put on my parents.
Maybe you have older kids. Chances are that they will want the latest and greatest of what is out there, whether it be jeans, shoes, or electronics. Those items often come with the greatest price tag. These tips will help you save money when you go back to school shopping this year.
Before you begin your quest to the malls and office supply stores, check your closets. Often times there are notebooks, binders, and pens that are still like new. Don't be afraid to ask your family and friends if they have any supplies lying around. You can always swap supplies with each other if they need something that you have.
This rule also applies to clothes. Clean out your children's closets before you shop. Something doesn't fit? Make it a hand me down, donate it, or sell it. Clothes with holes and stains in it? Throw it out. See what your kid really needs for school and make that a priority item to shop for.
2. Give the older children a budget
This is a great idea for high school students. As previously mentioned, older kids will most likely want the newest items. Consider giving them a set budget they can't go over. This will make them think twice about buying shoes for $120 when their budget is $250. You can even give them their limit in cash and let them shop on their own. If they come back asking for more money simply explain to them that they need to budget their money better and go through the items to help them decide what should be returned.
IMO (In My Opinion), when it comes to clothes back to school sales are better than the sales during The Holidays. Many teen stores (Hollister and American Eagle*) will have the entire store 40-50 percent off. Department stores will also have opportunities for you to save (Macy's* One Day Sale that occurs every week.)
Want to save even more? Go the extra mile. "Like" companies pages on social media and sign up for texts. Businesses will often share deals and coupons on their pages and through texts. Use this to your advantage, especially when it's a store your kid loves.
Since we are on the topic of sales, if your child doesn't need school supplies right away, consider shopping after the rush of the first week of school. Office supply stores and retail stores, like Target and Walmart will have markdowns on whatever is leftover from the rush of buying school supplies.
Some other options to save money are:
4. Shop on Sales Tax Holiday
5. Download textbooks online for up to 50 percent off
6. Check with a religious center in your area to see if they are having a School Supply Drive
*BrightStar Credit Union is not affiliated with any of the stores mentioned above.