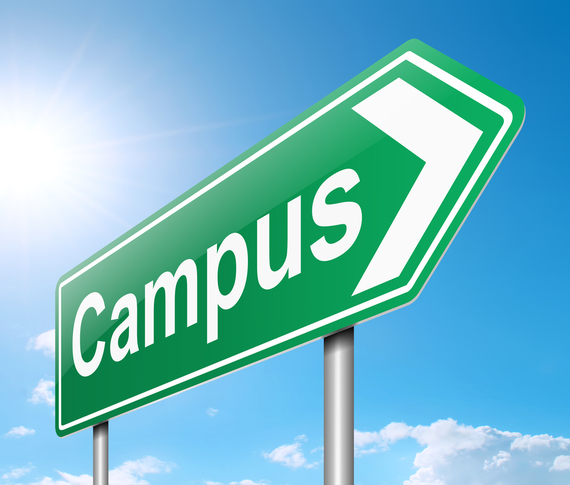 I SO didn't want to be THAT mom. You know the type, whose life revolves around her children to such an extent that she decompensates the summer before her firstborn goes to college. Nope. Not me. I'm productive and busy. I have projects and deadlines and obligations and volunteer work. Yet I spent spring semester senior year teary-eyed and hypersensitive, fabricating melodrama at every turn and dreading prom, graduation, award ceremonies and anything reminiscent of my baby's impending departure.

I was not-so-secretly thrilled when my son chose a school three hours away from home. (What if I don't get that lucky with my 14-year-old who is threatening to spread her wings southwards, two connecting flights away?) I rationally understood that we could easily visit each other, that he would be home for a month during winter break and even longer in the summer, that he worked hard and succeeded and that I should be beaming. But I was singularly focused on one thing: Our family of four -- our team, our symmetry, our dynamic -- was about to change forever. And I was inconsolable and just not ready for change, dammit.
"Change is healthy," said my mom.
"F@ck change," I told her.

My friends with older kids assured me that my feelings were normal and promised to book a padded room at the nearest psychiatric facility, should the need arise. My friends with younger kids couldn't yet relate, but admitted dreading this eventual milestone. My emotional rollercoaster seemed bizarre given that for years I pushed and prodded my son to be the best he can be, so that he can maximize his options and reach this particular moment that I was so busily wishing away...

High school graduation was supposed to be light years away, not here in a nanosecond. Time seemed to standstill all those years ago when my son refused to get on the school bus for kindergarten like all the other kids. I'm still a little traumatized from chasing him through the muddy front yard in my suit and heels and then driving him to school while we both cried. My world as I knew it also stopped when the principal called to say that his little eight-year-old foot somehow made contact with the shin of the boy sitting across the aisle on the bus. I was sure I lost a few years off my lifespan the time he fell on the sidewalk in front of his grandparents' apartment building in New York City and cut his chin open (all I remember is a pool of blood). And I accumulated some gray hairs when he was in fourth grade and I worried that his standardized English test scores were sub-par. A love for reading and writing, and future successes in AP English classes were inconceivable back then.

My grown-up boy insisted on going to his two-day college orientation alone the week after high school graduation. Stab me in the heart, why don't you? "If I can't drive myself, attend orientation, choose classes and figure this out on my own, I shouldn't be going to college in two months," he tried to rationalize with me. Who asked him to be so mature, sane and rational?

While I was busy wallowing, my son made the most of his summer. He worked as a counselor at a dreams academy camp, coming home pensive on more than one occasion. He was heartbroken at the lack of opportunities facing many of the campers, and this new perspective ushered in a world of gratitude...He was also fortunate to travel and spend countless hours with friends, who were all acutely aware of their imminent separation. Their more intense interactions were palpable and their support of one another warmed my heart. But I wasn't ready to embrace any of it -- I whined that he was barely ever home.

And then, when I was least expecting it, I noticed that I wasn't sad anymore. It slowly dissipated like a bad flu that makes you forget what it's like to feel healthy.
I'm still marveling at the power of this new involuntary normal. I like how it feels and I attribute it to contagion: I caught my son's excitement bug. He's ready to begin this new chapter and it's time for me to rise to the occasion and embrace it. Maybe when my daughter's turn comes, I'll be less dramatic, but I doubt it. Other moms assure me that it's part of the process and for now I'm going with it. I may lose it again when we drop him off at school in a few days and I sincerely hope that I have enough self control (at least while we're in the dorm) to refrain from a Fiddler on the Roof outburst. Not just because I'm tone deaf.

I don't remember growing older,
When did they?