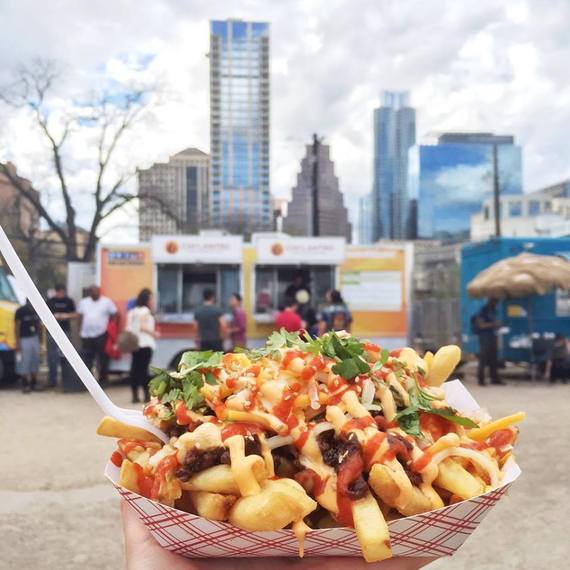 Kimchi fries, Chi'lantro
Eat Drink Lucky thinks about food, drink and fun 24/7. We share our tips in our daily newsletter, but in this blog we share the things we can't stop thinking about.
We're talking about our love for French fries and tater tots. Our loved ones say it's time for an intervention. Take either of those fried oh-so-irresistible crunchy bits of yumminess and top them with anything gooey and you've got our attention. We're ready to dive in, no napkins needed, thank you. We'll just lick our fingers.
Here are some of the most drool-worthy variations of tots/fries/poutine/aka it's what's for dinner:
Austin, TX
Kimchi fries, Chi'lantro
5222 Burnet Rd.
1509 South Lamar Blvd.
You'll need to read this slowly, once you've peeled your eyes away from the photo above. Chi'lantro's kimchi fries are made with a choice of ribeye bulgogi, spicy pork, spicy chicken, soy glazed chicken or marinated tofu -- topped with caramelized kimchi, cheddar and Monterey Jack cheese, onions, cilantro, magic sauce, sesame seeds and Sriracha.
Boston, MA
Kenmore, The Lower Depths
476 Commonwealth Ave.
There is an entire menu category dedicated to TOTS. Tots of Taters, with toppings. They've got tater tots on the brain. Consider the Kenmore -- tots with cheese, applewood smoked bacon and chipotle aioli; the Mexicana with cotija, pickled jalapeno, guacamole and tomato salsa, and shepherd's pie, with sweet potato tots. Poutine? They've got that too.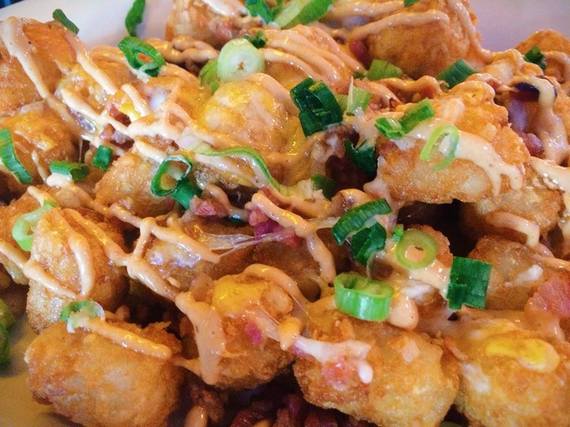 Kenmore, The Lower Depths
Chicago, IL
Hash Brown "Poutine," The Radler
2375 N Milwaukee Ave.
Brunch at The Radler features a "poutine" mash-up that will challenge your love of the classic rendition. A thick slab of hash browns topped with two eggs any style, local cheese curds, pickled mushrooms, pickled lemon and roasted mushroom gravy!
Denver, CO
Fowl Play, Euclid Hall
1317 14th St.
Euclid Hall dedicates a small section of its menu to different takes on the Canadian favorite, but the Fowl Play brings out the big guns. It takes their duck poutine (Kennebec fries, duck confit, cheddar curds and black pepper duck gravy) and piles on a sunny side up egg and an ounce of foie gras. That's right, foie gras on tots. Carnitas Papas Fritas is no slouch either with chili lime fries topped with tomatillo green chile, cheddar curds, goat cheese and cilantro.
Los Angeles, CA
Galbi Poutine, Seoul Sausage Co
11313 Mississippi Ave.
Galbi Poutine crosses several culinary borders with its twice-fried French fries topped with eight hour-braised short ribs, cheese, kimchi pickled onions and avocado lime crema.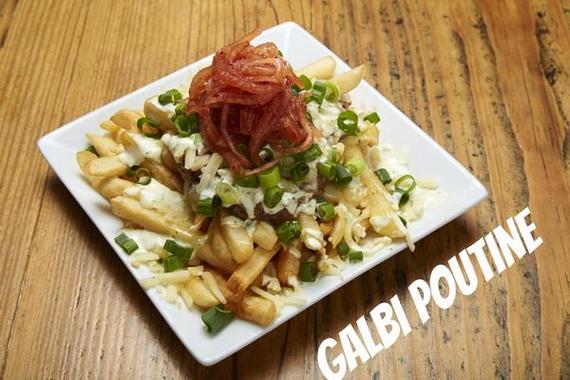 Seoul Sausage
New York, NY
Bahn Mi Poutine, The Gorbals
98 N 6th St., Brooklyn
Chef Ilan Hall ups the ante with thrice-cooked Kennebec potato fries with slow-roasted pork shoulder, pickled carrots and fried jalapenos -- all topped with hoisin gravy and ribbons of Kewpie mayo and Sriracha. He uses mozzarella instead of cheese curds.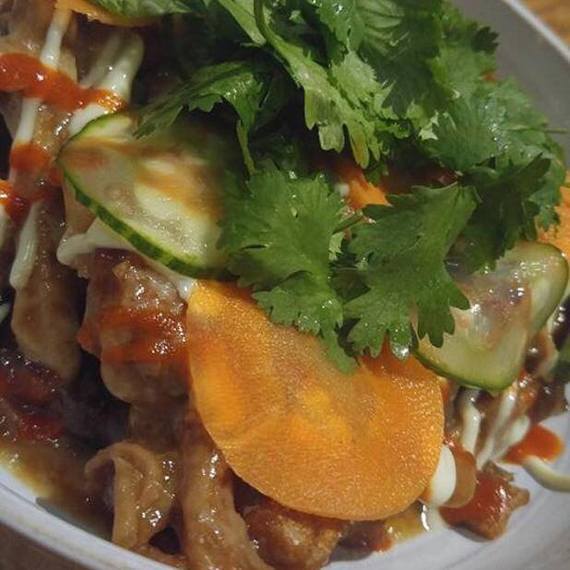 Bahn Mi Poutine, The Gorbals
Portland, ME
Bayou Tots, Blue Rooster Food Company
5 Dana St.
It's all about tots at Blue Rooster, and they're topping those tasty tots with all kinds of meats, sauces and veggies. The Bayou Tots are dusted with Cajun spice and doused in Cajun mayo, tasso ham, celery root slaw, pickled okra and scallions.
Washington D.C.
Reuben Fries, DGS Delicatessen
1317 Connecticut Ave. NW
They had us at Reuben. Seriously, who can resist French fries topped with pastrami, sauerkraut, Swiss cheese, Russian dressing - and for a kick - Fresno chilis. We didn't want the bread anyway, that just gets in the way.
No matter where you are, may your tots be tasty, your fries fresh and your toppings tempting.
For more Eat Drink Lucky fun, subscribe to our daily email.